Sep 6, 2019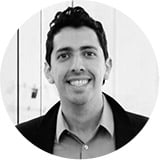 Rafael Lourenco
What's the most important piece of advice for online retailers in 2019?
Take a moment to answer that question.
Maybe you think it's about testing, or implementing cutting-edge security, or Instagram advertising.
There are hundreds of ecommerce tactics and strategies. And it's difficult to separate the wheat from the chaff, to know which tactics will positively impact your conversions and which won't.
So we asked 15 of the industry's best minds for "the ONE business tip for ecommerce that works in 2019".
Here are their answers:
In your experience, what's ONE business tip for ecommerce that works in 2019?
Use an NPS (net promoter score) survey to measure customer satisfaction. Run it at the point of purchase on the order confirmation page and then again after delivery — find out if you have any user experience issues. You can then tailor your customer service response based on the rating i.e. if the customer is happy, push marketing campaigns; if they're unhappy, escalate to understand and fix the issue depending on severity. The relationship with the customer starts at the point of purchase, so don't think 'job done'. It's important to nurture customers and ensure you don't treat everyone the same. NPS survey data can be invaluable in flagging issues and opportunities e.g. website performance problems, product data gaps, post-sale service fails etc. You can also track NPS movement over time to see if you're average score is improving and also if individuals who scored you poorly are being recovered by intervention.
Follow James on Twitter and LinkedIn
My word of advice is to TEST, test, test. Daily. In 2019, the USA marketplace has become very competitive and testing different ad campaigns with scalable budgets on different platforms is necessary. Test with different ad objectives like video, PPE (engagement), and optimize for conversions. Based on your data, conclude which platform and ad type seems like the best investment to scale.
Follow Katie on Twitter and LinkedIn
Using Facebook Messenger as a cart abandonment recovery mechanism with one of these extremely popular Shopify apps: ShopMessage.me or Octaneai.com. I interviewed the founders of the two apps above to give more context to the problems they are solving for Shopify brands here and here. Some of the most popular flows include Abandoned Cart Flow, Customer Thank You & Order Confirmation Flow, Browse Abandonment Flow, Customer Win-Back Flow, and Product Discovery Flow. Individually or triggered in a sequence will have a significant impact on conversion rate and revenue.
Follow Steve on Twitter and LinkedIn
4. Graham Charlton |
SaleCycle
Focus on checkout, and making payment as easy as possible. This is a key area of friction for shoppers, so make forms easy to use, and payments easy. One quick win here is to use faster payment options like PayPal, or for mobile, one-touch methods like Apple Pay.
Follow Graham on Twitter and Linkedin
Ecommerce doesn't stand alone. It must be combined with traditional retail to create the best experience. We may want our customers to do all their business online, but there must be a human for them to turn to when they have a question or need help. Take a lesson from the Zappos website – every page lists the phone number for customer support. This kind of union and convenience results in a truly exceptional customer experience.
Follow Shep on Twitter and Linkedin
6. Rafael Lourenco |
ClearSale
E-commerce is growing exponentially year after year. While this is fantastic news for e-commerce businesses, there are risks that come along with this growing successful ecosystem. In 2019, online merchants must understand the risks that online fraud presents to their businesses and learn about the methods that are available to help protect them.
Fraud as a percentage cost of revenues has steadily climbed over the past several years, from an average of 0.51% in 2013 to 1.80% in 2018, and that number is expected to keep rising as CNP fraud continues to grow. As the costs of fraud rise, so does the importance of building a cost-effective fraud-prevention plan.
Because fraud tactics, consumer habits, and market conditions are always evolving, it's a good idea to review your fraud prevention costs regularly to see if your approach is still generating good results and controlling costs. Building and maintaining a cost- and time-effective fraud-prevention program is possible if you take a little time to understand the fraud prevention market and what solutions are available.
Follow Rafael on Twitter and Linkedin
In order for your ecommerce business to grow and succeed in 2019 and beyond, you need to be thinking ahead and taking advantage of the trends before they even cross your competitor's minds. There are some fantastic tools on the market that will help you generate more sales for your business. One of the big trends this year is the usage of chatbots. Launching a chatbot that helps your customers identify what product is best suited for them can increase the chance of sales massively.
In fact, research by Drift recorded 27% of consumers said they would buy a product through a chatbot. Therefore it's vital for businesses to get on board and start taking advantage. A simple chatbot that has a quality workflow set-up could recommend specific products based on the needs of the consumers and how much they are willing to spend. As a start-up or growing company, it's vital you put resources back into your company to grow further.
Follow Gareth on Twitter and Linkedin
How many companies do you know who actually care about you once they have your money? Not many. This is where you can gain the advantage.
Every e-commerce business should be employing some form of email automation to drive loyalty. Acquiring new customers is becoming more of a challenge so it's even more important to retain and love the ones you have.
A post-purchase automated email series is how you will drive more value from them. You need to keep nudging them, add value, educate them to get the best from your product and show them you really care. Everybody loves attention and useful knowledge, so give it to them (but not in a salesy way).
Do this and your customer will become more loyal and spend more with you.
Follow Matt on Twitter and Linkedin
A great place to start is to open up Google Analytics and see what your users are searching for on-site (It's under Behavior > Site Search > Search terms). After that, try to search those same queries and see what the results look like. Visitors who use search are 50% more likely to convert so optimizing your site search is a great first step. If you don't have site search or it's not very visible, change that ASAP.
Follow David on Twitter and Linkedin
Understand your customers and create content that speaks to them. Leverage your house email list to survey users of their preferences, engage through content, and get to know what the customer really wants from you. Mine the data from your surveys to find voice of customer, and use the voice of customer in your product detail pages, email messages, and remarketing. Become the brand that your customers think of when they say "that company just gets me!"
Market to one specific group of customers and meet their needs instead of marketing everything to everyone. It's not about standing out from a crowd. It's about creating a crowd of raving fans through your marketing efforts.
Follow Jeff on Twitter and Linkedin
One of the most important things that you can do for your e-commerce business to succeed is to focus heavily on interacting with your audience on Instagram. This platform has grown exponentially in the last 2 years and this is most likely where your target audience is hanging out. Use Insta Stories and IGTV to showcase your products and your business behind the scenes. Create the content that's unique, compelling and valuable for them, perhaps educate them about your business, and make them trust you. Once they do, you no longer have to worry about the conversions.
Follow Aljaz on Twitter and Linkedin
In 2019 ecommerce is really competitive.
My biggest tip would be for startups, if you're just beginning your ecommerce journey, take the time to really do the due diligence on your niche and idea.
If you're a product expert, then you need to focus on differentiation. Your niche is more or less fixed, but try to create a recurring model as these typically create more profit. If you could potentially start in any niche, dig deep into the SEO. Complete a competitor analysis and learn how likely it is you will rank and in what time frame. 44% of people start their online shopping journey with a Google search. So SEO is your most important channel. Not to mention SEO typically converts higher than PPC. SEO takes a lot of time (or money if you hire help). A backlink costs anywhere from $50 to $500 USD in time or expenses. SEO staff in the US charge more than $100 USD per hour on average and agencies more than $2k USD per month. Many ecommerce businesses have 100s if not 1000s of backlinks, so outranking them in the US or western markets is no small feat.
Getting your niche right and investing either your time or money in the right direction is hugely important.
My top tip is to consider starting in a less saturated market, I have two ecommerce startups in Thailand, where SEO competition is MUCH lower than in western markets. But don't be fooled, developing markets still have the market cap you are looking or. The Thai ecommerce market was worth 100m USD in 2018 and is set to grow 20% in 2019.
My tip: If you can't win on SEO, keep refining your idea.
Follow Giles on Twitter and Linkedin
13. Brad Geddes |
Adalysis
Testing your search ads. We find that most ecommerce companies are overwhelmed with how many ads they need to manage so they don't test their ads well and figure out what types of calls to actions, benefits are best in their ads.
Once you look at your PPC channel by funnel stage and start to test your ads within each funnel stage, we see many ecommerce companies suddenly get much better paid search results.
It's not difficult to test thousands of ads at once if you have a good strategy for creating and testing your ecommerce ads.
Follow Brad on Twitter and Linkedin
My favorite business tip for ecommerce is to use optimized landing pages as part of your campaign strategy. If you're running Google Ads, Facebook Ads, or other paid ads, it's especially important to ensure that you're sending people to a well-optimized landing page, and not just a homepage. A landing page can help people take action by allowing you to focus on one product or offer, and personalizing your messaging to a specific audience. Landing pages can supplement the product and category pages that you already have on your ecommerce site. And thanks to drag-and-drop landing page builders today like Unbounce, Elementor, and others, it's easier than ever to test this strategy out with minimal effort.
Follow Nicholas on Twitter and Linkedin
15. Pawel Ogonowski |
Growcode
In a word: personalization.
There are two sides to ecommerce personalization. On the one hand, many customers now expect their shopping experience to be personalized. You have to cover the basics just to ensure you're not needlessly losing out on sales. This includes things like tailored offers, geo-location targeting, and interest-based navigation and searches.
But for savvy retailers, there's also a significant opportunity. If you can get ahead of the curve with personalization, and offer cutting-edge features, you'll boost your conversions and sales.
How often are you retargeting customers with abandoned cart emails, for example? Is your homepage personalized? Do you have a "digital personal shopper" on your retail site? When's the last time you pitched customers personalized offers via Facebook messenger?
The data is crystal clear on this point. Ignore it at your peril.
Follow Pawel on Twitter and Linkedin
Conclusion
Don't try to implement all these tips at once. You'll give yourself a headache and probably won't see any serious results.
Instead, pick the one that stood out to you the most (yep we like the word "one") and run with it.
Because the truth is that every single piece of advice in this post can boost your conversion rate and revenue. But it's essential to find your winning mix. And for that, testing is key.
So pick your favourite tip, measure the results, and go from there. Bon voyage!
Original article at: https://www.growcode.com/blog/one-most-important-ecommerce-tip-from-experts-2019/