Jan 11, 2021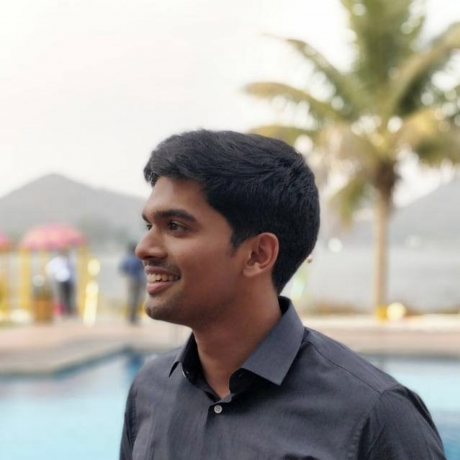 Salil Panikkaveettil
The Ultimate Guide to Google Shopping Ads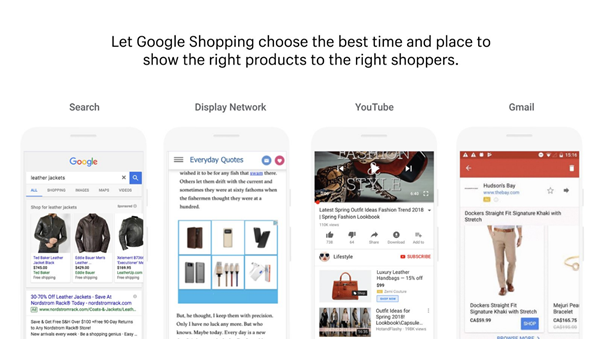 Google Shopping launched in 2002 and has evolved over the years. Google shopping Ads convert traffic with ease after the initial effort put in by the advertiser.
Once you set up Google shopping ads, Google automates most of the required work to create and display ads to the right people.
If you want to pay Google only when a sale happens (instead of per click) that's possible with Google Actions. Want to start with free listings? That's an excellent way to kickstart your campaign! Or would you prefer to go the whole way and take what Google shopping ads have to offer?
The Ultimate Guide to Google Shopping Ads will show you the way! This guide will show you how to leverage both standard and smart shopping campaigns for optimum benefits. To start, let's begin with the basics!

What are Google Shopping Ads?
Google shopping ads include rich details of products like price, image, and merchant names. These ads are created with product information derived from Merchant Center data feed, submitted by the advertiser/sellers, and shown to people searching for the types of products that sellers have advertised.
The various types of Google Shopping Ads
Google Shopping Ads are broadly divided into five categories:
1. Product Shopping Ads
2. Showcase Shopping Ads
3. Local Catalogue Ads (LCAs)
4. TrueView for Shopping (YouTube)
5. Smart Shopping Campaigns.
Let's look into them briefly.
1. Product Shopping Ads
Examples of product shopping ads on various screens
These ads require information regarding your product like title, image, price, your store's business name, and link to your ecommerce store via a Google Merchant Center Account with the product information submitted by you.
Thus, every product of your ecommerce store will have individual ads. Enhance your products by opting for Google services like Merchant promotions and product ratings. Product Shopping Ads are ideal for individual shopping products.
2. Showcase Shopping Ads
Showcase Shopping ads or Free Listing Ads help shoppers explore and discover your brand and products by grouping together a selection of related products. Buyers will choose to evaluate options from numerous retailers in listings, including price, product names, and ratings.
Go to Google Ads and Google Ads API to create your Shopping Ads. Showcase Shopping ads have a wider reach as compared to Product Shopping ads. Highlight curated selections of your product to reach out to potential customers just when they are about to make a purchase decision.

3. Local Catalog Ads (LCAs)
These ads are useful for driving sales to your ecommerce store or even your physical store and are meant for customers searching for nearby products using Google.
When the buyers click on this advertisement, they are redirected to the host page for your store constructed within Google, also known as the "Local Storefront". The storefront can be utilized to view more details about the products, store hours, and even directions to your physical store.

4. TrueView for Shopping (YouTube)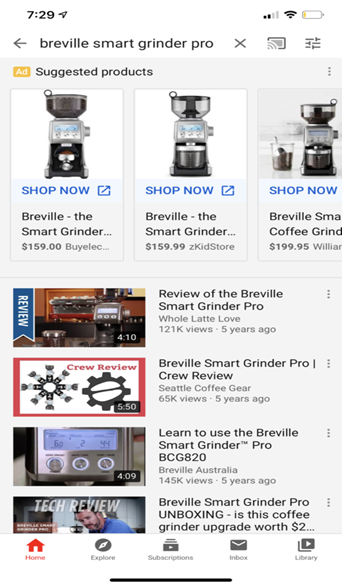 Image source
These ads are interactive video advertisements that directly connect potential buyers with your products or services. Usually, these ads tend to use Google Merchant Center to gather product information.
Shopping cards are created with this information, and up to six can be displayed in a given video improving the chances of your buyer making a purchase. You can choose your products or filter your inventory to be displayed.

5. Smart Shopping Campaigns
These campaigns combine your existing product feed from the Merchant Center and Google's machine learning to promote the brand and its products across networks. It pays close attention to the actual ad placement and makes use of automated bidding.
The relevant ads will be on display across Google networks – the Google Display Network, Gmail, YouTube, and Google Search Network. A subgroup of "Standard Shopping" Experience, Smart Shopping Campaigns are important in remarketing campaigns. This campaign can be created by any customer with a Merchant Center feed and benefit from this strategy.

How do Google Shopping ads function?
Google Shopping ads do not use keywords supplied by you to show your ads. It relies totally on the product data you have entered in your Google Merchant Center Account.
So, when a prospective buyer enters a search, Google uses details from the Merchant Center data bank to display the right products. Google Shopping Ads can function once you open the Merchant Center Account.

How to format a profitable Google Shopping Ad?
Since Google Shopping ads are a lot more compelling than standard and regular ads it is a good strategy to study how to create profitable Google Shopping Ads to use its salient features and optimize your ROAS. There are six ways to make Google shopping ads:

1) Make Product Photos and Listings up to the mark.
Google Shopping ads are different from regular text ads. They do not rely on keywords but on your product data information to determine which ads to show. Optimizing your product data is the most effective strategy to improve search results, both paid and organic.
• Product Title is a forerunner attribute in impacting your ranking. The product title should have a relevant keyword (or words) to describe your product and be what the consumer uses in their searches like color, size, and gender.
• Product descriptions should comprise relevant product features. Ideally, the first 150 characters should have the product attributes to hold the shopper's attention.
• The link should contain accurate information about your product, as this is the landing page that the ad will send the customer to when he clicks on it. Also, match your product description on the landing page to your actual production.
• Product image is the main component that drives traffic to a product. The image should be clear and should not have logos or watermarks on the photo as Google might reject your ad. Follow the specifications set by Google about relevant information like price, product image link size, availability, color condition, etc. wherever possible.

2) Ensure compliance with all policies and requirements for Google shopping ads are met.
Ensure that your Ecommerce/store abides to all the Google shopping platform's policies and requirements. The search engine algorithm tends to penalize products that do not follow the set procedures. Store policies and standards, shipping addresses, labels, and quality need to be accurately filled.

3) Setting up your Google Merchant Center Account.
Next, set up your Google Merchant Account if you do not already have one. It's simple to navigate and easy to set up. It would be the most challenging part of setting up the platform. Again, uploading accurate products to your product feed is of utmost importance.
A few tips regarding setting up Merchant Center Platform:
• Access your domain registrar and verify that you own it
• Under the general settings in the Merchant Center, you will need to set up both the tax and shipping rules
• Upload accurate data feed on your products to be entered in Merchant Center

4) Create your product feeds.
The product feed is a part of building the Merchant Center and ensures that it is filled out accurately as per Google's specification. It is the central part of your Google Shopping campaign.
The product feed needs to have keywords, including long-tailed keywords that are search engine friendly. It communicates product details and inventory status to match relevant search queries. Keep in mind that all the Google Shopping platforms will require the product feed.
Use correct language, highlight relevant areas, presenting structured and well-crafted content. If you have used third-party tools like Shopify to set up your website, you can automatically sync the product feed with the Merchant Center account.
5) Link your Google Merchant Center account to Google Ads.
The next phase would be to link the Google Merchant Center account to Google Ads. To do this, you need to have the Google ad created. Then link the Google ad to the Google Merchant Center account.
To complete this process, Google Ads Account should have administrative access. Once it's done, the campaign can use the product feed from the Merchant Center. You can link several Google ad accounts to one Merchant account.

Image source
6) Google Shopping Campaign Settings
Once you are done with linking Google Ads account with Merchant Center and have Administrative or Standard access to execute your shopping Campaigns. Your next step is to pick the settings for your Shopping ad campaign.

• Select a campaign name that can be changed later.
• Products need to be segregated and categorized based on the country where you intend to sell the same. It filters your products based on the target country. Once the country of sale data is created and entered, it cannot be edited.
• The inventory filter permits segmentation. Click additional settings if you want to click the inventory filter. Google always opts for relevancy in its product searches, and the inventory filter helps in this.
• The next step is your bidding strategy. As per Google, "a sufficient bid and high-quality product data will earn your product a higher rank." Retailers mostly opt for a smart bidding strategy to gauge the target CPA, ROAS, and even optimize clicks.
• Now select your campaign's daily budget. When you are a fresh starter in this business, Google will have to be informed about the amount of money you have decided to spend on an average each day.
• Google has created a campaign priority to help retailers differentiate between high and low priority ads. It creates marked boundaries between each product and is very important when marketing multiple products or services.
• These are the final few steps to setting up your Google Shopping Ads campaign. As your business develops, you will become aware that some products do exceedingly well in certain devices and networks. The bid you assign to these products can be improved in these devices and networks to optimize sales.
• Locations and local inventory ads are essential. When some products outperform the others in certain locations, you can choose to boost your bid. Similarly, local inventory ads can be used to identify if a product sold in one of your retail outlets needs to be added to the shopping campaign or not.

Image source
7) Success! Your Google shopping ads are live now.

Once you've completed all the above steps successfully, you Google Shopping Ads are geared to go alive now.

Top 10 Google Shopping Ads strategies to increase sales
1. Optimize Your Product Titles
The first step is to improve your product titles and give it clarity and a thorough and accurate description. Your Product Title plays a significant role in the increase of your store's revenue.
Ensure the titles are crisp and don't look like spam. Your product title should describe what the brand is all about. A clear and brief description will help to sell the product better and improve your CTR 10 times.

2. Enhance Your Product Feed Descriptions & Categories
Product feed description plays a large role in your Product Listing Ads (PLA). Ensure that the Product description and the product matches. Ensure the basic features are well described, and the features and benefits of the product or service are well documented as the customer is always keen to know about them.

3. Optimize Your Product Images
Your product image can give your ads a clear edge in the market. Creating a relevant keyword-rich file name is essential for image optimization, and this helps in your web page rank on search engines. The search engines crawl both the text on your web page and your image file names.
An optimized image needs to be taken on a white background, with 70%of the picture featuring the product. A clear image without distractions like Logo, watermark, or any branding.
You might want to consider an influential person using your service or product. Influential marketing can give your product a head-start in the market.

4. Use Google Shopping Ad Extensions
Is there a way to make your Ad stand out from the rest of the pack? Google Shopping Ad Campaign Extensions is the answer. They are categorized into 2 kinds - The Merchant Center Programs and automated extensions.
Google Merchant Center Promotions gives e-commerce advertisers a chance to incorporate special offers along with their Shopping Ads. These offers help the sellers differentiate their products from the rest of their kind advertised and provide an incentive to the buyer to visit the site.
Local Inventory ads or Product listing ads extensions allow the merchant to display local inventory information and product ratings, allowing the seller to distinguish themselves from the rest of the sellers with similar products. The ad features, store directions, price, additional information of the products, and if the searcher clicks on the Ad, the shopper is redirected to the local storefront page, which has additional info of the product'.

5. PLA Product Ratings and Reviews
PLA product ratings and reviews aggregate your product star ratings from across the web and appear below your product, especially if you have a large number of reviews.
It gives you the opportunities to showcase your "happy client base" and inform your product searchers that you are a reliable source for the product.
Testimonials, ratings, and reviews have useful bits of information about the product and the merchant and what the real customer has felt about the product and the brand.

6. Implement a Negative Keywords Strategy
Negative Keywords strategy is a crucial optimization technique in Google Shopping Ads. Plenty of times, products are displayed in the wrong contexts. Negative keywords ensure that your products are shown only to the relevant searches.

7. Adjust Bids by Device Performance
Merchants must understand more about platforms and see where their products excel. Both in traditional ads and Google Shopping ads, some products will excel in specific devices in contrast to other products. In the devices where the products are doing well, the final bid can be increased.
Notwithstanding the increase, they are likely to make sales and bring in good revenue. When the device performance for a product is extremely low, the overall bid can be reduced too. Bid adjustments need not be an improvement all the time.

8. Optimize by Geolocation
The performance of products will differ from location to location, and many times, many products may not be up-selling or cross-selling well all the time. When products are not doing well in certain geo-locations, it's a good idea to rethink your strategy, ultimately saving you money and effort.

9. Increase Bids For High-Performing Products
Product performance can influence if the bids of products need to be increased or decreased. The marketing thumb-rule increases the bids for products that are doing well, helping you earn revenues by selling it to the relevant audience and reducing bids for non-performing products.

10. Create Remarketing Lists for Shopping Ads
Lastly, you can optimize your Google Shopping Ads with a remarketing plan. According to Google, a "remarketing plan is a list of IDs of a group of users that you want to re-engage because of their likelihood to engage in a sale of your product." Use this audience data for remarketing campaigns to optimize your ad accounts.

Conclusion
Test the above strategies on your Google shopping ads, build your brand awareness, and grow your business. This way, you will be showcasing your brand and its products to the right audience at the right time.