Jun 1, 2017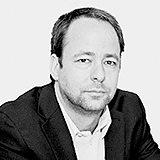 Bernardo Lustosa, Ph.D.
Silicon Valley Events Show Why Fintechs Aren't What You Think
By Bernardo Lustosa, ClearSale, for Endeavor

The fintech innovation in Silicon Valley is a little different from the stereotype of 20-year-old boys in garages with revolutionary startups. Here's what you don't know.

I represented ClearSale at two 2017 conferences in Silicon Valley. The first was Finovate Spring in San Jose, exclusively for startups and new products for the financial system. The second was an event of entrepreneurship, the Endeavor Retreat, with entrepreneurs from all around the world and speeches from some of the important people in the Valley.
I'll share here five of my observations surrounding fintech innovation — and they'll probably be different from what you imagined.
1. Blockchain and the Disruption of the Banking System
Bitcoin technology, which proved to be a highly reliable and safe registration of information without the presence of a clearinghouse, is generating some high expectations.
This article from the Harvard Business School states that blockchain will do to the financial system what the internet did to the media (hint: it radically changed our everyday lives. Many forums in Brazil are already talking about the end of banks and registry offices.
That won't happen today, or even tomorrow, from what I gathered during my participation in these conferences and listening to experts (and blockchain was a hot topic among the more than 150 companies participating in Finovate Spring). There are many blockchain-using startups that are in their formative stages and not quite ready. But they are coming. At the Endeavor Retreat, it was said that we should expect real and significant technological results in the next 10 to 20 years.
2. Fintechs Versus Banks
As technology and innovation develop, many expect the emergence and growth of fintechs to pose a major threat to banks.
Banks have several factors that limit innovation, like challenges with internal communication, large organizations that slow procedures, and challenges with generating appropriate incentives.
Fintechs, on the other hand, would be inherently agile, innovative and disruptive, and they would work at the forefront of technological knowledge and mobility.
While this is logical, this isn't the path fintechs are following. Instead, many of them are emerging as support to banks and existing fintechs.
The goals of the companies participating in Finovate Spring supported this idea. They're focusing on granting mortgages, creating end-to-end lending systems, developing systems for credit analysis, and performing optimization comparison systems of loans and financial services. In general, they're executing white label platforms for banks.
As a result, fintechs themselves would be doing nothing to revolutionize the financial system, but it would help improve the players in the current system.
3. Revolutionary Boys
For those who associate Silicon Valley innovation with young Bill Gates or Steve Jobs in his 20s, we hate to disappoint. Instead, I estimate that more than 80% of startups have been started by founders and creators older than age 40.
I noticed a similar pattern at the Endeavor Retreat with the entrepreneurs of companies linked to the financial segment. What may seem disappointing at first glance is actually refreshing: Innovation has no age.
4. Startups Versus Products
Not all the Finovate presentations came from startups. Mature and established companies also take advantage of the event's ecosystem to demonstrate their newly released products that contribute to the fintech sector. IBM, for example, has demonstrated its phishing detection system at Finovate.
5. The End of Fraud?
In a world of technological and mobile advancements and an era of immediately available information, shouldn't fraud be decreasing in frequency?
On the contrary: The more platforms operating financial resources that exist, the more fraud risk management is needed. I counted at least 10 startups focused on authentication, identification or other forms of fraud prevention, by means of register centralization, biometrics, document copies, etc.
The American trend toward fraud prevention continues to be from companies wanting to attack the problem of fraud through 100% technological solutions. The widespread delivery of tools makes it even more difficult for financial institutions to actually solve their problems.
But there are big changes on the horizon. Although we're still far from the eye of the hurricane, we can see heavy clouds on the horizon of the global financial market.
Currently, it's up to the banks to learn to coexist with this new environment and to live with a consumer who relies more on possibilities and less on bureaucracy.
And what does all this mean for ClearSale? New technologies bring new possibilities, and we should expect to see entire markets being transformed, especially in the digital context.
It's essential to keep innovating in the core business and, if possible, participate and be an advocate for our own market's transformation.
Originally published on Endeavor's website.