Looking for an ecommerce solution for your business? With the many options available these days, it can be overwhelming and difficult to find the right solution to best suit your company's needs.
However, these ecommerce platforms can be greatly beneficial to you if you find the one that is the best fit. When it comes to making the right selection, one needs to consider factors such as what features it has, pricing and user-friendliness.
With this in mind, we have put together a helpful resource on the differences between WooCommerce, Magento, Shopify, BigCommerce, and Shift4Shop.

One great benefit of WooCommerce is price (or lack thereof). With the right plan, WooCommerce is completely free. But that does not mean you won't find plenty of great features. With options like PayPal, BACS, and Cash on Delivery, there are plenty of payment gateways to choose from. Other features include free or flat-rate shipping, income reports, marketing campaigns and more.
Some particular benefits of utilizing WooCommerce as you ecommerce platform is a user-friendly interface for customers to rate and review products, well-organized sales reports, and easy downloading.
On the other hand, WooCommerce does require you to pay for hosting which can be a nuisance. You will also be on your own when it comes to setting everything up. At the end of the day, however, WooCommerce is pretty straightforward so this is not a significant drawback.
Here is what Merchant Maverick had to say about WooCommerce:
"WooCommerce is a low price solution (if you keep your extensions reasonably priced), and it does an excellent job of harnessing WordPress's SEO and functionality for your benefit. And, if you're willing to work through technical issues with only some guides and forums to lean on, WooCommerce could be the right option for you."
On the cost side of things, Magento is a bit more expensive at $18,000 per year. However, the software is free to download which is a benefit of going with Magento. With Magento you will get options like templates for personalized design, an integrated system for content management, an automated reminder for email marketing and much more.
Pros to using Magento include a well-organized professional appearance and a plethora of options with detailed information that will provide you the tools to conduct yourself in a professional manner that will lead to success.
The biggest downside of Magento is, of course, the price. It can also be a little bit more difficult to use. However, it does give plenty of tools and resources for businesses with big ambitions. If you are getting to the point in your business where you need your ecommerce platform to do a bit more then Magento just might be the solution you are looking for.
Shopify does not have a free option but the pricing is not bad with package options ranging from $9 to $179 per month. Some significant options include choices of over 100 professional-looking themes, mobile-friendly stores and helpful tools for marketing and SEO optimization. There is a lot here for the price and presents the merchant with many advantages.
One significant thing to note, especially in contrast to WooCommerce, is that hosting is free. There are also many tools to help you build your business and promote your store.
One con of using Shopify is that it doesn't allow for a lot of customization when it comes to product details. However, it is an easy-to-use option for beginners to the world of ecommerce.
At plans ranging from $29.95 to $199.5, BigCommerce is slightly more expensive than Shopify. However, it does make up for this with plenty of advantageous features. In addition to being mobile and SEO-friendly, BigCommerce provides you with customizable design options, easy integration with systems for inventory management, marketing and accounting and buit-in reports and payment gateways.
Some particular benefits of BigCommerce include free hosting, a user-friendly interface and detailed client information. Despite the fact that there is no free option, BigCommerce makes up for it with plenty of features and tools for your ecommerce business.
Here is what one customer had to say about BigCommerce:
"We have used different ecommerce platforms over the years. With our store, we wanted something easy to use that had the features we needed. BigCommerce made setting up our store simple with great SEO features and seamless integrations with MailChimp, Facebook, Ebay, PayPal and Google. Consider us very satisfied clients!"
In comparison to Magento, BigCommerce is another great tool for companies that are looking to operate on a larger scale. However, BigCommerce may have the advantage here with a more affordable pricing model. Be sure to compare and contrast the different features if you are trying to choose between these two options.
Shift4Shop
One long-standing ecommerce platform is Shift4Shop. The company was started in early 2000, giving it plenty of time to improve its product based on customer feedback. Because of this, Shift4Shop offers a considerable number of features for their ecommerce clientele.

Plans range in price, from $19.99/month for a startup account through more expensive enterprise levels. Whether you're a one-person operation or a huge eCommerce company, there is a program that is well-suited to your needs.
Some significant benefits are the myriad of marketing features that help any organization easily scale, including cart abandonment tools, email newsletters, and SEO tools for page optimization.

Some of the cons are that many of the best features are only available in the high-end accounts, and that it can take some time to learn all of the features that are available.
Conclusion
When it comes to selecting the right ecommerce platform, there is a lot to consider and you would do well to do your research and consider your business' needs to make the best, most-informed decision. Remember to consider details like pricing and features. There is a lot to consider and, at the end of the day, there is no right option. You need to have a good idea of your company's needs and where you see your business going and these will be the determining factors for the ecommerce platform that you end up settling on. Once you have made these considerations, the rest will fall into place.
The risk of false declines
It's important to consider that one of the default settings that these ecommerce platforms, and usually payment gateways as well, have is to reject or filter out transactions before having them even reaching your fraud solution. In some cases, you might be relying just on these standard fraud filters.
A fraud filter is a tool you can add to your ecommerce shop to prevent potentially fraudulent orders from processing in your store. Depending on how you set up the fraud filters, it will either warn you of a potentially fraudulent transaction or cancel an order entirely.
These filters might be rejecting orders from "risky" geographic locations, AVS (Address Verification System) or blacklists from previous frauds, for example.
One of the biggest challenges with using traditional fraud filters is ensuring that good transactions aren't declined while bad ones are approved.
Recent statistics report that:
For example, if you set up a fraud filter to automatically decline transactions where the billing and shipping addresses don't match, you could potentially turn down an order that someone is buying as a gift for a family member.
In addition to the value of the transactions that are falsely rejected before reaching your fraud solution, you should also consider the potential lifetime value that is lost when a legitimate customer's order is wrongly blocked, as you can see in the graph below: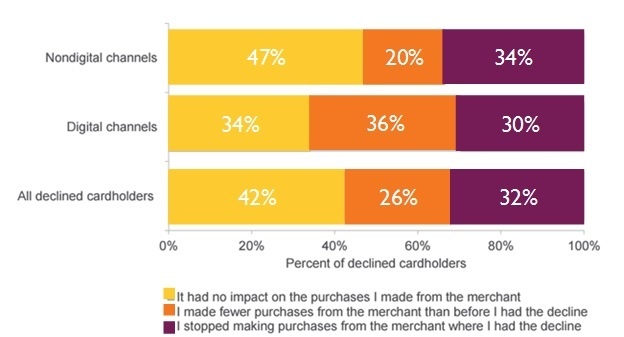 As real-life human beings, consumers don't all fit neatly into one-size-fits-all packages. We travel internationally, make large and impromptu purchases, and ship gifts to friends and family in far-flung corners of the world.
This reality makes it incredibly tough to tell the difference between fraud and legitimate orders, and merchants will always be at risk of falsely turning away actual purchases.
Avoid this risk by leveraging an industry-leading combination of machine learning and human intelligence to spot fraud and validate legitimate purchases. As a result, you'll keep (and build) your client base without losing sales to emerging fraud behaviors and friendly fraud schemes.
Maximize security. Minimize credit card false decline rates. Improve customer retention. What's not to like?
To learn more about reducing false declines as part of a robust fraud-prevention program, contact us at (786) 888-4584 or contact@clear.sale.