You can't take a step in the ecommerce platform market without hearing about the meteoric rise of Shopify, the upstart, merchant-first software that is on a mission to democratize online selling and has done so for 1,000,000 small and large businesses to date.
Like many start-ups, Shopify's story began when its founder, Tobias "Tobi" Lütke, was unable to find an easy-to-use ecommerce platform for his snowboard company, Snowdevil, and decided to build one for his own use. Ultimately, he thought it was an idea too good not to share and launched it as Shopify in 2006.
The company's stated mission is to "help people achieve independence by making it easier to start, run, and grow a business." From its early days in an Ottawa coffee shop, Shopify has grown to a global company employing 5,000 people and powering over 1,000,000 businesses including notable brands like General Electric, Amnesty International, Tesla Motors, Encyclopedia Britannica, Foo Fighters, and GitHub.
Despite the big names, Shopify positions itself in the ecommerce market as David vs. the Goliath of online stores, Amazon Marketplace. As Loren Padelford, head of Shopify Plus says, "Amazon is like a mall owner who will open an identical store next to you, sell all of your products at a cheaper price, and try to convince consumers it's the same thing. That's not actually a mall owner, that's a competitor masquerading as a mall owner."
By contrast, Shopify is focused on arming small, independent businesses with the tools to "get into the ecommerce game as a small player and stand out on your own merit," per Paul Munford, editor-in-chief of Lean Luxe.
That dedication to making it friction-free for small businesses to get started with ecommerce is exemplified by Shopify's 14-day free trial. With no need to enter payment details, it's a no risk, no pressure option to kick the tires and see if Shopify is the right fit. Businesses ready to take the plunge after those two weeks can choose from five plans comprised of two elements: the fee on the Shopify system itself, and payment processing fees that are a percentage of revenue.
The plans range from the $9 per month Shopify Lite which lets you add ecommerce to a Facebook page or existing website for a 2% transaction fee, to Shopify Plus the plan for large-scale, enterprise level businesses with huge budgets which is available at a custom price. This multi-tiered pricing structure ensures businesses can grow on the platform at a comfortable pace.
What Makes Shopify Different from Other Ecommerce Platforms
Here are some of the ways Shopify has earned its popularity and global success:
Shopify is user-friendly. Ecommerce-platforms.com points to the software's balance between ease of use and functionality. "Shopify is incredibly friendly even for beginner users who haven't operated an ecommerce store before. And on the other hand, it delivers all the features that a business owner might need. Plus, you don't have to take a web development or coding class."
Shopify is one and done. Sign up with Shopify and you have all the tools for launching a site within minutes; no self-hosting or buying a domain name from a third party required. Ecommerce-platforms.com points out that with the thousands of apps and plugins available in the Shopify App Store, shop owners can integrate their store with countless third-party services or add new functionality at the click of a button.
Shopify aids hybrid commerce. Shopify enables the combination of online and offline shopping, aka click and mortar, with point-of-sale (POS) technology, including hardware, to serve direct-to-consumer brands that are seeking to open physical retail stores. Because Shopify already provides payment, inventory, and shipping services, adding POS terminals in stores to accommodate this kind of behavior is relatively easy.
Shopify is feature-rich out of the box. Websitebuilderexpert.com identified these high quality tools that they say, "don't just make running your online store possible – they make it easy and enjoyable too."

Shopify: What Ecommerce Platform Reviewers Say
Ecommerce platform reviewers acknowledge Shopify's current market dominance, popularity, and ease of use for beginners, but also note that competitors like Woo, BigCommerce and Wix are beginning to eat into that dominance.
Websitebuilderexpert.com rates Shopify 4.7/5 stars. It scores highest for features and customer satisfaction, its brilliant inventory system and ability to sell across multiple channels, including Facebook, Instagram, Amazon, and eBay. On the downside they note the costs of transaction fees unless you use Shopify Payments, and the apps required to get extra features.
Ecommerceguide.com rates the platform 9.75/10. Among its strengths, they note how beginner-friendly Shopify is, its great selection of designs/themes, the numerous Shopify partners that can provide support, and a highly engaged community. Points were lost for somewhat limited ability to customize stores and occasional slow response times from tech support.

MerchantMaverick.com, which focuses on ecommerce for small business, gave Shopify 5/5 stars and found that it scored above average in key areas of user ratings: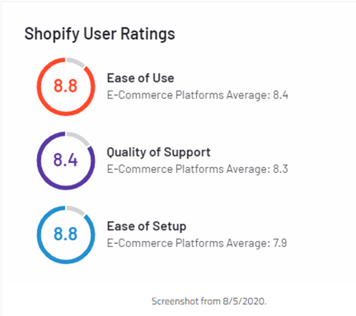 Is Shopify the Right Ecommerce Platform for You?
Shopify has rightly earned its place on the top of the ecommerce heap. Whether it is right for you will depend on which capabilities you value. Some things to consider:
Want a Swiss Army Knife? Merchant Maverick says "Shopify is a top option for ecommerce businesses of all size, from startup to enterprise. It's easy to use, scalable, and has built-in potential for fulfillment and financing. We particularly like the $9 monthly plan that allows small businesses to dip their toes into the eCommerce pool and its built-in receptivity to the world of dropshipping."
Starting on a shoestring? The lower plan tiers are very affordable making them a good choice for small businesses that are just starting out and want to minimize costs.
Not an SEO ninja? Shopify offers promotional help with features like built-in Search Engine Optimization (SEO) so your site can easily be found on all major search engines such as Google, Bing, and Yahoo.
Want to stand out in the crowd? Despite the easy drag and drop functionality, you won't get stuck with a store that looks off-the-rack. Shopify offers approximately a hundred contemporary, sophisticated site designs to choose from that you can then adjust to make look exactly how you want.
Selling internationally? Shopify was fast off the blocks in preparing to handle the personal information of European customers according to the EU's General Data Protection Regulation (GDPR). All business running on Shopify have the tools required to make their operation comply with the regulations. Similar regulations are already being adopted in some U.S. states, so this proactive approach will prevent potential disruption later. Also, Shopify allows you to make your store multilingual in up to 50 languages.
In summary, Ecommerceguide.com says:
"Shopify is a go-to for ecommerce for a reason – it's one of the best hosted platforms, it's quite easy to navigate through, there are plenty of visually appealing themes to choose from, and you have the option of including many useful third-party integrations that will help your business immensely and improve the customer experience."
Want to understand how you can integrate ClearSale's fraud protection solution into Shopify for worry-free ecommerce transactions? Our knowledge base has the answers.