Machine-learning is all the rage in fraud detection, with industry analysts, academics, businesses and technology media examining the advantages of algorithms and big data in the fight against e-commerce fraud. Especially for fraud analysts working in companies with small budgets , machine-learning tools are seen as a cost-effective way to tighten fraud controls while maintaining fast decision times, as Forrester noted in its 2015 cross-channel fraud report. There's no question that machine-learning tools can be an effective component of fraud reduction program, but relying on them to save staffing costs may not be cost-effective in the long run.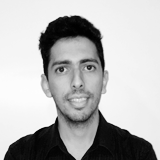 Leading smart people to solve complex problems in dynamic environments is Rafael's signature skill. As ClearSale's VP of US Operations, Rafael combines the company's innovation-driven culture and emphasis on communication with a deep understanding of the statistical tools that underpin excellent fraud protection. From his base in Miami, he oversees ClearSale's US anti-fraud operation by leading its commercial, statistical intelligence and IT teams and providing technical and executive management for all the operation's employees. During his 8 years with the company, Rafael has also planned and executed ClearSale's international business unit, directed ClearSale's statistical intelligence area, and helped manage the company's growth from 25 to more than 700 employees, including more than 500 highly trained fraud analysts. Rafael has a distinguished academic background. He earned his master's degree in economics and finance at FGV-SP (Fundação Getúlio Vargas-São Paulo), one of the world's leading policy and economic think tanks. Rafael holds a bachelor's degree with great distinction in statistics from UNICAMP (Universidade Estadual de Campinas), internationally recognized as one of the top universities in Brazil and in the world.

That's because while machine learning is an invaluable tool in the fight against fraud, it relies on human input and insight to create a comprehensive solution that yields the best results.
OVERRELIANCE ON AUTOMATED SCREENING LEADS TO MORE FALSE DECLINES
Algorithms are useful for identifying potential fraud quickly, but due to variability in consumer behavior – such as making online purchases while traveling abroad — some transactions will be falsely flagged for decline. The costs associated with false declines are too high to ignore. US merchants lose much more money on false declines than on confirmed fraud — $118 billion in false declines, compared to $9 billion in actual fraud, according to MasterCard and Javelin research.
Click here to read the full article.