May 11, 2018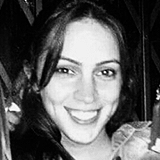 Sarah Elizabeth
7 Pet Peeves Consumers Have With e-Commerce Websites
If you're an e-commerce merchant vying for online sales, you have to stand out from the other 24 million e-commerce stores competing against you. While you might think one of the best ways to stand out is to add a bunch of shiny bells and whistles to your site, you could be doing more harm than good.
Online shoppers are notoriously fickle. And they won't stick around if your website doesn't work exactly the way they expect it to. In fact, 30% of consumers surveyed said just one thing wrong with a website is enough to cause them to shop elsewhere.
The last thing you want to do is turn customers away because your website's bells and whistles don't work. But it's hard to know what consumers want and what turns them off.
That's why we've identified the top seven things consumers hate about e-commerce sites — as well as some easy fixes to help you avoid making these mistakes on your own website.
1. Poorly Organized Sites
Your website navigation is the lifeblood of your website. If your menus are confusing, lack a clear structure, or worse – offer too many choices, consumers will have a hard time finding the products you would like to sell to them.
This poor navigation is a huge turn-off for consumers: 41% of e-commerce website users complain that when a poorly designed website makes it challenging to find what they're looking for, it negatively affects their shopping experience.
With a cluttered homepage and complex navigation, online retailer Arngren doesn't make it easy for customers to find what they're looking for.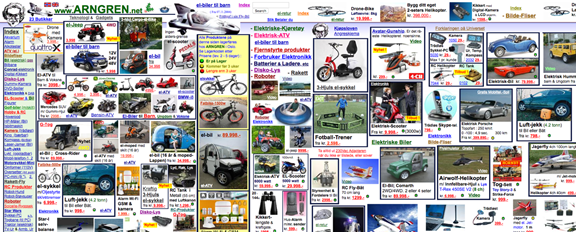 How to Improve the Customer Experience
Make sure your site is organized logically and your categories make sense. Clothing retailers, for example, might want to create top-level categories for men, women, boys and girls, and subcategories for different types of clothing within each top-level category (e.g., shorts, pants, swimsuits, sweaters, etc.).
2. Lack of Robust Search Functionality
Some consumers won't even bother with your navigation and will instead prefer to use your website's search bar to find a specific item they know they want.
If you don't offer that search function, you may be alienating those customers. More than 29% of online shoppers are frustrated by basic search features that don't help them find what they're looking for or that push certain brands.
How to Improve the Customer Experience
Go beyond a basic Google Search module and incorporate filters and advanced search features that let customers drill down to find exactly what they're looking for.
With 383 results for "white shirt," American Eagle lets customers refine their search by gender, color, price and more to find just the shirt they want.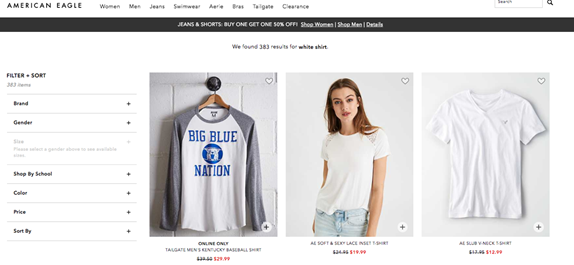 3. Not Knowing an Item Isn't in Stock
Another frustrating experience is when the customer finally finds the perfect product and adds it to their cart — only to find that the product isn't available, with no idea when or if it will be restocked.
On e-commerce merchant Spunkwear's website, customers may find the perfect dress in their size — but it's not until they try to add it to their cart that they find it isn't available.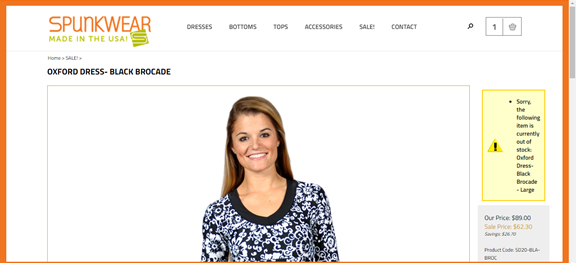 How to Improve the Customer Experience
Add product filters that let customers display only in-stock items. If an item is unavailable, let customers know when and if it's expected to be restocked.
4. High Shipping Costs
Exorbitant shipping costs are the number one frustration for a whopping 66% of customers and often cause shoppers to abandon their purchases.
Even worse, some merchants don't give customers a choice of shipping options, resulting in sticker shock when the total purchase cost displays.
Uline's cheapest shipping option for a $38 purchase (traveling just 220 miles within the state of Texas) costs slightly more than 50% of the product price.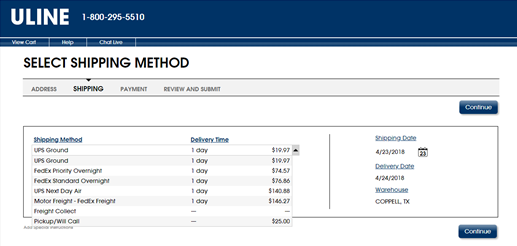 How to Improve the Customer Experience
Let customers calculate shipping costs at the beginning of — and throughout — the shopping process. Sway customers who might be on the fence by offering free or discounted shipping, which is one of the most effective ways of converting browsers into buyers.
5. Being Automatically Added to Mailing Lists
When asked to list their top pet peeves about e-commerce shopping, 16% of consumers mention that they hate being automatically added to mailing lists. We know you want to keep marketing to your customers after they've made a purchase — but understand they may not want to keep hearing from you.
How to Improve the Customer Experience
Give customers the opportunity to opt out of mailing lists during the checkout process. This ensures you're sending emails to only those customers who truly want to hear about your sales and new products.
6. Requiring an Account to Be Created
Not every customer wants to create an account with every e-commerce merchant they do business with. This is a key pet peeve for more than 25% of consumers for several reasons, including:
Data security.

Shoppers are rightfully concerned about keeping their personal data secure.

Time and effort.

Having to create an account slows down the checkout process.

Barrage of emails.

Shoppers may worry that signing up for an account will result in an onslaught of emails from the retailer (See # 5 above!).
E-commerce website Zulily requires customers to create an account before they can even browse the website.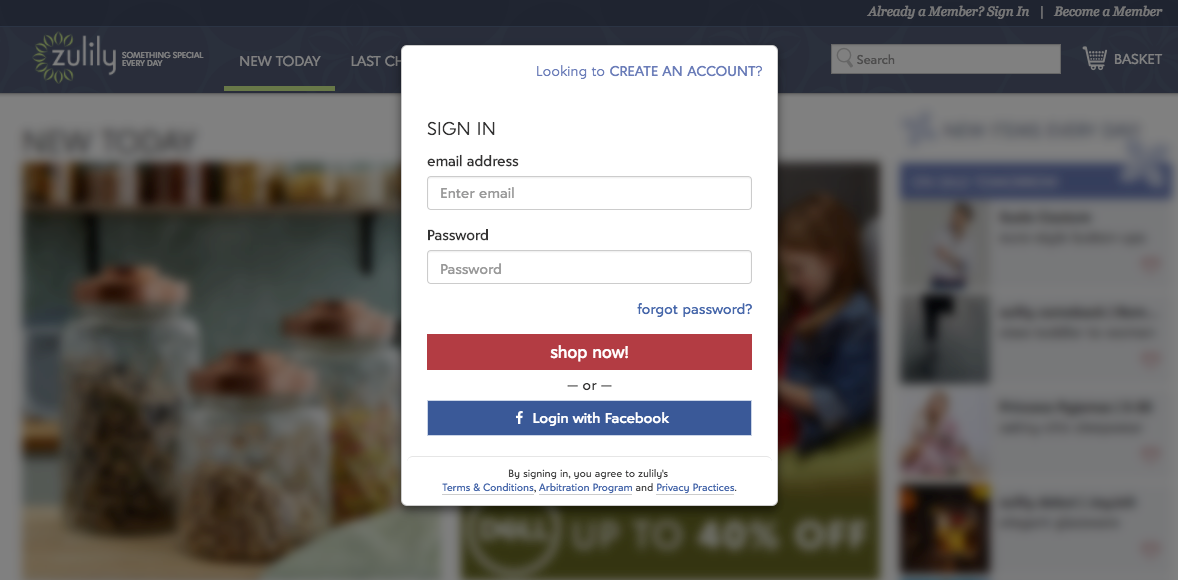 How to Improve the Customer Experience
Give customers the option of checking out as a guest, and offer them the opportunity to create an account after they've made their purchase – at which point, they're hopefully feeling good about their transaction and will be more open to this request.
7. Products That Don't Match Online Descriptions
Once customers do find the perfect product in their size and in stock, imagine their frustration when it arrives at their doorstep and looks completely different. As many as 38% of consumers claim they wouldn't have bought a product online if they had seen it in-store first.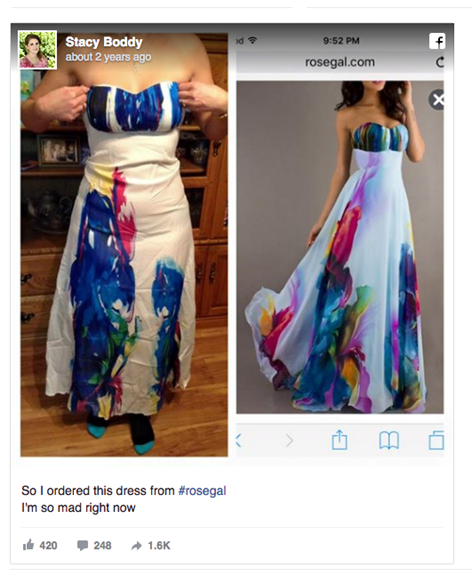 How to Improve the Customer Experience
Make customers confident that what they see on a website is exactly what they'll receive:
Improve the Customer Experience With Fraud Protection
With nearly 70% of e-commerce shoppers reporting that one or more of these pet peeves is enough to drive them to a competitor's website, a negative user experience can break the bank for you.
When are developing your website, keep the customer experience in mind. A poorly designed and executed site will turn your customers off or lead them to abandon their carts before they complete checkout.
However, a well-executed website is just one way to convert browsers to buyers and boost an e-commerce merchant's reputation and bottom line. You should also consider implementing a comprehensive fraud protection program that reduces you risk of chargebacks and false declines and helps offer customers a seamless checkout experience.
Contact the experts at ClearSale today to learn how our outsourced solution can help you take your e-commerce business to the next level!