Aug 3, 2020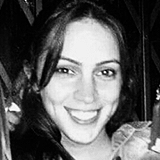 Sarah Elizabeth
Online Ordering Trends: Grocery Industry
Over the years, grocery shopping hadn't evolved much. Sure, self-checkout lanes emerged as a new convenience, but the actual shopping experience was virtually the same.
Until online grocery ordering came upon the scene.
After all, customers are used to having nearly anything and everything ordered online and ready for pickup (or shipped right to them). So why not groceries, too?
Now that customers can grocery shop at their convenience, placing orders online and scheduling the pickup and delivery times that work with their schedule, the grocery industry is forever changed. Grocery e-commerce is now the fastest-growing product category online in the United States, with a projected spend of $38.16 billion by 2021.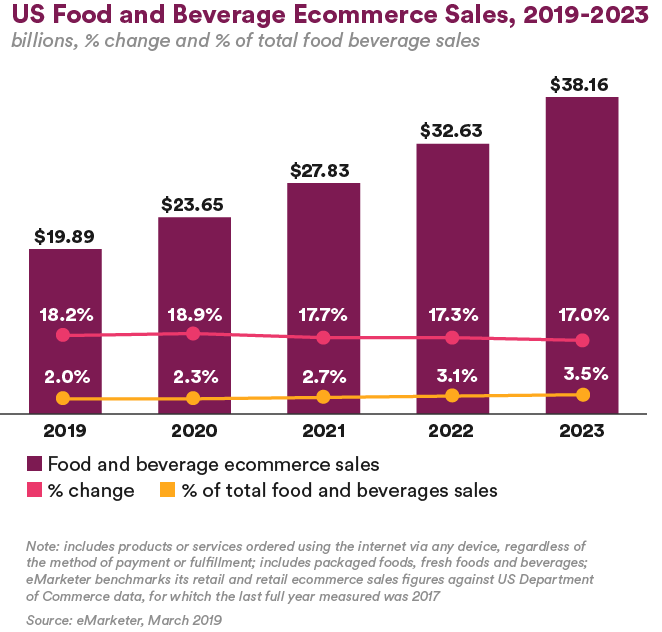 With the current COVID-19 pandemic keeping more people at home and relying on online orders for all their grocery needs, this growth is no surprise.
But if the grocery industry wants to take advantage of this evolving market, here's what they need to know.

How Online and In-Person Shopping Differ
Although the end result of grocery shopping online or in person is the same — restocking a home with bags of groceries — the way customers get to that end result varies.
While many customers enjoy browsing and buying from their digital devices, others find online food shopping far more difficult than the in-person experience. Product sizes can be hard to discern from small product photos, and even the browsing experience can be cumbersome and time-consuming if you can't narrow a search of "chicken" down to the specific piece of meat or canned good you want.
Surprisingly, these challenges often aren't reflected in the final purchase. Instead, the average basket size for click-and-collect orders is significantly higher than for in-person shops.
The reason? Online shoppers are often eager to reach minimum purchase requirements to get shipping or pickup charges waived. Adding items to the basket for online shops can also be done at a shopper's convenience over several hours — or even days — making it easier for shoppers to double-check their pantries to ensure they're not forgetting anything.

Despite their bigger basket sizes, however, online shoppers tend to be less adventurous than their in-store counterparts. After all, they can't be swayed by free samples, or eye-catching endcap displays. So, they tend to shop well-known or familiar brands or buy the same products week after week, which can make it hard for grocers to tempt them with impulse purchases.
Additionally, online grocery customers tend to buy staples more than perishables, avoiding the concern of being given overripe or near-expiry products.
How COVID-19 Has Shifted the Grocery Industry
The current COVID-19 pandemic is responsible for major growth in the online grocery industry, thanks to customers following mandates to stay at home (or out of busy public spaces).
Not only has the pandemic increased the demand of curbside pickup for individual stores, it's also fed the rise of grocery shopping home delivery services like Instacart and Shipt. These services add another layer of personalization, with shoppers contacting the customers for questions about substitutions and offering to make last-minute purchases. Customers benefit from the convenience of having their weekly shopping — or even impulse late-night snacks — delivered straight to their door.
This trend toward online isn't exclusive to the United States. The pandemic has catapulted online grocery sales internationally. Grocery e-commerce penetration doubled in Italy, rose from 8.1% to 12.4% in the United Kingdom, and jumped from 6% to 10.2% in France.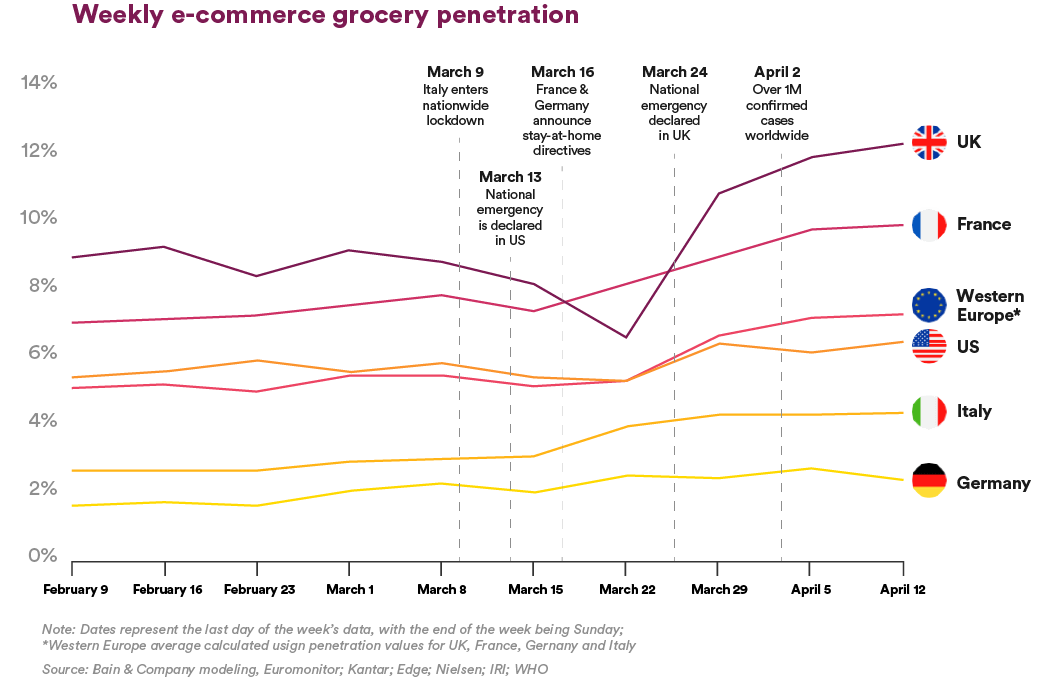 And this shift in shopping is likely to last long after the pandemic subsides. Shoppers are changing their priorities, focusing on maximizing time spent with family versus completing household tasks that can be outsourced. And now that shoppers are familiar with navigating stores' apps and have enjoyed the convenience of click-and-collect groceries, they're more likely to continue online grocery shopping even after they feel comfortable returning to stores.
Grocers who can keep needed items in stock and offer flexible, free and prompt pickup are those who will win over customers and benefit from this new shift to digital.

How Online Grocery Shopping Will Grow
With an estimated 77% of Americans not yet using grocery pickup services, there's an ample market just waiting to be tapped. According to Statista, online grocery shopping in the United States is predicted to climb from $14.2 billion in 2017 to more than $29.7 billion by 2021. As the desire for curbside pickup and home delivery services grows and intermittent lockdowns in COVID hotspots make at-risk customers hesitant to set foot in stores, those numbers may rise even further. Even millennials are predicted to make up a larger percentage of the future target market for online grocery store ordering, with 43% of millennials with children grocery shopping online, compared with just 15% of all consumers.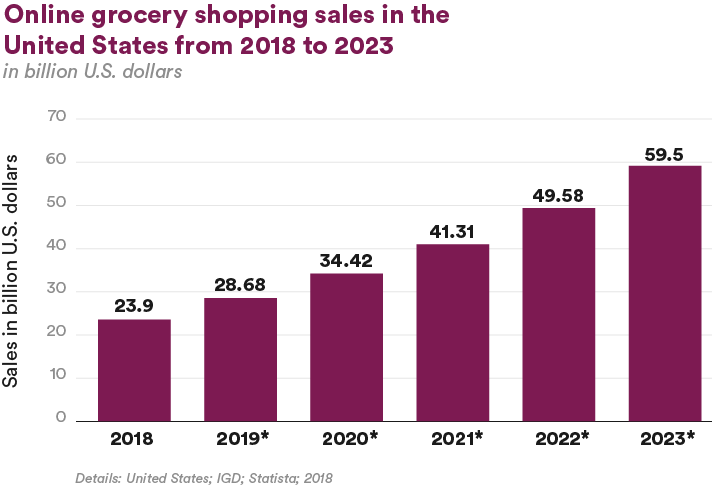 How Grocers Can Increase Online Sales
This increased demand is causing grocers to rethink their approach to sales. Customers who go digital miss the interactive opportunities that in-person shopping offers, like taste tests, coupons and seasonal displays. So, grocers (and brands) will want to look for ways to adjust marketing and sales strategies to cater to both their online and brick-and-mortar shoppers.
Some stores have been experimenting with virtual walkthroughs, using the same technology realtors use for home walkthroughs (it operates similarly to Google Earth's street view). This allows shoppers to leisurely browse the shelves from the comfort of home, providing the benefits and comfort of a visually familiar shopping experience.
Grocery retailers may also want to evaluate whether emerging voice ordering technology can help them attract and retain customers. While shoppers are becoming more familiar with using voice technology to reorder items on Amazon via Alexa devices, they may not yet be willing to order groceries through Internet of Things devices without being able to confirm they're ordering what they think they are, much less being unable to see the product itself.
But by keeping in-demand items in stock and serving customers with quick turnaround windows, the grocery industry will be able to enjoy continued growth online and a dedicated customer base.
If you're considering expanding your business online, you'll want to ensure you take the necessary steps to protect your business and your customers against the risk of card-not-present fraud. Download our free guide, "Merchant Guide for E-Commerce Fraud Protection" today. In it, you'll find the information you need to select the fraud prevention solution that ensures fraudsters aren't slipping past your defenses and stealing your hard-earned profits and customer trust.