Aug 25, 2023

Elma Ocampo
Online Gaming & Gambling Industries Overview
Over the last ten years, the online gaming and gambling industries have virtually transformed. Both were on a consistent trajectory before 2019, but the pandemic propelled the industries forward as consumers were only too happy to distract themselves from having to shelter in place. Today, online gaming is a thriving US$166 billion industry and online gambling is worth over US$60 billion.
Let's look at how each industry has grown.
Online Gaming Is Poised for Growth
Video games have come a long way since people were playing Pong on their Atari consoles. But one thing is clear: The video game industry has captured the attention of people worldwide, especially with the shift from rudimentary graphics and consoles to virtual reality and facial recognition. What was an industry with 1.82 billion users in 2014 is anticipated to include 3.32 billion players by the end of 2024.
So, where are the gamers? The answer is everywhere.
Top Regions for Gaming
According to Makreo's Mobile Gaming Market Report, the gaming market is international, but there are definitive hubs where revenue and players are centralized.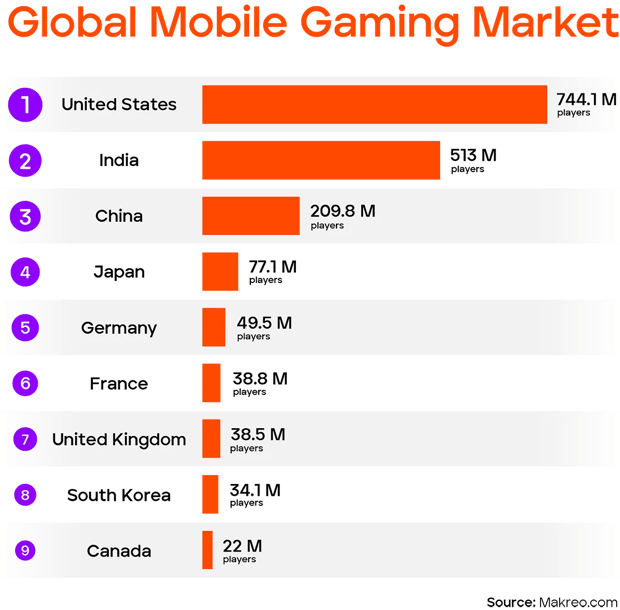 The United States has maintained the top spot for users and revenue since 2019, with a gaming industry revenue of $15 billion. More than 60% of U.S. gamers play daily with a 55/45 split between male and female gamers. The most predominant gaming generations are Gen Z and millennials.
However, Europe and Asia as quickly gaining steam and stand to surpass the U.S. in the future. For example, Japan and the UK both have about 58% gamer penetration and are expected to reach 67% and 70%, respectively, by 2027.
Online gaming companies should make sure to appeal to an international gamer audience if they want to maintain market share.
Top-Performing Platforms
New platforms are emerging as technology improves. While video games started out on consoles connected to TVs, they've expanded onto multiple other platforms. Here are some of the most popular ways video games are being delivered today.
Mobile (Smartphone and Tablet)
Mobile gaming has grown with high mobile penetration worldwide. Between 2018 and 2022, the global mobile game market grew from $ 61.8 billion to $98.33 billion, according to Makreo's report. Today, consumers can download gaming apps – from Crossy Road to Candy Crush – and take advantage of the microtransactions that improve their chances of winning.
The Cloud
The cloud has completely changed the face of gaming. Instead of needing specific physical hardware to play a game, customers can play cloud-based games on any device, anywhere. This platform-agnostic flexibility drives both demand from gamers as well as new games from developers.
In fact, companies like Microsoft, Sony, Google, Nvidia, Tencent, and Amazon offer cloud-based gaming subscriptions. This makes it possible for gamers to leverage their smart devices and portable streaming devices like Chromecast or FireTV instead of expensive consoles.
E-Sports
E-sports transforms professional sports and its players into life-like adventure games with spectators, tournaments, leagues, sponsorships, and athletes. E-sports rose in popularity during the pandemic and reached $1 billion in 2021, per the Makreo report.
Virtual Reality & Facial Recognition
Augmented reality (AR) and virtual reality (VR) allow gamers to enhance their current environment or enter a fully immersive experience. These technologies are changing the face of the industry completely.
Taken further, 3D scanning and facial recognition technology makes it possible for systems to create a gamer's likeness in a game world by designing a personalized avatar. For example, the Intel® Real-Sense™ 3D camera can detect 78 different points on a person's face and may enable game designers to create games that adjust to a player's emotional state.
Closely related to online gaming is online gambling, which is an industry that has also seen a boost in the last several years.
Online Gambling Market Outlook
Globally, online gambling accounts for 17% of the population, with the majority of online gamblers from Latin America. While the U.S. has a large amount of gambling operations, only 3% of the population who gamble in the U.S. do so online. In the UK, the Gambling Act 2005 allows corporations to advertise their gambling sites, which has helped with growth. And in Asia, online betting and gambling has become more popular as well. Overall, online gambling revenue is projected to top $114 billion by 2028.
Key Online Gaming and Gambling Trends
1. Streaming services are getting into the game
Entertainment and gaming industry lines are blurring as streaming services are turning to gaming as a way to adjust for declining ad revenue and subscriptions. Companies like Netflix are leveraging existing gaming intellectual property (IP) to attract dedicated fan bases, while gaming adaptations of popular franchises are on the rise.
2. Evolution of e-sports
With the skyrocketing popularity (and availability) of gaming, it's no surprise that some are turning it into a lucrative career. Global e-sports — including sponsorships, merchandise and ticket sales — has become a billion-dollar market. So much so that e-sports organizations like Complexity Gaming are signing content creators, launching merchandise, and expanding into other verticals to foster fandom beyond gaming.
3. Gaming as a career
Gaming has become more than entertainment. Millions of people now tune in to gaming competitions, and esports and gaming are now established programs of study in more than 60 U.S. universities. These programs teach students industry-related marketing and management skills and entice top recruits with scholarships.
At the same time, online gaming and gambling companies have to navigate some very real challenges.
Regulatory Hurdles for Online Gaming and Gambling Success
Regulation and fraud are two of the biggest hurdles for online gaming and gambling businesses especially in regions like Latin America, where online gambling is extremely popular but payment methods create some significant hurdles.
Brazil

Brazil has the largest online gambling market in terms of visits and volume, but it's not fully regulated. The permitted payment methods for online casinos in Brazil are bank transfers and alternative payment methods (APMs) such as Pix – the preferred payment method. Online gamers have to adhere to restrictions for debit and credit cards restrictions for online games.
Colombia
Colombia has a regulated online casino market monitored by Coljuegos. Payment methods in Colombian online casinos include credit and debit cards, bank transfers through PSE, digital wallets, and cash. The preferred payment method is PSE, followed by cash.
Chile

Online gambling is legal in Chile, but there is no specific regulation or organization issuing licenses. That means online casino businesses can operate in Chile with licenses obtained from other countries. Payment methods in Chilean online casinos include credit cards, bank transfers, and cash. For sports betting and online casinos, cash and bank transfers are the preferred payment in Chile.
Peru

Similar to Chile, Peru lacks formal regulation for online gambling. However, online casino businesses in Peru need to go through a banking analysis process to offer credit card payments. The most common payment methods in Peruvian online casinos are credit cards, bank transfers, and cash. Bank transfers and cash are the preferred payment methods.
Online gaming and gambling businesses should partner with an experienced payment service provider and risk management solution to navigate changing regulations and ensure transparency and compliance in transactions.
Of course, fraud is always part of the conversation when it comes to any type of online transaction.
Online gaming and gambling fraud risks
Online gaming and gambling payment fraud reached $20 billion in 2021, prompting industry operators to take a hard look at the problem. Payment strategies were among the issues with revenue losses of up to 25% for gambling operators and 38% citing the need to analyze fraud data to implement new rules efficiently.
How to Mitigate Online Gaming and Gambling Fraud Risks
Online gaming and gambling platforms truly struggle to fight fraud without compromising user experience because extensive authentication steps can be off-putting for players with little to no patience for perceived bureaucracy. If companies create too many hoops to jump through they risk losing of revenue and consumer trust.
Here are a few tactics that can minimize the impact on real users and the fraud risk:
Bring data policies and procedures up to date
Compliance, customer privacy, and data security requirements need to change with employees working remotely. Your IT department likely no longer has a full read on the applications being accessed on company devices, which could be putting your systems and your applications at risk for hackers and fraudster intervention. Make sure to review all of your policies that impact company networks and technology to promote the safest environment for your employees and your customers.
Communicate with customers
Let customers know that you are implementing new tactics to prevent and fight fraud to protect them as much as your organization. This will make it easier to roll out a new security measure that requires a few extra steps. Your customers are more likely to comply and think highly of your company if they know in advance that you have their best interests in mind.
Implement an omnichannel fraud strategy
Your fraud prevention and protection strategy should be a singular wheel with many spokes, which will allow all of your organization's sales channels to benefit from learnings and trends. You won't be looking for the same fraudulent practices in every channel or using the same tactics – but your goal of preventing fraud is consistent throughout and your strategy should reflect that.
Partner with a fraud prevention and protection provider
Partnering with a solution provider that has industry knowledge and a global view of fraud trends is one of the best ways to prevent fraud.
Online companies should apply a sophisticated combination of automated fraud protection and manual review, so cutting-edge fraud technology can flag suspect accounts, passing them along to experienced manual reviewers for the expert analysis and detective work that only humans can do. That's the ClearSale approach, and it's why many of the world's leading tech companies trust us to protect their ecommerce transactions.
If you're not sure if your fraud prevention solution is doing the job, just contact us. We'd be happy to show you how our hybrid approach can help you stop leaving money on the table and start capturing the value of gray-area transactions.