Jul 17, 2018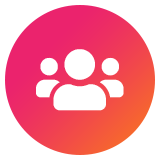 Chargeback & Fraud Protection Team
Internal Fraud Management: Is It a Risky Path?
E-commerce fraud is more than just inconvenient for customers and retailers; it's also expensive. The average North American merchant loses an average of 0.9% of its revenues to chargebacks and fraudulent losses, which translates into a 10%-20% profit loss.
As it becomes harder — and more critical — for in-house fraud protection solutions to quickly and accurately identify and prevent fraudulent transactions, e-commerce merchants may want to explore the other solutions available to them.
Why In-House Solutions May No Longer Be Enough
In the past, it was easy for merchants to keep fraud protection in-house. Not only was fraud more obvious, less frequent and easier to stop, but alternative outsourced solutions just weren't available.
But in today's fast-paced world of e-commerce, merchants are finding their in-house solutions have become significantly less effective due to:
Huge growth in transaction volume, including seasonal spikes and orders that arrive 24/7/365
Ease of expanding into international markets – which also increases risk
Sophisticated new fraud patterns and behaviors that require highly trained experts to detect
How an Outsourced Fraud Prevention System Can Help
As fraud becomes more pervasive and poses a more significant threat to e-commerce merchants, outsourced fraud management solutions are challenging the status quo of in-house solutions and are causing merchants to rethink their fraud prevention approach.
Here are a few reasons why an outsourced solution might be right for your business.
Better Manage Seasonal Fluctuations
Merchants may find it difficult to adequately staff an in-house fraud protection team if they experience seasonal fluctuations in sales volume. Hiring seasonal help or temporarily outsourcing part of the work might help, but it could also dramatically affect a team's ability to effectively screen transactions and provide proper coverage. It's a risk many merchants aren't willing to take.
By outsourcing, merchants are guaranteed staffing levels will always be appropriate for the season, analysts' dedication and effectiveness won't vary with sales, and the staff will be fully trained to identify subtle fraud signals.
Complement Existing In-House Teams
Outsourced solutions don't have to replace in-house fraud management departments. Instead, outsourced teams can complement an existing team by focusing on and improving the approvals of transactions within a target brand, business area or geographic region.
Many managed services providers prefer to work alongside an in-house fraud manager; it gives direct access to a company representative who understands the business and provides insight into new business initiatives. Consider the business that's launching a new product and is willing to risk a few chargebacks in exchange for market penetration. The in-house and outsourced teams can work together to calibrate the fraud protection strategy to achieve these goals.
Dedication to Fraud Protection
All outsourced fraud protection solutions do is prevent fraud, which means they can often prevent more complex and dynamic fraud attempts than can internal teams. Internal teams often also have to share company resources, which dilutes their focus.
In-house teams are also generally limited to purchasing specific software that doesn't update regularly enough to keep pace with emerging scams. Larger outsourced solutions have the technology and resources to stay ahead of emerging fraud patterns, effectively screen transactions and establish contingency plans to prevent fraud.
Provide Detailed Reporting
Outsourced solutions can provide comprehensive reporting on how well the solution is achieving key performance indicators — like chargebacks, declines and response time — and help companies achieve their goals.
Minimize False Declines
Merchants must be aware of the risk of false declines and how they affect both revenue and reputation. Customers don't understand the subtle indicators that result in declined transactions, so they may think the merchant believes they aren't good enough or don't have the means to pay for the purchase. This belief, combined with the embarrassment and frustration that accompanies false declines, results in more than 60% of customers changing their purchasing behavior with a company following a false decline.
Outsourced solutions combine machine learning and human intelligence to spot fraud and validate legitimate purchases. As a result, merchants can keep (and build) their client base without losing sales to emerging fraud behaviors and schemes.
How e-Commerce Merchants Can Reduce Chargebacks, Increase Approvals
Using the expertise of an outsourced solution, e-commerce retailers can quickly realize reductions in chargebacks and improvements to their approval rates.
Take Company A, for example. They outsourced their fraud prevention solution to ClearSale in November 2017 and realized an almost-immediate decrease in chargeback rates while enjoying soaring approval rates.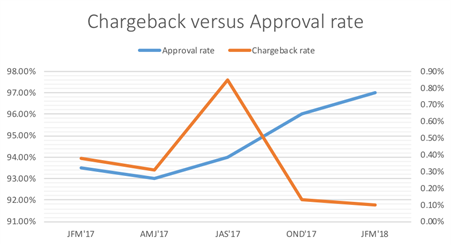 These results aren't unusual. Company B made the same transition in July 2017 and reduced chargeback rates from more than 9% to less than 1% while simultaneously seeing their approval rates climb 20 percentage points.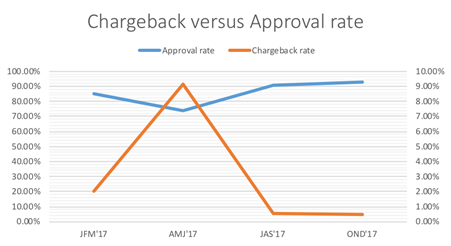 When you're ready to see how an outsourced fraud prevention solution can offer your e-commerce business these same benefits, contact a ClearSale credit card fraud analyst. We'll walk you through your options and explain how our Total Protection Solution can help you increase approval rates and revenue, minimize chargebacks and false declines, and prevent fraud attacks.