Dec 21, 2020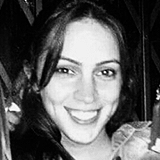 Sarah Elizabeth
Industry Trends 2020 and Beyond: Home Goods Ecommerce
Most of us are home a little – or a lot – more nowadays. As a result, home goods merchants have found themselves in the midst of a major industry shift, with more and more consumers turning to ecommerce to feather their nests with new sideboards and sheets.
While shoppers will be happy to resume in-person purchases once shutdowns and quarantines are no longer the norm, experts believe the behavioral shift to online shopping in this industry may have created enough traction it to persist. The question remains which of these trends will continue into 2021?

Trend #1: Consumers Spending More on Home Updates
It would seem that the more time consumers spend in their homes, the longer their home improvement punch lists grow. Since the first quarter of 2020, more employees have been working from home and students have been learning online. This extra time spent at home (combined with reduced spending on things like travel and dining out) has resulted in a lot of people wanting to improve their immediate surroundings.
Monthly sales data tracked by the Department of Commerce shows that spending has been up since the pandemic began and is still maintaining a steady pace at 7% in October. While apparel and other retail sales have been plummeting, home and furniture sales rose 6.6% in October alone.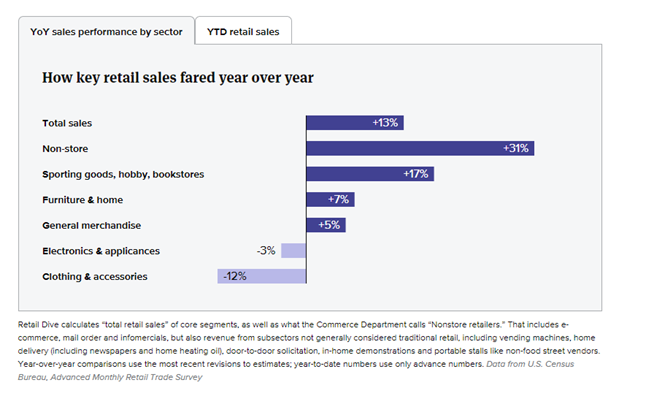 Trend #2: More (Ecommerce) Consumers Entering DIY Market
A secondary result of more time at home is that consumers are taking up the tasks of completing their own home repairs. Fears of exposure from essential workers and a desire to save money has driven consumers to access the wealth of do-it-yourself videos and information on the web for repairs to simple plumbing, electrical, and structural damages and needs. Second quarter earnings reports from major retailers have highlighted this trend with home repair tools and equipment seeing an 8% rise, with outdoor living furnishings and gardening equipment up slightly more at 9%.
Trend #3: A Hot Real Estate Market Is Boosting Home Goods Purchases
You wouldn't think that home selling and buying would surge during a pandemic, but low interest rates combined with the possibilities opened up by remote work have created opportunities that many consumers simply cannot refuse. So much so, in fact, that realtors are experiencing record low inventories on homes for sale. The National Association of Retailers reported that September home sales were up nearly 21% from last year.
This has been fantastic news for the home goods market and retailers selling these products. New homes often mean updated furniture, and low interest rates allow for larger home purchases requiring even more furniture, appliances and home improvement supplies and equipment. Target reported in its second quarter earnings that home goods sales were up more than 30% year-over-year, contributing to comparable sales being up 24.3% year-over-year.
Trend #4: Strong Home Goods Ecommerce Platforms Are Paying Off
Home goods companies with who establish a reliable, robust ecommerce presence have been the big winners in 2020.
Wayfair

Wayfair, a direct-to-consumer, online home brand, had struggled with profitability since its initial IPO because the cost of acquiring and retaining customers was eating away at profits. With the pandemic, consumers have looked to online stores for their purchases, and Wayfair has benefitted greatly. The company reported a second quarter direct retail net revenue increase of 84% to $4.3 billion. Active customers increased 46% to reach more than 26 million users. Even more exciting, Wayfair posted net income of $273.9 million, marking the company's first quarterly profit since its public debut in 2014.
Overstock

Overstock, also an online retailer, saw similar gains after previously struggling to be profitable. The company's retail-specific second quarter net revenue hit 109%, with three times the number of new retail customers year over year.
At Home

Adaptability in the ecommerce space is what has saved primarily brick-and-mortar retailer, At Home. The retailer was temporarily forced to close its stores in March 2020 and quickly began piloting a buy online, pickup in-store program at its 28 stores. The program was a great success and allowed for expansion. Not only did it maintain sales through the pandemic, foot traffic resumed once social distancing measures were put in place. By August 2020, in-store foot traffic was up more than 35% compared to the previous year and net sales were up over 50% – making Q2 2020 the best quarter in the company's history.
Williams-Sonoma

Williams-Sonoma is a shining example of what happens when a retailer makes a long-term investment in ecommerce. For this high-end, home goods company, the pandemic has only bolstered an already thriving online presence. An early adopter of ecommerce, the company rolled out its website in 2000, and launched their click-and-collect option in 2018. This foresight paid off: Second quarter earnings in 2020 for ecommerce sales were up 46% and online sales accounted for 76% of total revenues.

How Home Goods Ecommerce Merchants Can Protect Revenue Moving Forward
Whether or not the home goods market continues surging at current levels into 2021 and post-pandemic remains to be seen. It is clear, however, that having a robust and comprehensive ecommerce strategy is key to surviving and thriving in any type of crisis that impacts consumer purchasing habits. And, as is always the case, the challenge remains for any online retailer to protect against ecommerce fraud.
More transactions typically equate to more fraud. Having a fraud protection solution in place on the backend is important, as is understanding where those strategic touchpoints are needed throughout the online experience.
Companies in the home goods industry must prepare for the next chapter in growth and protect future revenues with fraud protection solutions that factor in the unique trends in this industry. ClearSale offers a wealth of resources, including webinars to address revenue protection for today's online merchants.