Jun 4, 2020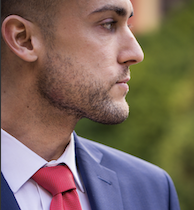 Stefan Stajner
How DTC E-Commerce Brands Should Approach Marketing During the Coronavirus
Are you one of the brand owners who have paused most of their marketing activities in an attempt to cut back on costs during COVID-19?
Did you know that only a small percentage of consumers think that e-commerce brands should stop advertising?
Contrary to what you may be thinking, reducing your marketing isn't a smart move. No one knows how long the outbreak will last or how the economy will look at the end of this year. And while it is true that it's impossible to know what to expect down the line, that doesn't mean that you should pass on a big opportunity.
I say that we are lucky to be in the e-commerce space.
Before the coronavirus, e-commerce was 14.1% of all retail in 2019. There are predictions that this number could be several times higher within the next two years. There's a ton of product categories that have skyrocketed in the past few months as well.
If that's not an opportunity, I don't know what is.
What this means is that people who will emerge as winners will identify opportunities quickly and then invest fast in the future.
This is the right time to build a stronger business and a more stable foundation that will allow you to scale in Q3 & Q4 as well as in years to come.
Should You Even Market Right Now?
In short - YES.
I know what you're thinking - "If I cut our marketing spend, we'll save money!"
What you don't realize is that 4-6 months from now, you'll wish you hadn't done that.
With many advertisers leaving the market and companies cutting back on ad spending (especially among major spenders like travel websites), coupled with people spending most of their days at home, the cost per 1,000 impressions, or CPM, has fallen by 15-25%.
The drop in ad rates is making Facebook advertisers decide whether to take advantage by reaching more potential customers - or by pocketing the savings heading into an uncertain economy. But right now, the cost is definitely in the advertisers' favor. What this essentially means for you is that you will pay the same amount to reach more people which will drop your cost per acquisition AND increase your return on ad spend.
In the image below, you can see a tweet by Shopify's CTO, where he posted a screenshot of Shopify handling Black Friday levels of traffic every day.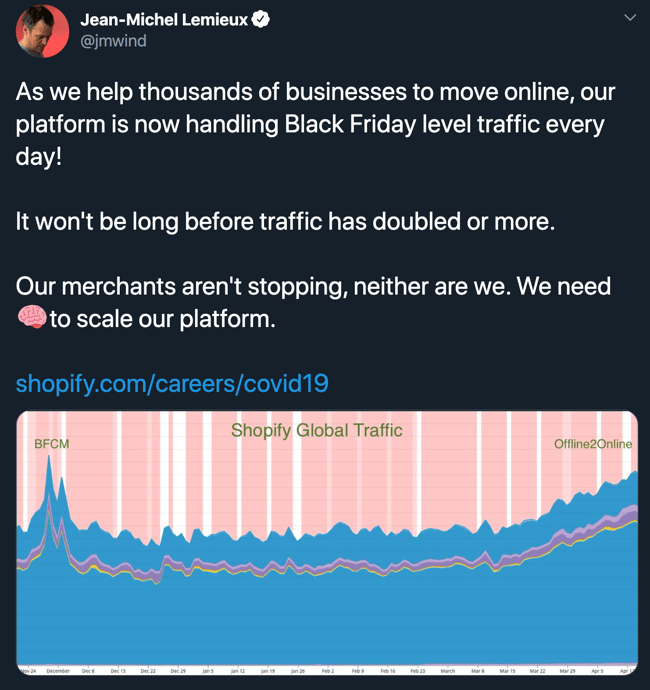 I'm going to give you a quick example of a Shopify store that's selling weight training equipment. As you probably know, most gyms are closed, but people still want to be active, even if it's working out at home. This makes that product category trending.
This e-commerce owner wanted to halt all spending and go into a saving mode. Instead, he decided to leave some money in Facebook ads, and after spending $2,436, they've generated $481,435 with an average return on ad spend of 197x.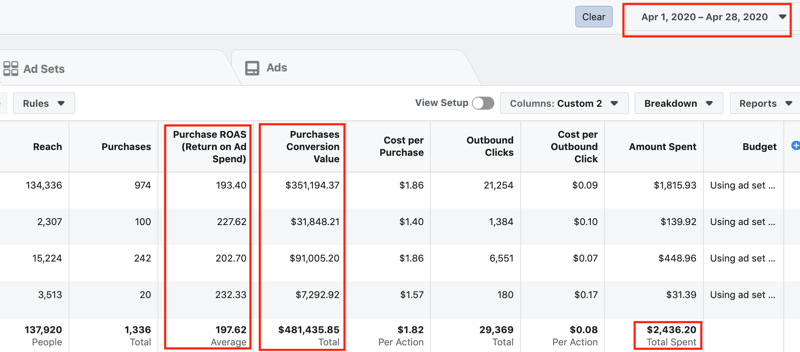 So what am I trying to say here? There's a big opportunity for brands that are offering products that consumers need right now.
If you're selling products that are in these trending categories, doubling down on your advertising would allow you to hit the gold mine of this new reality.
It's never made more sense for e-commerce brands that sell in-demand items to put their foot on the gas and grow. Now is the time that late-adopting consumers are exploring the option of buying online.
Meanwhile, consumers who are already familiar with buying online are expanding which categories they'll purchase from.
How To Adapt Communication & Messaging
Now, let's talk about how to adapt your communication and messaging.
Now is not the time to be lazy and keep using your old copy and ads and expect them to work like before.
On top of that, I think that we are reaching a politeness saturation point where everyone is parroting the same lines like "People are struggling", "Uncertain times", etc. you know?
The downside to this is that everyone looks the same and no one stands out. Yeah we get it, these times are difficult and uncertain. At the beginning of the outbreak, this was fine, but if you're still using any variation of these lines then you need to stop.
What you need to do instead is to tailor your content to meet customers' new expectations.
A good way to get started is to go over all your marketing material, including ads, emails and creatives, and ask yourself: "Is this still appropriate or not?" and then pull everything that isn't.
Review Your Messaging & Don't Be Tone-Deaf
One of the biggest culprits that you need to avoid is coming across as tone-deaf.
An example of a tone-deaf ad would be if you advertised a group of people having fun on the beach to sell sunglasses. This ad would just make people upset at this group gathering that's not a reality right now. So your messaging should make sense in the context of your brand and the pandemic.
If you're acting as if it's business as usual then you're making a big mistake and it's a missed opportunity to show that you're listening to your customers.
When it comes to transparency, consumers are smarter than ever, plus it's easy for them to call out your brand online if you're using misleading marketing strategies.
Now, don't worry, your brand won't blow up if you send an email like everyone else is sending, no one's gonna hate you for it.
But what you need to be careful about is using the situation as an excuse to try to sell something when it's not related at all. You can bet that most people ignore ads and emails that start with COVID-19 update.
It's still OK to keep selling stuff, but you just gotta be aware of the situation and present empathy.
This is a great time to review your marketing strategy so I suggest that you do that.
Adjust Your Angles
One great way to adjust your angle is to get creative with your copy and emails and tie them to what's happening in the world. In marketing, angles are everything, so for example, you can go with the "work from home" angle.
As you know, a ton of people are now working remotely from their homes which opens up this angle for you. In the image below, you can see several emails from brands that nailed this perfectly.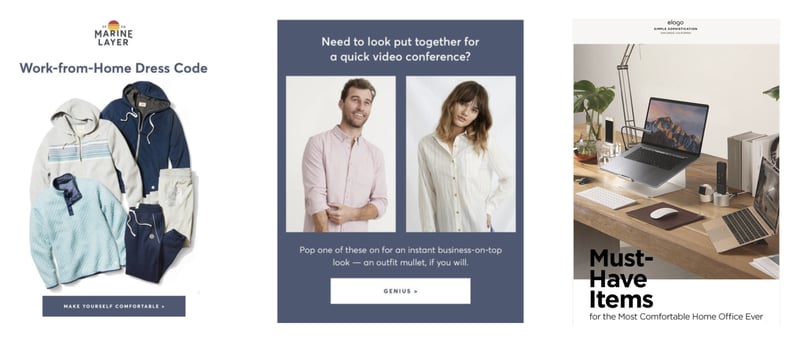 In both cases, the emails could be welcomed by people who started working from home and even help them get excited about some of the perks of working from home.
You can also go with the stuck-at-home angle. This can either be for parents who are worried about keeping kids from going crazy or it can be for adults who need to kill time with something interesting to do.
This isn't life as we know it and you're going to have to update your brand communications to match.
So unschedule your newsletters, review your ads and rethink your content calendar. I'm not saying that you should chuck it all away, but remember: now is not the time for the hard sell.
Now is the time to lift your customers up and demonstrate that they can rely on you when they need to. No matter what you're selling.
This Is The Best Time To Reach New Customers
Amazon is one of the biggest problems for a lot of e-commerce brands. Amazon holds a huge chunk of market share simply because they have a huge number of SKUs which creates a global marketplace so people can go to a single destination to buy anything they need.
One interesting thing about that fact is that people mostly go to Amazon to purchase items they are already wanting to buy. Things like commodities or items that you know you can probably quickly find and purchase on Amazon.
One thing that Amazon is lacking at the moment is a good way for customers to discover new brands. Yes, you can find a ton of different brands on Amazon, but there is no real way to build an emotional connection at the same time so you would be inclined to have an affinity for that brand (which is very important).
With the increased customer spending, consumers are browsing online to find new brands to connect with.
Klaviyo has been running their COVID-19 poll for some time now where they leverage their huge network of businesses and consumers and give us some pretty interesting data. Here's one of the recent ones that I've found interesting.
The current situation represents a huge opportunity for e-commerce brands that didn't have big market penetration in the past.
47% of people confirmed that they are going to continue buying from some of the new brands that they've first discovered during the lockdown. Plus, 45% of people said that they will consider buying again from recently discovered online stores if they see something they want or need.
What this essentially means for you is that your cold outreach (top of the funnel) advertising campaigns will likely work well not only for acquiring new customers but also for retaining them, even after restrictions ease.
This is your moment to slam on the gas pedal and start acquiring new customers. You will likely see a good repeat purchase rate which means that your customer lifetime value will be good as well, so you can actually afford to spend more upfront to get that new customer because you know that they'll be coming back to purchase again.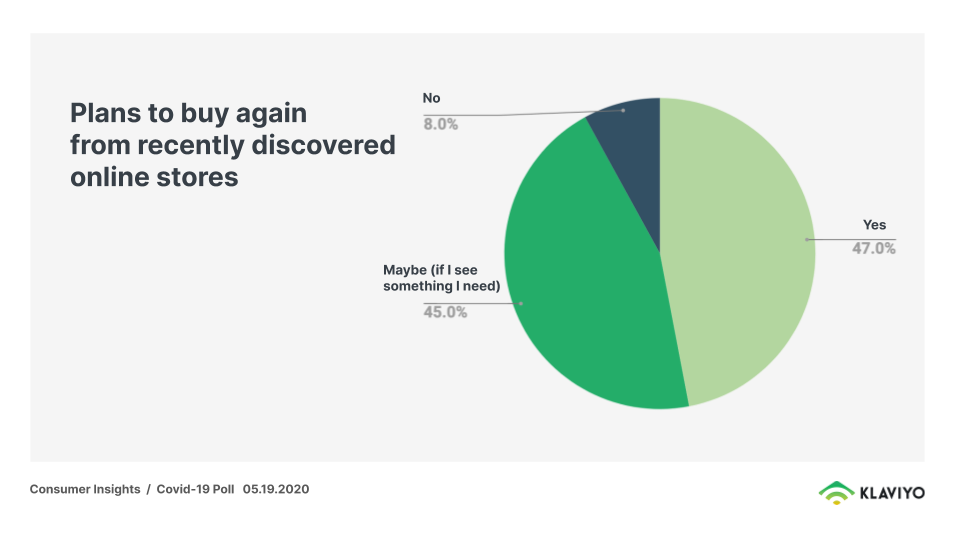 Covid-19 poll daily insights Tuesday, May 19, 2020
Conclusion
If you're an e-commerce brand, then you need to seriously start planning for the massive opportunity that is an increase in online spending throughout 2020.
How you approach this will depend on the type of products you sell and in which category those items are in. If you sell non-essential items like camping equipment and swimwear, then you'll need to focus on nurturing your existing customers and grab your chunk of the market when the time is right.
You must try to look past the horizon and anticipate what will happen after all restrictions are lifted.
If you're a fully online brand then you need to really move your budget to appropriate paid traffic channels, especially since Amazon is having fulfillment issues so there's a lot of shoppers that are looking past Amazon right now. The ads on Facebook and Google are cheaper and your customer acquisition cost will go down.
Don't forget to take advantage of your email marketing backend and use a pop-up in your store to collect emails, as this will significantly lower the costs for acquiring new customers in combination with paid ads.
And most importantly, be there for your customers during the crisis.