Oct 30, 2020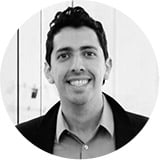 Rafael Lourenco
How a Pandemic Increased Digital Gift Cards to Ecommerce Stores
Both consumers and ecommerce sites have embraced the digital gift card for its versatility and convenience during the pandemic. But as the possible applications for this virtual currency grow, so can the fraud risk for ecommerce merchants.
Many aspects of life have shifted from the physical to the virtual due to the pandemic. We've replaced handshakes with waves and meetings with Zoom calls; digital gift cards are no exception.
Even before the pandemic, this convenient form of currency was embraced by ecommerce stores to generate revenue. Allied Market Research valued the gift card market at $619.25 billion in 2019 and projected it would reach $1,922.87 billion by 2027.
Then, the pandemic arrived, and digital gift cards were seen in a whole new light by both ecommerce stores and consumers.

A Boost for Ecommerce
Payment processer Incomm found in their Consumer Pulse: Gift Cards report (released in September 2020) that the pandemic has sparked a huge lift in online gift card sales. The number of cards purchased online soared 57% in the first six months of this year compared to the first half of 2019. Some 52% of consumers reported buying a gift card online in the first half of the year, up from 41% who said they did so in 2019 and 33% in 2018.
These increases apply to both open loop (all-purpose cards that can be used online and offline anywhere debit/credit cards are accepted) and closed loop (branded cards for use only at the specified retailer, restaurant or service provider) cards.

Ecommerce stores have long embraced digital gift cards as a way to increase brand awareness via closed loop cards. They solve the "gift dilemma" for shoppers while introducing their offering to new audiences with the positive brand recommendation of the giver.
They also boost revenue by encouraging secondary spending. eMarketer found that 69% of US-based online shoppers said gift cards would entice them to buy more, per a survey conducted in March. Gift Card Granny found that 72% of the customers spend more than the gift card amount while purchasing a product, often using the gift card as a discount to make a big ticket item more affordable.
Unlike a physical gift card that may get lost or stolen, digital gift cards are more secure and convenient. Especially at a time when physical trips to the store are limited, the ability to conduct the entire shopping experience online has allowed business to shift in-store shoppers to their ecommerce sites with little friction. Additionally, digital gift cards draw more traffic to the ecommerce website.
Versatility for Consumers
Research from Blackhawk Network, a global branded payments provider, revealed how consumers are using gift cards during the COVID-19 crisis. Fifty-two percent of surveyed shoppers have purchased or received a digital gift card, and unlike physical gift cards, digital gift cards are just as likely to be purchased for self-use.
Surveyed consumers who've purchased digital gift cards for self-use do so to treat themselves, make an online purchase or take advantage of a discount or promotion.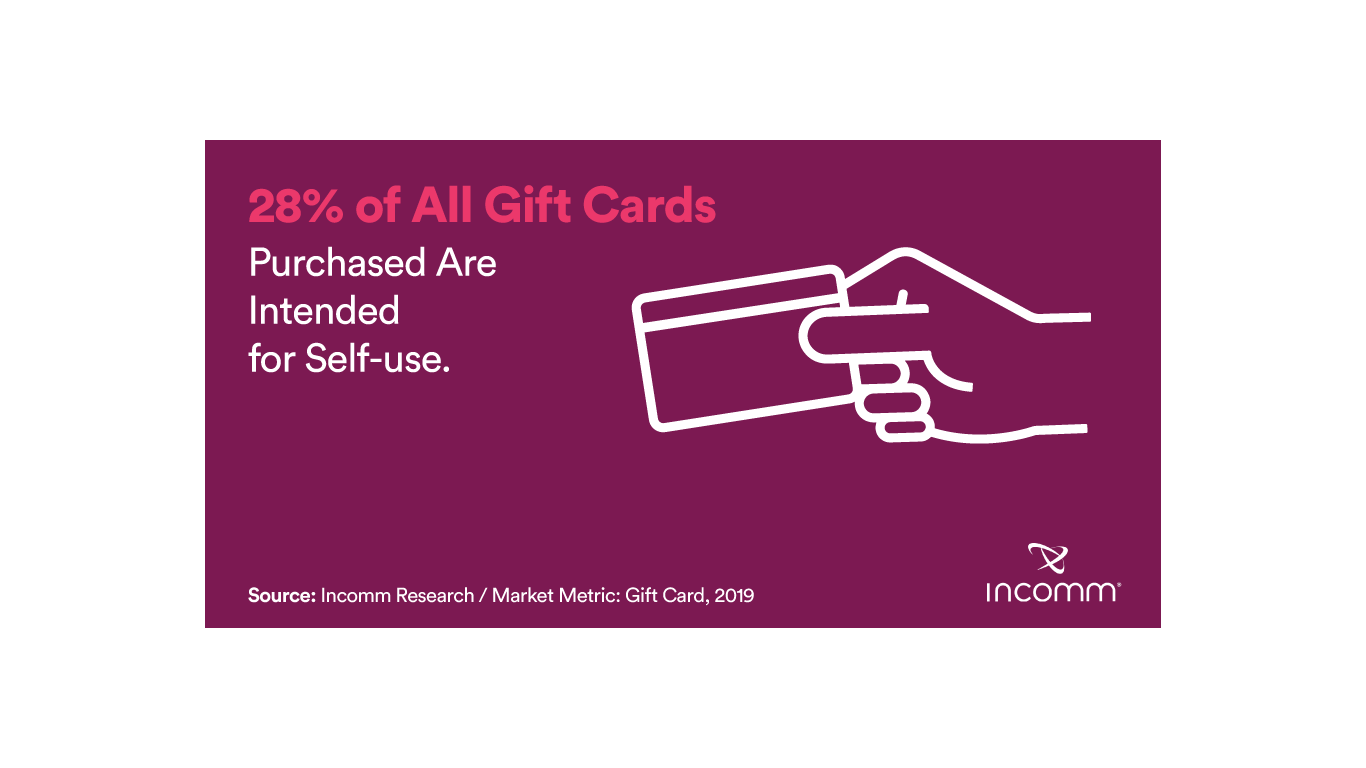 Those who've purchased digital gift cards for others do so because the gift can be emailed immediately, the recipient can make online purchases and it's a faster—and easier—purchase to make vs. an in-store purchase.
The kind of purchases made with both types of digital gift cards during the pandemic have also shifted to reflect the times. Incomm found that, unsurprisingly, groceries, electronics, and online shopping were up; dining, entertainment and clothing were down.

Another way consumers have used digital gift cards during the pandemic? To support local businesses. In April, Shopify enabled the gift cards feature on all Shopify plans to give communities another way to support small businesses. When given as gifts vs. kept for self-spend, these gift cards allowed givers to direct commerce toward businesses that may have been struggling.
Business Insider approved, saying "These initiatives benefit both parties by strengthening merchants' cash flow and potentially helping providers acquire customers. Small- and medium-sized business (SMB) alt lender Kabbage, restaurant point-of-sale (POS) provider TouchBistro, and Square all offer easily accessible and low- or no-cost gift card offerings that merchants can enable, for example. For merchants, the proceeds from these gift cards offer an instant cash influx that can help cover costs until brick-and-mortar stores reopen. And for payments providers and lenders, these sales can help maintain relationships with clients or even bring new merchants into the fold."

Countering the Criminals
While the demand for digital gift cards has grown, so have the unique fraud patterns and challenges that a virtual currency brings.
Card-not-present transactions can be a magnet for villains looking to quickly monetize stolen card data. As essentially a form of virtual cash, digital gift cards can be spent or resold immediately. That makes it harder for fraud detection systems to catch.
Digitalcommerce360.com notes that in the course of a digital gift card purchase, buyers supply personal identifiers like credit card numbers, email addresses, phone numbers, or social media accounts with the intention of making it easier to replace the digital gift card if the redemption code is misplaced. Not only does is information a target for scammers, it makes it easier to steal a consumer's identity.
Unfortunately, gift card scams are on the rise. Statista shows a steady increase in the U.S. over the past five years: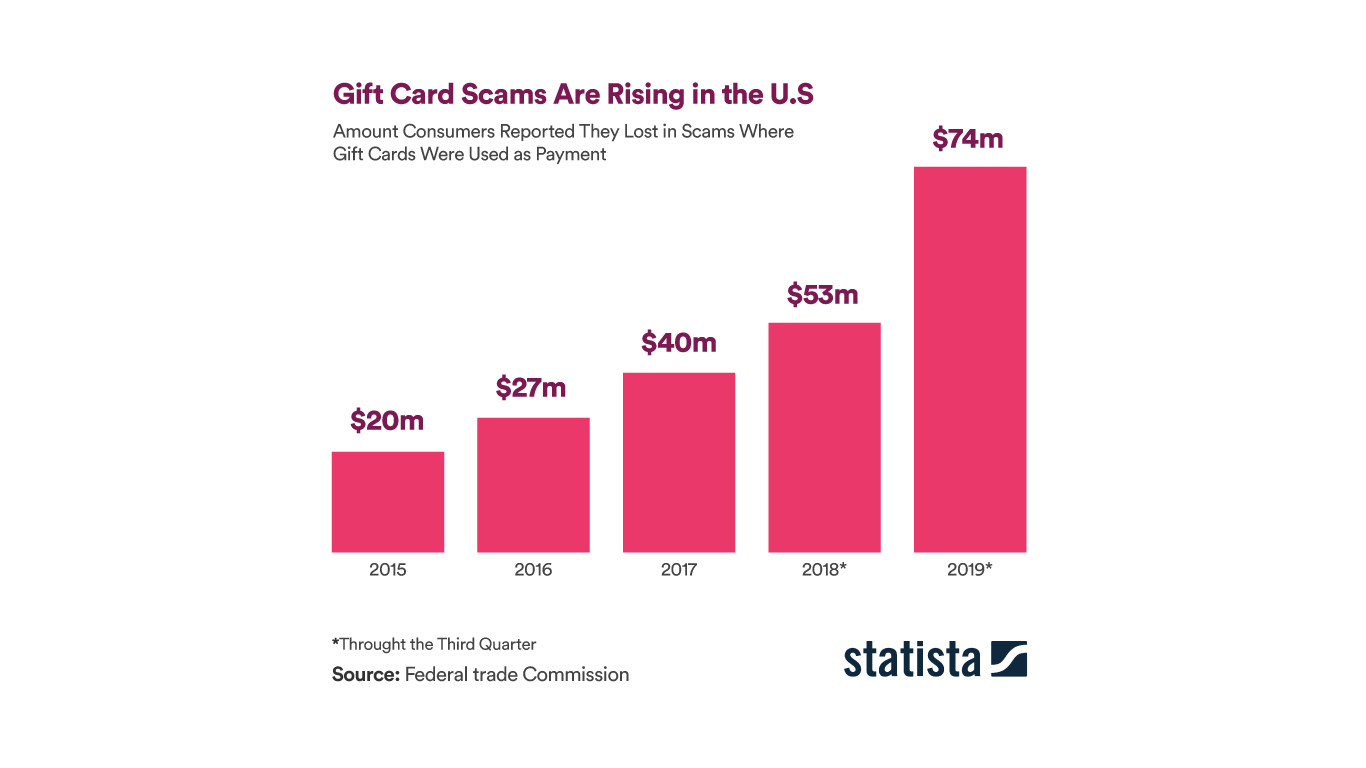 Website CardNotPresent.com warns that "Online businesses need to be aware that cyber-criminals are not typically individuals, but rather crime rings whose combined actions are focused on defrauding individual brands and sectors as part of a well-orchestrated larger criminal intent."
Sometimes, the fraud protection system itself can add to the problem. Digitalcommerce360.com notes that based on industry data, somewhere between 30% and 65% of all rejected online orders are legitimate, not fraud. Consumers don't appreciate false declines and brands pay the price. Our own survey (conducted with the partnership of Sapio Research) found that 33% of shoppers won't come back to an ecommerce site after a false decline experience.

Keep the Customer, Lose the Risk
Because there's no clear pattern to these fraud methods, and because just when you think you're safe there's always a new scam, your fraud prevention efforts will need to draw on multiple strategies and elements. Get a full briefing on preventing gift card fraud, here. Or, reach out to one of our fraud analysts today to learn more.