Nov 17, 2022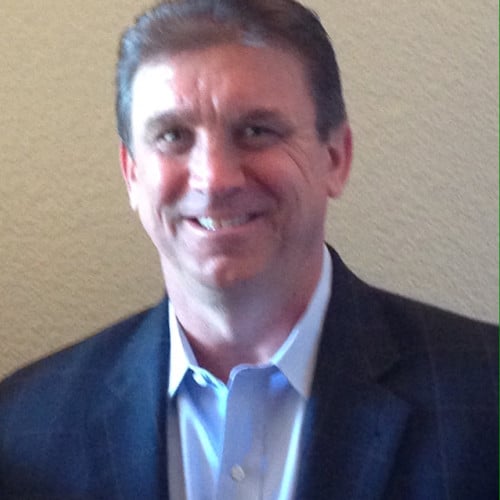 Rick Sunzeri
G2 Considers ClearSale "Most Complete" Solution in 2022
It's official. ClearSale is a clear winner in G2's Fall 2022 Report, just published last month. The biggest feather in our cap – receiving one of the highest customer satisfaction scores. Given that G2 rankings are based on customer reviews, that says a lot. First of all, thank you! We wouldn't be in this place without your input. It's also important to understand how the size and complexity of customers play a role in G2 rankings.
How We Measured Up

For the past several years, ClearSale's overall G2 ranking has been increasing, climbing from 80 several years ago to 92 this year. Our overall score was a 4.7 satisfaction rate out of 148 reviews, which is considered maximum validation by G2.
Why not 5 out of 5?
That's actually considered a red flag and a potential sign of gaming the system, so we celebrate and thank you for the high review. We're particularly proud of our NPS score, which was nearly 10 points higher than that of our biggest competitors.
But ranking as an industry leader isn't the only high ranking that made us proud.
ClearSale Earned Multiple G2 Awards
Our customers gave us a number of other G2 awards, including:
| | | | |
| --- | --- | --- | --- |
| | | | |
| | | | |
| | | | |
| | | | Easiest to do business with |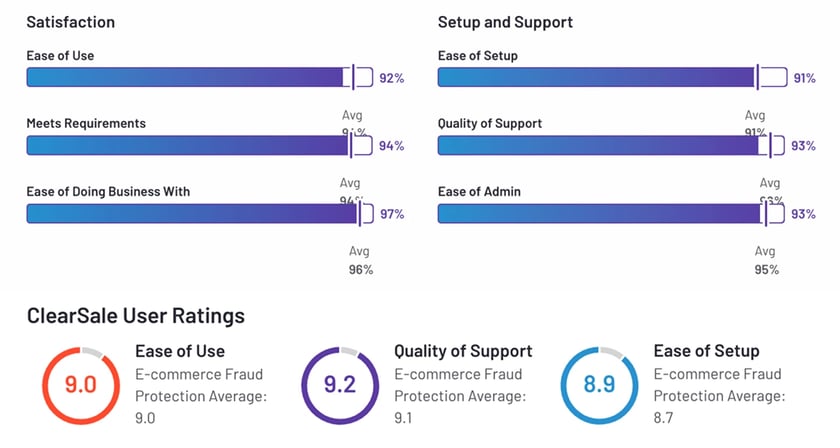 You may have heard from other fraud prevention solutions that they ranked highly as well. Some may even argue that they ranked even higher. That's not necessarily the case – not when you consider how we compare as far as the depth and breadth of our customer base.
G2 Rankings Don't Distinguish SMB From Enterprise
When it comes to G2 rankings, it's important to compare apples to apples. The problem is, the current G2 rankings don't delineate scores between fraud prevention solutions for SMB versus mid-market versus enterprise. G2 is purely set up to rank companies based on customer reviews.
Many high-ranking competitors serve only SMBs
When you consider that many of the fraud prevention software providers at the top of the G2 list serve only SMBs, it's no wonder that they have more reviews with high rankings. These solutions tend to only provide scores for client orders, leaving those online businesses to make their own decisions. Or they use a purely automatic system for approval or decline decisions. In either case, those solution providers are able to ask for reviews right away when their clients think that everything is working well. Those companies don't know how many valid customers have been declined or how many chargebacks they can expect yet.
ClearSale serves all business sizes
At ClearSale, we do things differently. Our AI-enabled algorithm is based on global trends, which means our system's accuracy level is much higher. Small businesses still get the option to essentially "plug-and-play" our solution, but they're given more than scores – our solution also advises what those scores mean so our small business clients can make informed decisions.
For midsize and enterprise clients, we go a step further by offering a range of options. They can opt for peak-sales assistance, where our team of over 2,000 expert fraud analysts are available to train or augment their teams. Or they can choose a more comprehensive solution that includes a hybrid of our automatic approval algorithm and secondary reviews of the very few flagged outliers that could be fraudulent.
We satisfy first, then ask for a review
The key to note is that we don't ask for a review from any of our business clients until we're satisfied that they have a sustainable fraud prevention process in place. As a result, our stellar reviews are based on a more thorough experience.
So, let's dive into the big scores a bit, starting with customer satisfaction.
4th Highest in Customer Satisfaction Score
ClearSale was named the 4th Highest in Customer Satisfaction Score and above average in G2's features and usability ratings that predict user satisfaction.
That means our clients find our automated system easiest to use. Our transaction scoring is considered intuitive. And our fraud detection capabilities and analytics are superior to most.

It's no wonder. ClearSale's automatic approval thresholds are calculated based on an algorithm that is constantly learning. Every bit of analytics our fraud analysts unearth in their investigations is fed back into the system to help it better detect fraud trends as they are being used in even the most remote parts of the world.
And because we have experience fighting fraud in some of the most high-risk regions of the world, we're able to detect trends before they cross over between industries and regions.
"Our competitors like to talk about our experience in other parts of the world as limiting, but it's actually what makes our capabilities superior. When you have decades of experience with identity fraud in the most crime-ridden regions of the world and have defeated some of the most pervasive fraud schemes, that's a huge advantage. And that's what our clients get from working with ClearSale."

- David Fletcher, ClearSale Senior Vice President
It should come as no surprise that our ranking for fraud detection is equally high.
4th Easiest to Use Fraud Detection Software
ClearSale is the 4th Easiest to Use Fraud Detection software and above-average in G2's features and usability ratings that predict user satisfaction.
In G2 terms, "fraud detection" refers to:
"The set of activities or techniques businesses implement to protect assets, identities, customer and business information, accounts, and transactions from fraudsters. This is mainly done by analyzing user activity and behavior patterns and comparing them with a baseline or profile representing normal user behavior.
To detect and mitigate fraud, companies utilize fraud detection software. Depending on the software product chosen, fraud detection will be performed in real time, near real time, or in batch. If a user activity falls outside of the accepted baseline, the concerned authorities are alerted."
At ClearSale, our fraud detection is performed in real time, using the techniques described earlier. In addition to the wealth of experience and superior technology we offer, another reason that ClearSale excels in fraud detection is based on our understanding of consumer behavior and how it compares to fraudster behavior.
Leader in tracking customer attitudes and behavior
Since our inception, ClearSale has been comparing what we know about consumer attitudes and habits with the implied behavior of order data. Starting in 2021, we began compiling that knowledge, along with customer survey data, into consumer attitudes and behaviors reports. This original research is unique in our industry and has proven extremely helpful to our clients (and some of our competitors' clients) to understand the nuances of consumer attitudes toward ecommerce, fraud and even the customer experience. It includes data points pertaining to:
How generational differences shape online shopping habits.

Consumer attitudes toward ecommerce businesses that allow fraud and false declines to take place.

How easily novice customers can be mistaken for fraudsters and what to do about it.
This research adds even more value to our already-happy clients.
Speaking of happy clients, let's take a look at what you told G2.
A Sampling of Our 5-Star Reviews
"The most reliable antifraud system"
Clients love how quickly they can see results, as evidenced by this review:
"The acceptance rates increase considerably after it's installed; also, we've stopped fraudulent transactions that could've done huge damage to our stores. The peace of mind of being safe is amazing. … Convince your payment gateway to reduce their antifraud, to send the most transactions to ClearSale — that way, you'll increase the approval rates."
"Great commitment and customer-driven decisions"
We are customer-centric to our core, which means our team will work tirelessly to create the best solution for every unique client scenario:
"[The] ClearSale team was able and proactive when looking for solutions, even if they were not obvious or simple. … [Our] antifraud and acceptance time rate is improving."
"Eliminate fraudulent orders as a problem and focus on growing your business."
At ClearSale, we find fraud that may be missed by in-house or other solutions and, most importantly, we don't just decline everything that looks like fraud. We know how detrimental false declines are to your business:
"Completely seamless. Orders are submitted to ClearSale automatically as soon as they occur. Greatly reduces fraud as an issue while clearing orders that our ecommerce platform flags as problematic, thus allowing us to do business with customers who we might otherwise refuse or who might cause us to perform our own time-consuming clearance processes instead of focusing on other aspects of the business."
This client sums up our value best:
"I can't believe how much time this saves us!

I like how easy it is to connect with the ClearSale team, to discuss an order in question. We've been able to resolve most of the orders that were denied, just by providing them with simple information. I've also found they always seem happy to help and they never treat us like we're a pain. Sometimes I have to reach out a few times a day or there are situations where I have to discuss the same order multiple times, due to customer changes, manufacturing changes, etc. So one would think they'd get frustrated about it, but I've never felt that way with their team. Also, I can say that before using ClearSale, I had to make the decision to cancel many orders that we just could not validate. Now, I don't even think about it for a second. You can basically do your normal flow of ensuring your customer is getting the right product, etc., without feeling like you are wasting your time on fraudulent orders."
To learn more about how ClearSale can transform your fraud prevention and help you add more to your bottom, reach out to one of our experts. From small business to enterprise retailer, ClearSale has a fraud management solution to fit your needs.