Nov 13, 2020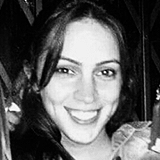 Sarah Elizabeth
Firearm Market Trends to Have in Your Sights
For retailers of all kinds, 2020 has been either a boom or a bust year. Stay-at-home orders kept brick-and-mortar shop owners out of their establishments and slowed foot traffic to a crawl. Meanwhile, any segments that addressed Americans' changed circumstances and concerns found themselves with more business than they could handle.
Firearm sales are an example of the latter.
The FBI NICS tracker reports that more than 9.2 million background checks for gun purchases were conducted in the first three months of 2020, up 35% from the same period in 2019. Small Arms Analytics estimates that 2.6 million guns, primarily handguns, were sold in March, an 85% increase over March 2019.
As the realities of this new normal settle in, firearms dealers should keep a bead on these emerging trends to protect the health and security of their businesses.
The Why Behind the Buy
The Brookings Institute notes that when Americans are concerned about their personal security, they buy firearms. It's not surprising, then, that 2020 has been a banner year for firearm sales. From the critical supply line worries in March to nationwide social unrest in June, the news has provided Americans with plenty of reasons to want to feel safer.
In the past, spikes in firearm sales could be traced to fears of increased legal restrictions on gun purchases, as the chart below shows.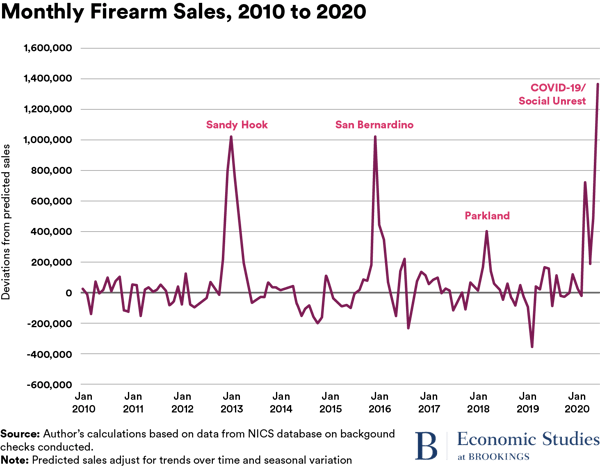 This spring's buying surge included many first-time buyers, suggesting that concerns about looting, violence, or the government's ability to deal with the pandemic prompted the uptick in gun purchases for self-defense. That aligns with other recent studies that show that protection—not the threat of increased regulation—is now the primary motivation for gun ownership.
Interestingly, our neighbors to the north also saw increased gun sales this year, prompting the question of whether Canadians shared the same reasoning behind their increased buying activity. However, that doesn't appear to be the case.
First, Canada simply does not have the same gun-carry culture as the U.S. There are extremely severe restrictions on transporting handguns, and neither open carry nor concealed carry are legal—Canadians are only permitted to transport handguns to a small number of locations (mainly their own home or an approved shooting range). Second, the Canadian government strictly regulates firearms ownership and there are very narrow conditions under which a gun can be used for self-defense under Canadian law. When asked, gun store owners observed a fear of shortages as the motivation for panicked gun purchases by their customers, rather than a fear of violence.
Firearm Brands Flock to Ecommerce
No one expected the steady pace of growth in ecommerce to get such a big boost this year, but the pandemic has accelerated consumers' migration toward online shopping. According to statistics from Fortunly:
Ecommerce sales are expected to surpass $735 billion by 2023.

It is estimated that 95% of all purchases will be made online by 2040.

Credit cards are the most popular payment method for shopping online, followed by electronic wallets and debit cards.
Firearm brands recognize consumer behavior is changing and ecommerce will be critical to doing business, long after COVID is in the rear-view mirror. The combination of retail outlets closing and distribution chain disruptions have some large firearm brands going directly to the consumer vs. traditional dealerships.
But selling firearms online comes with its own challenges. Firearms retailers, as part of a highly regulated industry, must follow local and state laws about the individuals to whom they can sell firearms.
For example, there are regulations in place at both the U.S. state and local level restricting certain parties (such as persons with felony convictions and those with protective orders against them for domestic abuse) from purchasing firearms. For such a person, making the purchase from an online firearm retailer using stolen credit card information is a possible option, highlighting the need for firearms retailers to have a robust and sophisticated fraud detection solution in place.
There's also the question of where gun purchases can be shipped. Not all purchases can be shipped directly to the customer; some must be delivered to a federal firearms license (FFL) holder (like a gun shop or range) for customer pickup.
Such restrictions may increase the difficulty for merchants to match customer names and addresses with delivery information. Fulfilling orders in compliance with the 20,000+ federal, state and local laws will be a big consideration for firearms brands forging ahead into ecommerce.
Hobbyist or Licensed Seller?
Guns are currently sold online by retailers like Bass Pro Shops or Brownells; and online marketplaces, like GunBroker and GunsAmerica. However, it is not just the big guys that are setting up shop online. Independent sellers are using sites like Armslist.com to get connected with buyers—the firearms equivalent of Craigslist. Armslist.com has become home to sellers whose activity falls in a gray area between hobbyist and full-fledged business enterprise.
It is legal, under federal law, for an individual to sell guns without a background check. Only when they become "engaged in the business" of selling guns must they obtain a federal firearms license and run checks on every sale. The law defines "engaging in the business" as "using the Internet or other technologies" and requires they "obtain a license, just as a dealer whose business is run out of a traditional brick-and-mortar store."
If you think this seems pretty broad and hard to enforce, you're right.
An investigative report by website The Verge found that in their sample, none of the individual sellers on Armslist.com were licensed, but all said they vetted prospective buyers in some way, using social media or getting a sense of the person during the sale. Only a handful took customers to a licensed firearms dealer to perform a background check before making a sale.
Branding and marketing company Garrison Everest recommends these "Must-Do's" before starting a hunting or firearms ecommerce website.
Identify how you're going to fulfill orders. Options include:
Utilizing a third-party cart like GearFire and Gallery of Guns.com

Shipping direct to the customer via an FFL

Selling through a dealer network
Selling online also requires taking precautions to protect your and your customer's data. You'll need:
A payment processor or gateway

A Secure Socket Layer or SSL to establish an encrypted link between a web server and your customer's browser

Terms and Conditions and Privacy Policy pages

Secure and speedy hostingfor your ecommerce website, especially now that Google ranks websites based on speed
At ClearSale, we can help you conduct ecommerce safely. Our combination of advanced artificial intelligence and a highly trained team of professionals lets you deliver a high-quality customer shopping experience without sacrificing safety and security. Reach out to one of our fraud analysts today to learn more.