Nov 12, 2020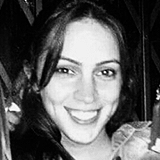 Sarah Elizabeth
Ecommerce Trends in the Cosmetics Market
Mirror, mirror on the wall, what's the biggest cosmetics market trend of them all? Turns out, it's ecommerce.
Even prior to the pandemic, health, personal care and beauty customers were shifting their attentions from brick-and-mortar to online shopping.

The Cosmetics Market Today
In 2018, ecommerce penetration in this segment was at 24% of U.S. dollars spent. In 2019, Nielsen found that nearly one in three dollars spent on beauty products in the U.S. today was spent online—over $12 billion worth.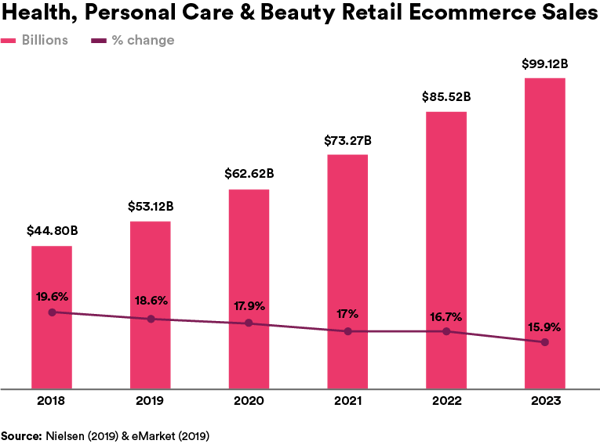 Today, that figure is at 30%. And it is predicted to surge to 48% in the United States by 2023.
Which companies are benefiting, though?
A small cadre of multinational corporations currently dominate the market: L'Oréal, Unilever, Procter & Gamble, and Estee Lauder Companies made up 81.7% of worldwide beauty revenue in 2019. In online traffic, Sephora and Ulta currently take the lead in the U.S.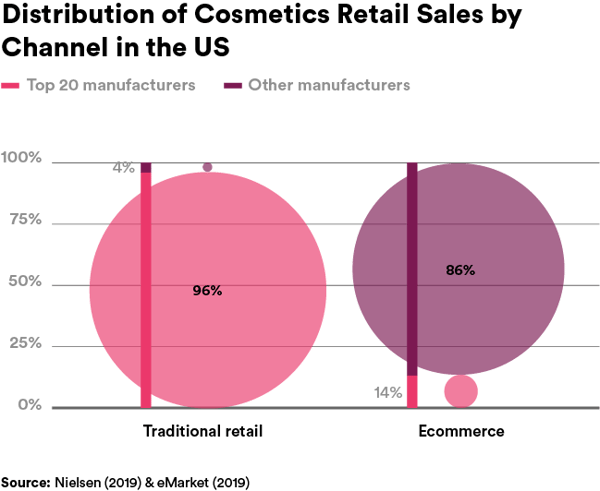 However, the ease and convenience of ecommerce are changing the dynamics in this market. Nielsen points out that "the balance of power between large beauty brands and smaller ones looks completely different online than they do in a brick-and-mortar environment. In fact, while the top 20 cosmetics brands capture 90% of the dollars going to brick-and-mortar retailers, those same companies capture just 14% share online."

Nielsen also advises that "beauty and personal care products are particularly ripe for online development, given consumers' combined interest in both exploring new products and replenishing the ones they already own and love. These two shopper modes—discovery and replenishment—are some of the strongest drivers of online penetration."
In an increasingly competitive marketplace, which trends should ecommerce merchants embrace? Emerging technologies like augmented reality (AR) and virtual reality (VR), individually personalized products, and social shopping are beginning to level the playing field, making it possible for new brands to compete with the established giants and meet the needs of digital natives.

Cosmetics Ecommerce Trend #1: The Virtual Mirror
Can new technologies really make beauty and skincare sellers competitive with the tactile experiences of in-person retail? The industry is about to find out.
AR most commonly uses a smartphone camera to overlay digital content into the physical world, while VR is a simulated experience.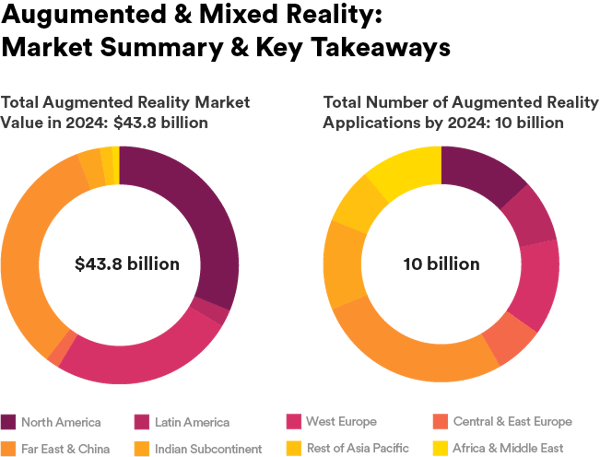 Mixed reality apps — those that have AR/VR features — will more than quintuple their advertising revenue to $11 billion by 2024 from $2 billion this year as they reach audiences with more engaging mobile experiences, per a Juniper Research report.
Some examples: L'Oréal has a beauty app called Makeup Genius which transforms the front-facing camera of an iPhone or iPad into virtual mirror where users can virtually try before they buy. Perfect Corp, the world's leading AR company, has integrated its YouCam Makeup AR virtual try-on technology into online shopping experiences.
Store closures during the pandemic have accelerated brand interest in providing a VR experiences for beauty shoppers. Glossy.co reports that VR ecommerce startup Obsess saw a 300% increase in inbound inquiries in the early weeks of the shutdowns, compared to an average monthly number from the beginning of 2019. Dior launched a virtual version of the luxury brand's Champs-Élysées store in Paris in February.

Cosmetics Ecommerce Trend #2: Ecommerce Gets Personal
Forbes reports shows that 80% of consumers are more likely to make a purchase from companies that offer personalization in either the product or the experience.

A recent Epsilon online survey of 1,000 consumers between the ages of 18-64 found that consumers who believe personalized experiences are very appealing are ten times more likely to be a brand's most valuable customer – those that are expected to make more than 15 transactions in one year. Additionally, those respondents who believe companies are doing very well on offering personalized experiences shop more than three times more frequently.
Linkinfluence.com notes that by converging technology, science, and beauty with ecommerce, brands can engineer products that are entirely customized to an individual's needs. This level of customization is increasingly important as the beauty industry comes to terms with the diversity of the average American consumer.
Nielsen reports that over the last few years, the number of unique colors of foundation sold has grown three times as fast as the rate of general new product development across foundations. Fenty Beauty has released more inclusive product lines as well as celebrating the fact that anyone can find themselves in its product lines.

Cosmetics Ecommerce Trend #3: The Social Sell
Once, cosmetics brands relied primarily on big ad campaigns to create demand for products and make-up counters to make the sale. No more.
Globalwebindex.com notes that "The most obvious change is that social media has provided a wealth of new ways to target more refined segments of consumers. Not all of them cost a fortune and some, cost nothing at all. This can be especially impactful for smaller or start-up brands which don't have huge marketing budgets, and those without an offline presence."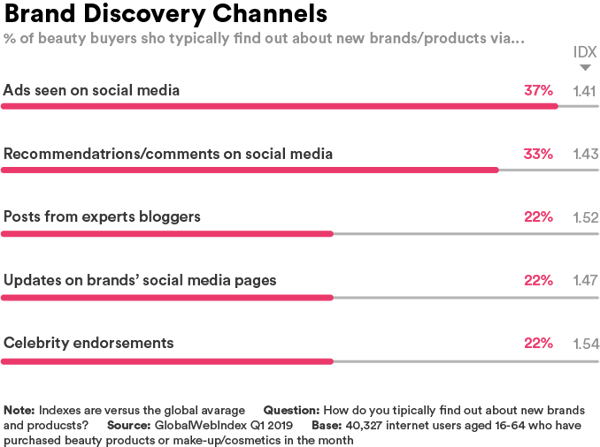 Beauty consumers are 41% more likely to discover new brands or products via ads seen on social media, and 47% more likely to via updates on brands' social media pages:
Nielsen concurs that social media garners more influence on the path-to-purchase in cosmetics than just about any other category across non-edible packaged goods (except shaving). Brands can make their posts shoppable across a variety of platforms, making the point-of discovery and point-of-purchase one and the same. Pinterest's shoppable pins and Instagram's in-app checkout have elevated beauty brand marketing and evolved the shopping experience.
Speaking of influence, no analysis of social media and cosmetics would be complete without a mention of the outsized influence of influencers.
As an example, Liveareacx.com points to Charlotte Tilbury, a British make-up artist, who has more than ten times the following of L'Oréal Paris UK and Ireland on YouTube. According to eMarketer, 89% of brand managers say influencer impact affects how people feel about brands and the average return on investment for influencer marketing campaigns is over six times the initial investment.
Forbes reports that global spending on influencer marketing has skyrocketed in recent years, rising from an estimated $2 billion in 2017 to about $8 billion in 2019. One forecast shows that spending is expected to jump to $15 billion by 2022. In fact, beauty giant Estée Lauder revealed last week that the company is now spending 75% of its marketing budget on influencers.
The common thread between all these threads: ecommerce enables brands, large and small, to create a more convenient, customer-centric experience. Blog Styla.com says, "it's not like people started to buy cosmetics online just because they suddenly could. It's the brands themselves that recognized the online potential and the necessity to appeal to the digital natives."
Ecommerce Beauty and the Fraud Beast
As online sales for beauty and skincare blossom—driven in part by these trends—merchants know ecommerce fraud poses a threat to their profits.
Card-not-present (CNP) fraud has escalated rapidly and is expected to top $6.4 billion in the United States by 2021. As merchants protect themselves, false declines can be an unintended consequence with high costs in customer experience.
Understand how your business can reap the rewards of the cosmetics industry's ecommerce boom without inconveniencing customers by reading our report: False Declines: Balancing Revenue, Fraud Prevention, and the Ecommerce Customer Experience.