Jul 15, 2022

Luis Casillas
Ecommerce Market Watch: Ecuador
Ecuador is an ecommerce paradise for businesses with a long-term growth strategy. The country's youth and tech savviness, combined with the pandemic, resulted in online shopping increasing significantly between 2020 and 2021. Today, this growth continues on a steady (albeit less aggressive) path.
Much like other Latin American markets where mobile penetration is high, consumers are beginning to appreciate the benefits of online shopping. Of course, that also offers opportunity for fraudsters, who are only too eager to take advantage of naïve, new ecommerce customers.
Ecommerce businesses need to be strategic as they approach this expanding market to ensure their businesses and customers are protected.
Ecommerce in Ecuador Is Expanding
Between 2019 and 2020 ecommerce in Ecuador increased by over 43%, and then grew another 24% in 2021. In fact, over a third—35%— of Ecuadorian consumers made an ecommerce purchase in 2021. While this activity in comparison to ecommerce-loving neighbors like Brazil or Argentina, it still indicates that ecommerce in this country has reached a critical mass and will be picking up speed.
Aside from the pandemic and regional trends, this growth can be attributed to several factors including a very young population and incredibly high mobile and social media penetration.
Let's take a deeper look at the Ecuadorian ecommerce shopper.

Ecuadorian Ecommerce Businesses Have Decades of Opportunity
Ecuador is a young country. The median age is 28.5 and over 41% of the population is between 18 and 44. Only 26.6% of Ecuadorians are 45 and above, which means ecommerce businesses have the potential for decades of success—if they can appeal to millennials, Gen Z and eventually, Gen A.
In our original research, 2021 State of Consumer Attitudes Report, we found that consumers in the millennial and Gen Z markets share some common behaviors when it comes to online shopping, Specifically, they:
Shop online more often.

Expect a high level of personalization.

Are open to mobile payment options.
Ecuadorians are both mobile and social
It should come as no surprise that Ecuador's internet penetration is relatively high—over 75% of the population at the beginning of 2022. That reflects an increase of 3.4 million internet users between 2021 and 2022.
Similarly to the rest of Latin America, Ecuadorians are big mobile consumers. More than 88% of Ecuador's population are mobile users (a 6.1% increase from 2021), and in 2020, 67% of online transactions were completed on mobile phones compared to 31% on computers.
Consumers access social media almost exclusively on their mobile phones, which can offer high ad penetration. That's great news for ecommerce businesses with an omnichannel approach. Here's a breakdown of the social media channels Ecuadorians love most and the ad reach opportunity for each:
Facebook is the big winner with 92.2% of eligible users (13 and over) and an ad reach of 70.6% of the country's total population.

Instagram users account for 44.3% of those eligible and has an ad reach of 33.9% of the country's total population.

Snapchat is used by 18.5% of those eligible and has an ad reach of 14.2% of the country's total population. One important point of interest is that nearly three-quarters of those users identify as female.

Twitter users make up 10.5% of those eligible and has an ad reach of 8.1% of the country's total population.
Ecuadorian Ecommerce Purchases Run the Gamut
Throughout the pandemic and into 2021, the most online growth can be attributed to three product sectors:
Groceries (67% growth)

Pharmaceuticals and OTC (50% growth)

Restaurants & Curbside Delivery (42% growth)
This growth led to more than eight out of 10 ecommerce shoppers ordering restaurant food online in 2021, making it the most popular category, according to a survey by the Ecuadorian Chamber of Electronic Commerce and the Bank of Ecuador.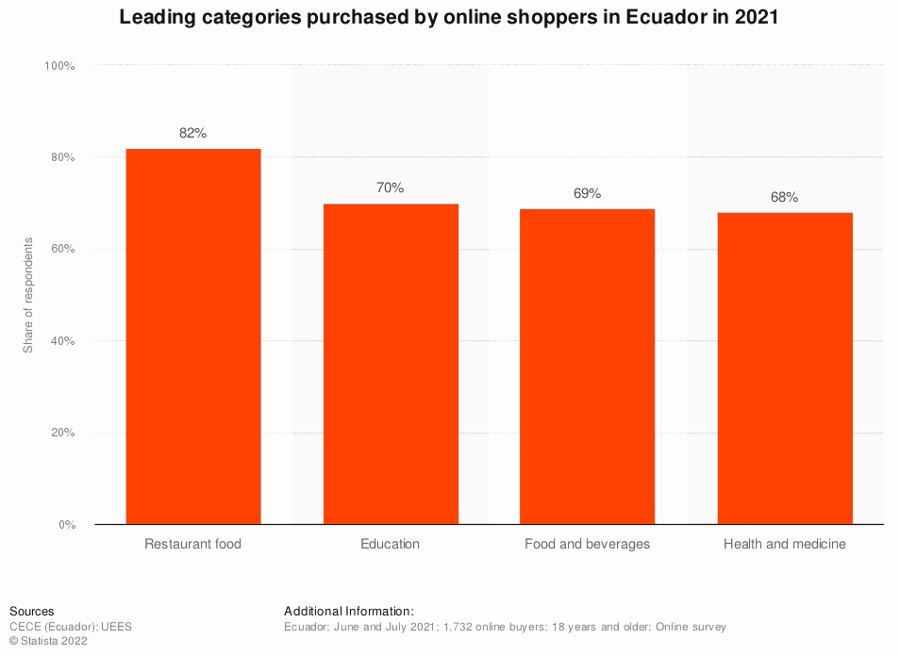 That doesn't mean there won't be expansion in other sectors. Retailers in the electronics, luxury and fashion, and beauty sectors are expected to contribute significantly to revenue growth through 2025.
The same can be said for payment methods. Ecuador seems to be ahead of some Latin American neighbors when it comes to credit card usage.
Ecuadorians Are Warming Up to Credit Card Payments
Cash and debit cards are common in Ecuador—a little over half of consumers have a bank account and nearly a third have debit cards. However, the cash-only payment method is being replaced with credit cards.
Credit cards was the preferred payment option for 48% of Ecuadorian ecommerce consumers in 2021. Debit cards and bank transfers were nearly tied at 19% and 18%, respectively. And in last place, surprisingly, was cash at 14%.
That puts Ecuador slightly ahead of several Latin America countries, where 12% ​​of credit card transactions were made online and has grown to 45%.
When ecommerce businesses determine which payment options to offer in Ecuador, they need to remember generational differences: Millennials, Gen Z and future Gen A consumers are more open to new payment types. In our Consumer Attitudes Report we discovered that Gen Z and millennials prefer digital wallets over other payment methods.
Granted, that option isn't necessarily available in Ecuador at the moment, but as soon as it is, Ecuador will likely be one of the fastest adopters in Latin America.
Ecuador Is Entering a Perfect Fraud Storm
Ecuador hasn't traditionally been susceptible to fraud, mostly due to primarily cash-based transactions. The country's fraud rate was at or near a comfortable rate of 1%. At that level, every customer could initiate a chargeback and Ecuadorian ecommerce retailers wouldn't cross the chargeback rate threshold.
But that low fraud rate isn't necessarily good news. Ecommerce businesses across Latin America tend to use strict filters and restrictions that cause automatic rejections, or false declines … so much so, the false decline rate in Latin America has been a steady 30%.
Their reasons for declining transactions would be considered a wild overreaction in other countries, where a fraud team would instead investigate or approve transactions such as:
A purchase for someone who lives in an urban area by a friend in the countryside

An international credit card

High dollar purchases
With strong machine learning these transactions could easily be either flagged for secondary review or approved, instead of being declined out of hand.
Then there's the compounding issue of how young people respond to false declines. The short answer: Not well at all. Younger generations have no time or patience for false declines, as we discovered in our research: Almost half of consumers under 40 will simply stop shopping at a store because of a false decline.
There's good reason for this: Remember when we said that Ecuadorian consumers love social media? That means they are constantly presented with other businesses that sell the same or similar products. Millennials and Gen Z don't even have to look anywhere else for products like yours—they just have to pick from a long list of other ecommerce businesses.
So, they have no reason to be loyal to a business that treats them poorly.
They're also not shy to tell their followers about it: 33% of under-40s will take to social media and complain, and are more likely to leave a bad review or a negative comment about your business.
This creates several challenges for Ecuadorian ecommerce companies:
Many new and naive ecommerce shoppers.
A high risk for false declines.
The potential lifetime loss of customers if they are falsely declined, not to mention their followers.
While it may be tempting to simply let go of the reins on fraud filters as a solution, danger lies on the other side of the pendulum as well, especially in Ecuador: The increasing number of credit card purchases also means a greater amount of card-not-present (CNP) and account takeover (ATO) fraud. Companies entering the ecommerce market in Ecuador need to have a well-thought-out fraud prevention and protection strategy.
Choose the Best Fraud Prevention Solution
We've covered several factors to consider as you contemplate an ecommerce presence in Ecuador, but the bottom line is this: To succeed, your business should make it a priority to create a comprehensive fraud strategy that is thorough enough to detect fraudulent transactions without turning away valid customers.
At ClearSale, we help companies enter new markets with ease. Online businesses count on us to help them find the balance between fraud prevention and false declines. Contact us today to find out how we can work together toward success in this burgeoning market.