Aug 19, 2021

Elma Ocampo
Ecommerce Market Watch: Colombia
Colombia is emerging as an ecommerce market to watch with growth tracking at about 20% per year. Its population of nearly 50 million combined with a healthy gross domestic product of 4.6% makes it a fantastic opportunity for both small and large merchants.
However, despite this potential, there are considerations ecommerce merchants will want to keep in mind. As the Colombian ecommerce market grows, so will the temptation for fraudsters – especially as Colombians begin to explore non-cash and alternative payment options.
Colombians Have Adapted to Ecommerce
Compared to its LATAM neighbors, Colombia is the fourth largest ecommerce market in Latin America. The pandemic spurred significant changes in Colombia's purchasing habits: Millions of Colombians had to move their daily activities online, including the essentials like grocery shopping. Desktop and mobile commerce in Colombia each accounted for US $3 billion in revenue.
At the end of 2020, nearly 22 million Colombians were shopping online, accounting for more than 60% of the internet-using population. This number is only expected to grow as internet penetration and technical innovation increase in this region.
So, what does Colombian ecommerce look like now?
Colombian Ecommerce Customer Behavior Is Promising
Ecommerce in Colombia is continuing its trajectory from the previous year with a first quarter increase in online sales of over 44%. The Colombian Chamber of Electronic Commerce (CCCE) sees this as a positive sign that Colombia's digital transformation is well on its way and the country's economy is expected to bounce back from the pandemic.
Mobile Commerce Is Becoming the Norm in Colombia
Mobile commerce has overtaken desktop in the country's ecommerce market and is expected to almost double in size to US$6 billion by 2024. What this means for merchants is they need to make sure their websites have the CX and UX built in to create an experience that appeals to Colombian online shoppers.
To be competitive in this market, they'll need to make sure their online stores are optimized for the mobile experience – in fact, a "mobile-first" approach will the key to survival.
Big Brands Win Big in Colombia
Like in most markets during the pandemic, Colombians put their trust in big brands in 2020, which helped boost ecommerce sales. Leading the pack was LATAM retail giant, Falabella with US$188 million in 2020. Amazon came in second with US$101 million in revenue, and Exito was a distant third US$78 million revenue.
It wasn't just enterprise-level merchants who benefited from the ecommerce boom. Honorable mention goes to Decathlon, one of the fastest growing stores, which saw revenue growing of 38%.
At the same time, Mercado Libre far surpassed all sites for number of monthly visits with an average of 22 million in 2020. This phenomenon further demonstrates the savviness and online maturity of Colombian eshoppers. They aren't necessarily making purchases in the same visit. Instead, they are visiting online stores repetitively, which makes store design and presence even more critical to success.
What do Colombians shop for online?
The most popular industries in Colombia are also considered high risk for ecommerce fraud. Travel took a hit in 2020, dropping 91%, but is expected to gain steam again. Colombians also tend to shop online for electronics, clothing and footwear. Retail and sports saw the most significant shifts in 2020, with increases by 209% and 187% respectively.
What Makes Colombian Ecommerce Unique?
The United States International Trade Administration reveals the most common challenges ecommerce companies face when entering the Colombian market are related to local regulations, local payment methods, and an oft-delayed supply chain.
Cash Is Still King
In Latin America, 85% of transactions in Latin America are cash-based and only 39% of the population has a bank account. Colombia is not different in this regard.
A 2020 survey revealed that when shopping via app, the majority of Colombian shoppers prefer to pay with cash, even for items like airline tickets (in a savvy move, some airlines offer cash payment options on their websites and mobile apps – demonstrating their commitment to the Latin American region and its individual countries, where cash is a daily fact of life.).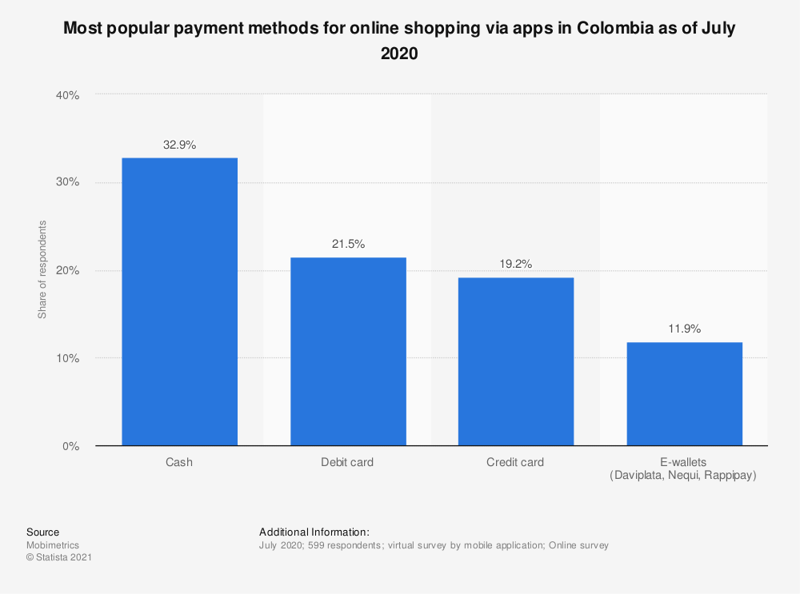 Additionally, installment payments are popular with Colombian consumers: A 2019 survey conducted by EBANX showed that 79% of Latin American consumers prefer to pay with installments for products valued at $50 or more. And that preference has carried over to the online shopping environment, particularly now that COVID has upended traditional retail interactions.
But…Colombian Payment Preferences Are Evolving
While cash may be king, challengers are appearing. Even though credit card penetration remains very low, recent years have seen an increase in the use of debit cards and alternative payment methods.

This trend accelerated with the COVID-19 pandemic. Ecommerce and contactless payments became a lifeline for Colombians during the pandemic: According to a survey conducted by Visa in April 2020, contactless payment volume increased by over 20% in April compared to the previous month. PayPal, for example, has been quite successful in Latin America thanks to its strong security and value-added services (free return shipping, for example) that connect the wallet to a larger environment for online shopping/ecommerce.
Meanwhile, financial aid organizations have been using digital platforms to bring new users into the banking system, getting them away from relying on cash. Owing to the necessity of online payments and digital, contactless transactions, 55% of consumers in the region now have a bank account.
The takeaway? Breaking into Colombian ecommerce market requires much more than translating an ecommerce site: Merchants will need to offer a wide and flexible range of payment options. And just like in any other market, the checkout process should be easy to navigate and transparent.

Conversion Rates Can Create Complications for Cross-Border Merchants
Colombia is an attractive market for international merchants with cross-border ecommerce strategies. Keep in mind, however, that Colombian currency is the peso, which has a low conversion rate compared to the U.S. dollar and the euro.
Not only does that impact revenue and tax calculations – customer perception may be an issue if they aren't aware of the currency difference. Merchants that calculate and display all local taxes and duties up front will have more success in avoiding customer confusion.
Fraud Risk in Colombia
Colombia may be increasingly digital, but so is its crime, signaling a rising threat to ecommerce merchants. An Intel security study revealed 15% of crime against companies in Colombia is associated with cybercrime, to the tune of approximately $600 million in losses.
These attacks aren't only being leveled against companies, however. In a TransUnion survey of 8,265 adults in Canada, Colombia, Hong Kong, South Africa, the UK, and the US, almost a third of the respondents said they had been targeted by digital fraud related to COVID-19. Interestingly, fraudsters are paying attention to generational patterns: Gen Z (age 18-25) received the most digital fraud attempts, but email-loving baby boomers faced the highest number of COVID-19 themed phishing scams.
While laws have been enacted in Colombia to protect merchants from ecommerce fraud, they still need be vigilant. Credit card fraudsters are still very active: In 2020, prosecutors broke up a massive fraud organization that called itself "Los Call Center," responsible for over 5,062,904,251 Colombian pesos (US $1.32 million).
In short, as more Colombians shift their shopping and payment methods online, fraudsters will be waiting to pounce on their data.

Fortunately, rules exist to regulate the industry: Institutions such as Incocrédito are highly involved in managing and monitoring merchant information to minimize fraud, while the Colombian government's Decreto 587 from October 2016 lays out specific rules about chargebacks and the protection of the online customer.
Choose the Best Fraud Prevention Solution
If you're considering an ecommerce presence in or currently selling into Colombia online, the opportunities are plenty as long as you keep the risks in mind. Make sure to have a solid ecommerce fraud strategy in place that accounts for CNP and other types of credit card fraud. If you're a small business merchant, implement a plan to minimize chargebacks. For larger brands, pay attention to your approval rate.
At ClearSale, we help companies enter new markets with ease and minimize – if not, eliminate – fraud and fraud-related issues. Contact us today to see how we can work together toward success in this exciting new market.