Compared to the rest of Europe, China, and the U.S., Spain's ecommerce market is fairly immature. Spanish consumers currently do most of their online purchasing from other countries, making it a rich market for international and domestic ecommerce sales potential. But before expanding into the Spanish ecommerce market, merchants need to be aware of the factors that shape Spain's purchasing habits.
Spanish Ecommerce Is Positioned for Growth
Ranking 13th among the world's largest ecommerce markets, Spain's online revenue is estimated to hit $21.4M by the end of 2020 and $28.7M by 2024.
This may pale in comparison to behemoth markets like the U.S., but there's plenty of opportunity: Ecommerce user penetration in 2020 has held at 60% but is predicted to exceed 76% in the next four years. Further, Spanish ecommerce accounts for only 3% of total retail revenues right now, making it a market with tremendous growth potential.
Along with clear opportunities, several challenges need to be considered when expanding your ecommerce strategy into Spain. Let's take a closer look.

What Makes Spanish Ecommerce Unique?
Ecommerce shoppers in Spain have very distinctive commonalities.
Spanish Consumers Are Price-Conscious
Spaniards love a great deal and value price and promotions above other factors in making purchases. This is why online marketplace, AliExpress has been a key driver in Spain's ecommerce growth. The business-to-consumer subsidiary of one of the world's biggest ecommerce companies, AliExpress is known for low prices and long delivery times. And by establishing its first physical store in Spain, AliExpress has been able to deliver its products to this emerging market faster.
Last year, the company announced its plans to partner with approximately 10,000 Spanish retailers, further opening up the Spanish ecommerce market. But AliExpress is not the biggest ecommerce company in Spain. That title is held by another price-conscious marketplace, Amazon Spain.
Spanish Ecommerce Is Mostly Cross-Border Shopping
Spain's cross-border ecommerce shopping accounts for over 56% of transactions, with ecommerce merchants based in the UK, China, the U.S., and Germany having the biggest footprint. This signals big potential for international online merchants.

On the inverse, Spanish ecommerce retailers sell mostly to the UK, Italy, and France but at much lower volumes. Spain's lag in ecommerce sales are mostly due to issues with rigid antifraud filters, credit card restrictions, and too few payment methods. Better fraud prevention and payment platforms are going to be the key to expanding ecommerce among Spanish merchants.
The Most Popular Ecommerce Categories in Spain Are High Risk Industries for Fraud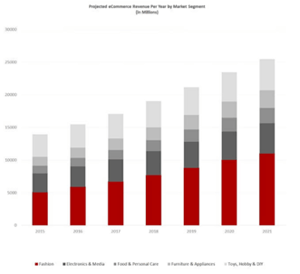 The most popular ecommerce categories in Spain are fashion, electronics and media – all considered high-risk categories for fraud. Fashion accounts for nearly 30% of ecommerce revenue alone.
Spain was recently involved in a massive, online fraud law operation that included 19 countries and led to the arrest of 60 people (including members of crime syndicates). But, the overall fraud rate in Spain has been fairly low – only about 1%. That low rate has definitely been taken for granted by Spanish ecommerce shoppers. From leaving their smartphones unlocked to making online purchases on unsecured computers, Spaniards are known to engage in the riskiest consumer behavior among European shoppers.

As the Spanish ecommerce market continues to blossom, fraud will almost certainly increase. International merchants must be wary that they won't just be dealing with fraudsters. They will have to help consumers learn to be more careful with their sensitive financial information.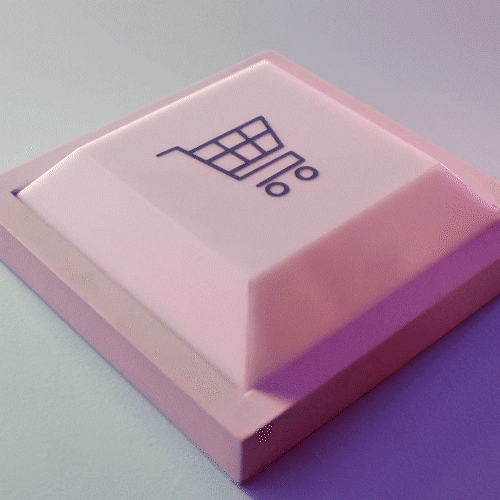 Spain's Ecommerce Is Driven by Language
A study conducted by the OCU showed that 90% of Spaniards aren't comfortable communicating in English. This is an important consideration for Spanish ecommerce. The language on your ecommerce site will likely determine whether consumers in Spain make purchases.
The other factor to keep in mind is by having a Spanish translation or a Spanish version of your ecommerce site for Spain, it has the potential to be found by the 414 million people worldwide who speak Spanish.
(Keep in mind that as with English, Spanish dialects and terminology can vary widely by country. For the smoothest ecommerce entry into Spain, be sure to engage a native Spanish translator for your ecommerce site.)
Credit Card and Digital Wallets Are Spain's Preferred Methods of Payment
Credit cards are used for 40% of online transactions in Spain; however, most Spaniards only have one credit card. Digital wallet is the next most popular payment option, with PayPal accounting for 35% of transactions alongside newer entries in the market like Google Pay, Apple Pay, and Amazon Pay.
Bank transfers are becoming more popular, thanks to Spanish app, Bizum, which allows users to make payments between bank accounts. Still, credit cards and digital wallets are set to compete for the majority of transactions in 2021 and beyond.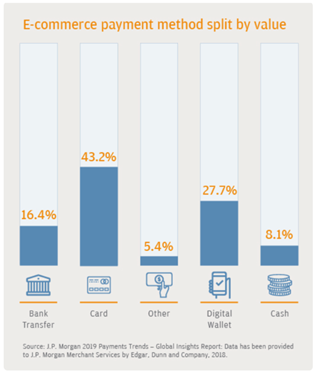 Source
Spaniards Are Avid Social Media Consumers
Online and social media penetration in Spain is high. More than 50% of Spaniards are active online and social media penetration is 62%. Further, consumers in Spain spend nearly six hours per day online and one-third of that time on social media. YouTube, WhatsApp, and Facebook are the primary social media channels.
What this means to online retailers is that social media advertising in Spain will have high penetration, particularly if you choose Facebook ads. Over 97% of Spanish social media consumers – 21 million people – use Facebook on their smartphones.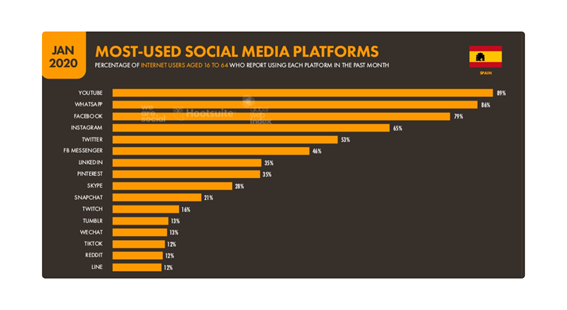 Source
Selecting The Right Fraud Protection Solution
Merchants who are expanding into the Spanish ecommerce market have a lot of opportunity, but no small amount of risk. Not only are the most purchased items considered high risk for fraud, Spanish ecommerce shoppers have a reputation for risky online behavior.
There are a host of fraud protection solutions on the market with varying levels of expertise. But the key is to understand every aspect of fraud protection, including chargebacks, friendly fraud, criminal fraud, high risk industries, and much more. For this market, an end-to-end solution is highly recommended
ClearSale offers webinars that provide guidance for protecting your ecommerce site from order to deliver and beyond. You'll learn about fraud, your risks and what strategies to consider, as well as criteria for selecting a solution partner. Then, when you're ready to join ClearSale's 2,500-plus customers who are effectively and safely growing their business internationally, get in touch. We're ready to help.