France's ecommerce market is one of the largest in Europe, with tech savvy consumers and plenty of room for expansion in the mobile shopping space. Consumer buying behavior in France is centered around discount shopping, remote pickup locations, and cross-border purchases. Online merchants that cater to these trends and are aware of recent fraud prevention regulations should do well in this thriving market.
France's Mature Ecommerce Market Still Has Room for Growth
France is the second-largest ecommerce market in Europe and accounts for just over 15% of European ecommerce – that equals 34 million ecommerce shoppers.
Almost every French household has internet service and well over half the population uses smartphones. Growth in the French ecommerce market is expected to continue at a measured pace, with cross-border shopping increasing.
Online merchants can find plenty of opportunity — and a few challenges — in the French consumer market. Let's take a look at what to expect.

What Makes French Ecommerce Unique?
French ecommerce consumer behavior is distinct. Online shoppers in France share many similar traits.

The French Love a Bargain


Growth in France's ecommerce market can be attributed in part to retailers adopting discount-driven merchandising and promotions. French shoppers make a point of getting the best possible price. With the country being home to Veepee, the world's biggest flash sales site, French consumers are no strangers to discount retail. The country also has its own version of Black Friday, where ecommerce merchants offer even better discounts.

Cross-Border Ecommerce Is Growing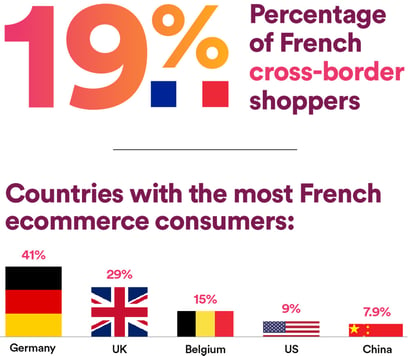 France ranks third among European online shoppers for cross-border ecommerce, with the majority of cross-border customers hailing from Belgium, Spain, and Italy. One quarter of French ecommerce sites export internationally, generating 10% of sales. Most of those exports are French luxury, fashion, and beauty brands.
Where do the French shop when they look at international ecommerce sites? Currently, most purchases are made on German online sites, followed by ecommerce sites in the UK, Belgium, the U.S., and China.

France Is a Leading Consumer of E-Bikes

France is the one of the fastest growing markets in Europe for e-bikes, second only to Germany. To promote this trend, Île-de-France Mobilités (Paris' transportation authority) plans to subsidize as much as 50% or up to 500 euros toward the cost of an e-bike.
Programs like this are being explored or have been implemented in Sweden, Norway, Scotland, and Portugal. As with any high-dollar, high-demand product, the risk of ecommerce fraud is significant. E-bike online merchants need to pay attention to trends and put fraud protection measures in place.

E-bikes have become wildly popular around the world. Learn more about recent trends in this eco-friendly industry.


Alternative Payment Methods Are Gaining Steam
French consumers default to credit cards for ecommerce payments, with Cartes Bancaires accounting for over half of credit card transactions. Alternative payment methods are starting to gain a foothold in the France with options including:
French Consumers Rely on Click-and-Collect

French consumers are adopting "click-and-collect" at lightning speed. Similar to in-store pickup, click-and-collect services deliver online purchases to local shops and public spaces rather than homes. Amazon has taken advantage of this trend by installing Amazon Lockers in train stations across France.
Even French grocery stores offer click-and-collect for food, which has been a welcomed service during the pandemic: Online grocery sales in France rose from 6% to 10.2% in 2020. Retailer E.Leclerc now offers refrigerated lockers near transport hubs as well as drive-through locations where online grocery shoppers can pick up their food.
This trend is particularly helpful in preventing the missed delivery and multiple shipping address issues that can lead to ecommerce fraud issues, such as friendly fraud and chargebacks.

Transaction Authentication Is a Factor For French Ecommerce

In 2018, the European Central Bank reported that 70% of total credit card fraud in Europe originated from CNP (card not present) payments. It also highlighted that online transactions were 17 times more susceptible to fraud than face-to-face payments. The European Commission responded with an update to its payment regulations – PSD2, the second Payment Services Directive. Enforcement in France began on March 31, 2020.
PSD2 enforces Strong Customer Authentication (SCA) for all CNP transactions by adding the equivalent of two-factor authentication to each transaction. What long-term effect this will have on the French ecommerce market is unknown. French online merchants and cross-border merchants that sell to French consumers may want to consult with a fraud protection expert to understand how these new regulations can impact their business.
Understanding Consumer Behavior in France
Before expanding into the French ecommerce market, merchants need to weigh the opportunities and challenges inherent in French ecommerce trends. Understanding the unique consumer buying behavior in France is especially important for an online merchant's success.
ClearSale has now published two original research reports, the 2021 Global Consumer Behavior Analysis and now published in 2022 the State of Consumer Attitudes on Ecommerce, Fraud & CX 2021. Both reports highlight customer behaviors, opinions about ecommerce fraud, and expectations that shape how online consumers interact with merchants and their brands. Check out these useful reports to better understand how customer behavior can help you determine your next course of action in pursuing the unique market.
Learn how customer behavior is shaping ecommerce
ClearSale's State of Consumer Attitudes on Fraud, CX & Fraud 2021