Oct 6, 2020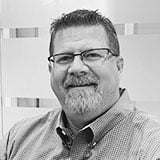 David Fletcher
Ecommerce Has Seen Holiday-Level Demand Most of The Year. What Will the Holidays Look Like for Merchants?
According to Adobe Digital Economy Index report for May 2020, ecommerce spending in May overshadowed the entire 2019 holiday season. Due to pandemic restrictions and health practices that saw countless people suddenly working and schooling from home and sharply limiting their trips outside the home, online spend with U.S. retailers surged 30% during the first half of 2020, compared to ecommerce sales growth of 12.7% from 2018 to 2019.

Delivery giants such as UPS that normally spend all year preparing for the pre-Christmas online shopping surge, have been struggling with being overwhelmed by an avalanche of packages for most of 2020. And because online demand has been consistently high, merchants like 1-800-FLOWERS.COM, Inc. have revised revenue and earning guidance for fiscal 2020 full year.

Analysts believe this higher sales volume—and the challenges that come with it—are likely to be a permanent phenomenon. That leaves ecommerce merchants wondering what to expect during the holiday shopping season and how to prepare. Will demand climb even higher, or will shoppers spend less on gifts this winter?
Translating a Sustained Ecommerce Peak into Long-term Success
Having holiday-level demand consistently throughout the year is a good problem for ecommerce merchants to have. However, it also requires that merchants adjust their online revenue and risk models quickly to leverage new customer data and meet customer expectations during the holiday shopping season. Online sellers who do this right can retain their new customers beyond the holidays, for long-term growth.

In order to do that effectively, merchants need to know a few things about their buyers, their online behaviors, and their conditional loyalty to ecommerce businesses. That requires putting the right systems in place now, before the potential surge in holiday demand. Here are some steps ecommerce merchants can take to deliver a great customer experience and build customer loyalty during the holidays and into 2021.
Ensure a seamless customer experience
This holiday season, merchants will compete for the attention of their customers, most of whom are no longer loyal to particular stores due to the pandemic. More than ¾ of consumers have shopped with new stores to find what they wanted since restrictions began. Today's consumer expects accurate stock information and a personalized customer experience, not only on your store's website but also on your mobile app or site, your social channels and in your stores.

To win their business, merchants need to unify their customer data as well as their inventory data. That helps to align ecommerce, social and in-store experiences that consistently recognize customers, can offer personalized product recommendations and can give customers a real-time view of which items are in-stock.

Don't overlook more basic but critical issues. Site crashes are a perennial problem for online retailers during holiday sales peaks, and traffic may be higher this season than in the past. For a successful holiday season, your ecommerce store should have a solid infrastructure with fast load times, scalable bandwidth, updated integrations and security patches with recent backups to reduce the likelihood of getting knocked offline.
Focus on shipping and fulfillment options
Part of an excellent customer experience happens after the purchase, when orders are easy to track and arrive on time. For consumers who've already been stressed about late deliveries and lost packages this year, it's more important than ever for customers to get their products delivered on time. It's also wise to give your customers options.

If you have a brick-and-mortar presence, offer the option to buy online, pick up in-store (BOPIS). BOPIS increased by 195% YoY in May 2020 because it's a convenient option for buyers who prefer to browse and shortlist products online but want possession of their products on the same day or next day.

For pure-play ecommerce merchants, adding a branded package tracking tool to your site and email marketing can reduce calls and emails to customer service as shoppers check on their orders. This kind of tool also allows your store to have more touchpoints with your customers instead of sending them off-site to your shipping carriers for updates.
Refine your holiday marketing and promotions strategy
To attract and keep customers' attention during the holiday season, your marketing strategy should reach customers everywhere they spend time online. That likely includes social media, search ads, email campaigns, and mobile and desktop push notifications, in addition to holiday-related SEO efforts to raise your store's visibility in search results.

Now is also the time to plan holiday-themed promotional strategies to engage your buyers. A few ways to do this are:

• Promote gift card purchases, including the option to add gift cards during checkout. Since March, gift card sales have been markedly higher than during the same period in 2019, according to Rise.ai: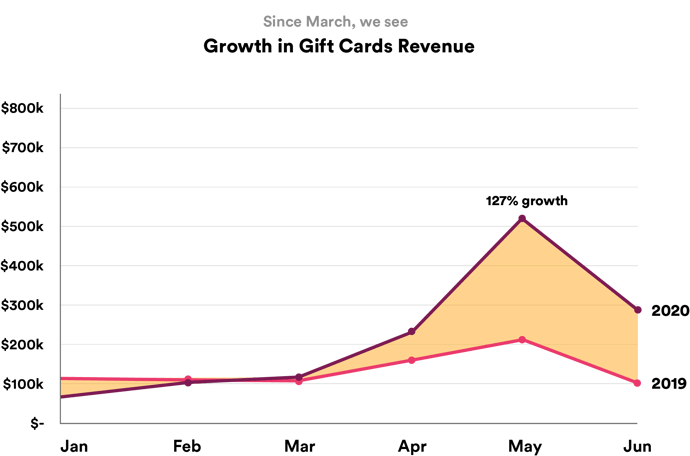 • Offer low-cost, high ROI add-on services such as holiday-themed gift-wrapping for purchases.

• Create limited time offers for urgency and shareability on social media.

• Plan holiday giveaway programs and contests to reward loyal customers and to increase customer engagement and shares.

• Promote your rewards policy to incentivize customers during the holiday season. Tie it in with your gift card promotions if possible—1/3 of consumers have bought a gift card for themselves recently to earn rewards or other promotional benefits, according to Blackhawk Network.
Ramp up your customer service and support
Given the high level of demand before the holiday season, it's possible (although not guaranteed) that the holiday season will put even more customer service demands on ecommerce businesses. It's critical to have a robust service and support system in place to make sure your business offers 24/7 support to resolve customer grievances and address their challenges. Review and reinforce your customer service options via:

• Chat, using either a chatbot with a menu of basic services or live chat with trained CSRs.
• Email, with the fastest possible response times.
• Social media, with enough staff to monitor your accounts for customer service comments and questions.
• Telephone, with staffers available during as many hours of the day as possible and, for merchants who sell across borders, as many language options as you need to serve your markets.

Taking good care of your customers makes for a positive buying experience and can help you keep their loyalty going forward.
Evolve your fraud-prevention system
False declines can deter customers from coming back. Sapio Research found in March that 33% of U.S. online shoppers would never again do business with a merchant that declines their order. A quarter also said they'd likely say something negative about their experience on social media. That means revenue loss in the short term and low customer lifetime value over the long haul.

This holiday season, a combination of high demand, new customers and a seasonal increase in phishing, malware, and fraud attempts will invariably make it harder for merchants to differentiate fraudsters from legitimate customers. To avoid fraud losses and costly chargebacks as well as false declines, now is the time to review your fraud protection program.

Ideally, your store's fraud prevention algorithms are optimized for each sales channel (desktop, mobile, social) and each market you sell into. It's also wise to couple your machine learning tools with manual review of flagged orders. Expert review can reduce your store's rate of false declines, which increases revenue and reduces customer churn. Review can also help your anti-fraud algorithms to get better at identifying fraud by teaching the system which flagged orders were actually good.

Now's the time to prepare for this holiday's potential challenges around growth, new customers and order screening. With a strategy that includes good customer experience, smart promotions and fraud and false decline reduction, ecommerce merchants can handle the coming holiday season and leverage it for long-term success.
Original article at: https://www.business.com/articles/holiday-forecast-for-merchants/