Nov 1, 2019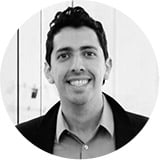 Rafael Lourenco
Creative Ways to Get More Mileage from Your Data
Use analytics to your advantage to support your HR department, sales and marketing teams, team managers and ultimately your customers.
Data analytics has helped a lot of startups offer services that weren't possible before the era of big data. And analytics providers help pre-big data companies make the most of information they've been collecting for years, especially in the areas of sales and marketing. But there are other ways that analytics can help many kinds of businesses create value and operate more efficiently -- even if they're not in the analytics business.
Working at a company founded by and full of data scientists, and as a data scientist myself, I've been on hand for analytics implementations that go beyond our core offerings to improve different areas of our business. In the past two decades, in addition to building our data-driven core business, our data scientists have also found ways to hire people who are more likely to stay, support individual workers' strengths on the job, and identify customers who may be struggling before the struggle becomes an issue.
Here are some examples of how analytics can help companies plan more effectively, make better hiring decisions, optimize work assignments and more. Pursuing these use cases can also increase communication and collaboration between IT and other departments as they pull the data they need to work more efficiently.
Hiring for retention
In fields where the demand for talent outpaces supply, such as data analytics and cybersecurity, hiring is a challenge, but it's only the first hurdle. Retaining employees can also be a challenge. And your company can't land new clients if you don't have the staff available to serve them.
If your company can identify the candidates that are most likely to stay onboard after hiring and training, you can reduce your company's average cost per hire and be ready to take on new accounts. As we've grown our company from two dozen to nearly 2,000 people, we've collected and analyzed data on our hiring process. We've found that by combining the candidate's score on a logical thinking test with other variables like work experience, we can forecast the likelihood that the candidate will stay on the job for at least six months. That helps us make more cost-effective hiring decisions and grow more efficiently and predictably.
Reducing customer churn
Even among companies with low customer churn rates, reducing churn is a worthwhile effort. That's because it costs 5 times as much to win new customers as it does to retain the customers your company already has. Although our customer churn rate represents less than 2% of our revenues, year over year, we try to identify customers who are likely to leave so we can reach out to them with additional communication and support.
To do this, we've identified markers that indicate a likelihood of churn -- like a decline in order numbers. We score our clients each month to see who needs extra outreach. When we find customers that fit the pre-churn profile, we have our account management and marketing teams connect with them to see what they need and how we can assist them. Note that in this situation, it's not analytics that can ultimately save the customer relationship. It's the relationship management skills that our sales and marketing teams bring to the situation. But the data allows them to spot those situations and address them early.
Assigning the right projects to the right people
Even when people do the same job in the same department, there will be differences in their approach to problem-solving. We've found that our analysts who manually review transactions for suspected fraud have different styles for resolving inquiries. Some are more risk averse and less likely to approve a flagged transaction that other, less risk averse analysts would clear. Rather than see these differences as a problem, we use analytics to make them an asset.
By analyzing our analysts' decisioning history, we can see which risk tolerance group they fall into. We can also see which analysts work most quickly and which ones take more time. Then we can ensure that each analyst team has a balance of different analyst profiles.
With a cluster of different problem-solving approaches on each team, we know that we can assign incoming review orders to specific analysts for optimal results. For example, a high-value order like a $20,000 diamond necklace would be assigned to a more risk-averse analyst, while a batch of $30 housewares orders could go to a more risk-tolerant analyst who works faster.
Companies in different fields can apply this same approach to other types of work, so that each employee's problem-solving methods can be a strength, given the right problems to solve.
Choosing locations for expansion
Data can also help make decisions with many more factors involved, like where to locate a new office. When it was time to decide where to base our U.S. operations, I didn't want to make a choice based on my feelings or initial impressions of different cities. Instead, I looked at the numbers.
We analyzed each of the Lower 48 states for the potential profitability of our new location. The projections were based on several variables, including the state's corporate income tax rate, combined state and local taxes, and projected costs of travel, staff salaries and administrative costs. Although my initial gut feeling had suggested that New York or somewhere in California might be the place to set up, our data led us to open our office in Miami.
Any time an organization must make a complex, potentially costly decision, analytics can help clarify the most important factors and the best options based on data rather than assumptions.
Other use cases for analytics
We also use analytics to determine the best time to call customers during order reviews and the best numbers to call to reach them, among other tasks. Contacting customers, like choosing a location or hiring the right talent, is a challenge that all kinds of companies deal with, not just those in the analytics business. And any organization can use data to find the best possible solutions to these challenges.
These use cases allow your department to use its analytics and data management expertise to add value across the company. If your company has a process that could be optimized if you understood it better, and you have data on the process that can be analyzed, you may be able to use analytics to your advantage to support your HR department, sales and marketing teams, team managers and ultimately your customers.
Original article at: http://www.informationweek.com/big-data/big-data-analytics/creative-ways-to-get-more-mileage-from-your-data/a/d-id/1335951