Dec 1, 2020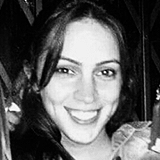 Sarah Elizabeth
Country Profile: The Guide to Ecommerce in the United Kingdom
American ecommerce retailers may find themselves on familiar ground in the U.K. The two countries share a language and many cultural similarities.
But while the language of ecommerce is the same between the U.S. and the U.K., there are differences you must be prepared for if you plan to expand your business across the pond.
In this comprehensive guide, we'll explore the U.K. ecommerce market, focusing on those aspects that make British consumers and the business climate there unique. We'll profile the typical U.K. resident's buying habits and highlight some key opportunities for ecommerce merchants.
We'll also look at the challenges involved with doing business in the U.K., including the risk of online payment fraud. Finally, we'll offer some tips for preventing fraud while selling into the U.K.

U.K. Market Overview
First, a definition:
When we discuss "the United Kingdom" or "the U.K.," we're describing a nation that comprises the four countries of England, Scotland, Wales, and Northern Ireland. The first three countries are all located on the island of Great Britain, while Northern Ireland shares an island with the independent Republic of Ireland (which will not be discussed in this guide).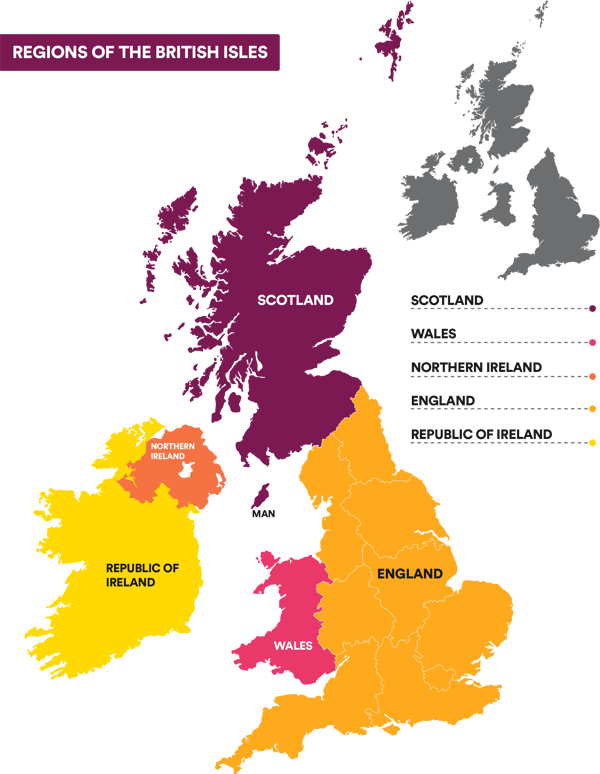 Residents of the U.K. may be collectively referred to as "British," but keep in mind that some U.K. consumers may identify more strongly as "Scottish" or "Welsh."
U.K. Population Stats
The current U.K. population is 67.9 million, making it the fifth-most populated country in Europe and the third-most populated in Western Europe (after Germany and France). The U.K. is home to the world's second-highest population of people who speak English as a first language (after the United States). Counting by the total number of English speakers, the U.K. is sixth in the world.
The U.K. population is aging. Currently, 46% is under 55. However, the median age is expected to reach 44.5 by 2050. (In 1950, the median age in the U.K. was 34.9.)
U.K. Economic Data
According to the U.K. Office for National Statistics, household disposable income in the country grew 2.3% between the financial year ending (FYE) in 2019 and FYE 2020, reaching £30,800 (about $40,515, as of this writing). These numbers reflect the period just before the COVID-19 pandemic put much of the U.K. and the world on lockdown, however.
The disposable income of British consumers has been growing steadily over much of the last decade, at an average rate of 2.1% per year, the Office for National Statistics reports.
The World Bank ranks the U.K. ninth in the world for ease of doing business. That puts it one spot behind the U.S. The World Bank says the U.K. is 23rd in the world in terms of the simplicity of paying taxes (a few places behind Canada). After a series of major cuts in recent years, corporate tax rates in the U.K. have dropped from 28% in 2009 to 19% in 2019.
Internet Penetration in the U.K.
As you would expect from a highly modernized society, the British people are extremely connected. Internet penetration in the U.K. is 95.53%; it's expected to reach 97.5% by 2025.

Mobile internet user penetration is similarly high at 90.3% – and it is expected to reach 93.59% by 2025.

The vast majority of the United Kingdom's internet users are also online shoppers. In 2020, 87% of people in Great Britain alone made purchases online.


Ecommerce Growth in the United Kingdom
Over the past decade, U.K. consumers have become more and more enthusiastic about shopping online. The ecommerce market has grown from a total value of £33.24 billion (about $43.7 billion) in 2012 to £99.31 billion (about $130.8 billion) in 2020.
As in most markets, online retail sales surged in the U.K. with the COVID-19 pandemic. Typically, ecommerce sales spike each year during the holiday season. But 2020 has seen holiday-like numbers in the U.K. each month since March.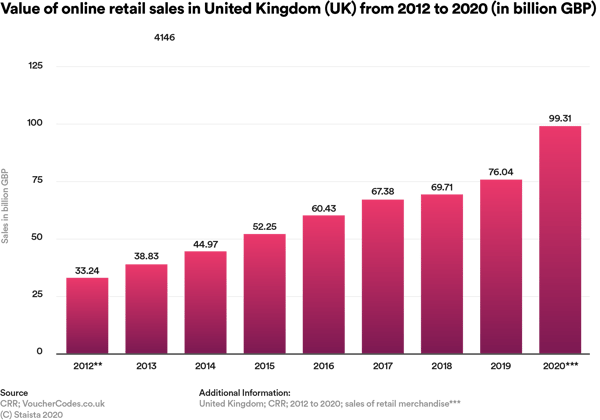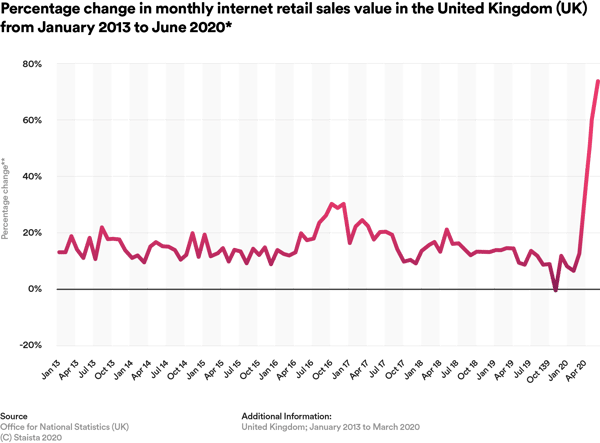 In certain sectors of the online market, growth has been explosive. For example, compared to the previous year, online food sales rocketed up 108% in July 2020. Online sales of household goods increased by 79.3%.
Other sectors, such as clothing and footwear – the previous reigning champions – saw only modest growth.
Before the 2020 pandemic, only about a third of the U.K. population had purchased food online. But when we look closer at online shopping data from this spring, we see that most of the growth in food sales comes from groceries.
British people are ordering takeout (what they call "takeaway") online about the same amount or less than before the pandemic. This is likely due to a drop in disposable income.

Consumer Behavior in the U.K.
All the following data comes from a 2020 ClearSale/Sapio Research report on consumer behavior in the U.K., Australia, Canada, the U.S., and Mexico. Researchers surveyed over 1,000 consumers in each country.
Buying Trends by Age
British consumers over 55 are more likely to purchase home goods, books, and travel online. Those under 55 gravitate toward beauty supplies, fashion, pet supplies, and sporting goods.

People under 55 in the U.K. are more likely to purchase from merchants overseas – 41% of them typically order from a combination of overseas and local retailers. Those over 55 primarily favor U.K. merchants; only 29% of that group orders from foreign sites.
The COVID-19 pandemic has evidently affected the shopping habits of British generations differently. In the second half of 2020, 18% of those under 55 said they were shopping less frequently. Only 6% of those over 55 said the same. This may be because retired people felt less of a financial impact from COVID-related layoffs and shutdowns.
As of our 2020 survey, 64% of British ecommerce customers under 55 used mobile shopping. Only 38% of those over 55 shop using mobile devices.

However, as we noted above, the U.K.'s population is aging. We expect these numbers to equalize over the next decade. Ecommerce retailers cannot afford to overlook the m-commerce experience, even if they typically target mature buyers.
Buying Trends by Gender
Men and women in the U.K. spend about the same amount online on books, travel, home goods, and pet supplies. However, women spend more on beauty supplies and fashion, while men spend more on electronics and sporting goods.
British women are often portrayed in the media (or by bestselling author Sophie Kinsella) as "shopaholics." But the data shows that men are just as enthusiastic about buying online – and men are becoming even more enamored with ecommerce.
According to our survey, 44% of men (compared with 36% of women) say they have been shopping more frequently over the past six months.

Spending Habits
The U.K.'s habitual "big spenders" are prime targets for ecommerce retailers. What do we know about this high-value cohort?
The people who spend the most monthly on ecommerce sites are less likely than others to buy electronics or pet supplies. Unsurprisingly, they are more likely to spend money on travel.

Interestingly, British big spenders (those who spend more than $521 each month online) are not the most likely group to frequent foreign merchants. That would be the second-biggest spenders. This may be because higher-income consumers are less concerned about scouting out deals.

In a related finding, big spenders say they do not primarily shop online to save money. Members of this group are drawn to ecommerce because they enjoy the convenience of delivery, and they like being able to review and compare items. The second-biggest spenders are the most interested in saving time and accessing a wide selection (another reason they like to shop on foreign sites).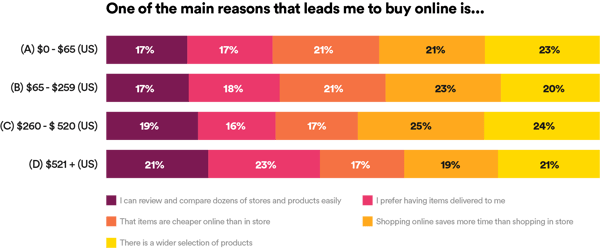 Challenges Around Ecommerce in the U.K.
The U.K. ecommerce market (as is true for many other ecommerce markets worldwide) is dominated by a single company: Amazon. The U.K.-based Amazon marketplace is amazon.co.uk.
In 2018, Amazon netted over $8.3 billion in sales through amazon.co.uk. The next closest competitor, Tesco (a groceries and general merchandise retailer), brought in $4.8 billion in revenue. Another major competitor is Argos, the top omnichannel retailer in the U.K.
In addition to competition from mega-retailers, ecommerce merchants doing business in the U.K. for the first time must adjust to the local regulatory climate, which can be quite different from North America.

For example, Section 75 of the Consumer Credit Act of 1974 protects consumers who charge between £100 and £30,000 to their credit cards. Section 75 safeguards against breach of contract or misrepresentation of goods, regardless of the merchant's location, the card issuer's location, or the channel through which the purchase is made.
We would also be remiss if we did not mention Brexit, perhaps the greatest economic, political, and cultural shakeup in the U.K. since the end of World War II.
The full ramifications of Brexit for ecommerce merchants remain to be seen. It appears as if most merchants will have to pursue different strategies for the U.K. and the rest of Europe moving forward.
Tariffs and shipping delays may hamper cross-border ecommerce. Our survey found that only 37% of U.K. residents say they order from overseas websites. Brexit may make reaching British consumers even more difficult for merchants that don't already have a presence in the U.K.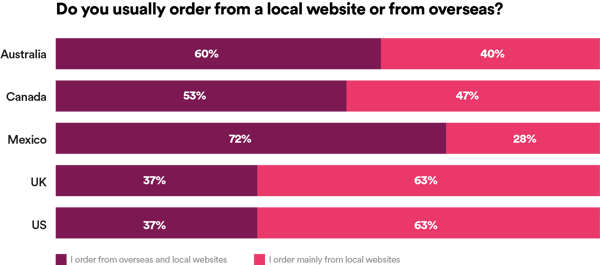 Ecommerce Fraud in the U.K.
Echoing trends we see in many other countries, the massive growth of ecommerce in the U.K. over the past two decades has occurred alongside skyrocketing rates of card-not-present (CNP) fraud. As more retailers open up online stores, criminals gain more opportunities to misuse the payment card information of their unsuspecting victims.
According to a report from the U.S. Payments Forum, CNP fraud hit a peak in the U.K. in 2008, costing £328 million. CNP fraud declined for a few years after that due to the widespread adoption of 3D Secure, a strong customer authentication protocol for online payments.
However, the original version of 3D Secure was cumbersome and intrusive. Possibly as a result, CNP fraud in the U.K. began to climb again after 2011 (again, according to the U.S. Payments Forum). The CNP fraud rate may yet decrease with the recent unveiling of 3D Secure 2.0, a much lower-friction, risk-based protocol.
Our own survey found that 37% of ecommerce consumers in the U.K. have experienced online fraud (compared to over 54% of Americans and 42% of Canadians).

Consumer Attitudes About Ecommerce Fraud
Compared to 13% of Americans, 25% of U.K.-based consumers say online shopping is "somewhat" or "a lot less" safe than brick-and-mortar shopping. So, while the British people shop online frequently, they do so cautiously.
Ecommerce merchants entering the U.K. market should be prepared to offer an overtly safe and secure experience (similar to doing business in Canada).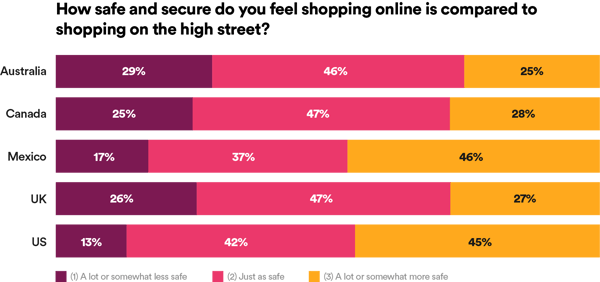 Counterintuitively, while U.K. shoppers feel online shopping is less safe than Americans do, they are (somewhat) less concerned about security measures. 74% of Sapio survey respondents from the U.K. said they would be more likely to purchase online if they knew the vendor had fraud protection. In the U.S., that number is 83% (perhaps because U.S. consumers have been victimized more often).

Among respondents to our survey, U.K. residents were the least likely to check a URL for safety before making an online purchase and the least likely to check online reviews.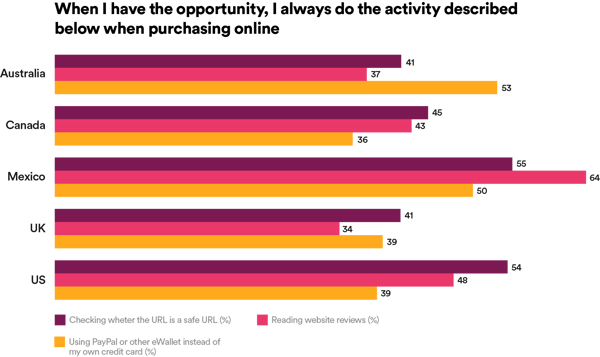 How to Prevent Fraud When Selling into the United Kingdom
When CNP fraud happens, merchants (in the U.K. and around the world) are typically responsible for chargebacks.
When a cardholder notices an unauthorized payment on their account, a chargeback is initiated. The cardholder will notify their card-issuing bank. If the bank determines the claim is legitimate, the bank will refund the payment and debit the merchant – usually with an additional fee ranging from $50 to $100 or more per transaction.

Chargebacks aren't the only way online fraud can harm your ecommerce business. Fraud can impact your relationship with customers, and it can also cost you the value of shipped and unpaid merchandise.
To prevent fraud-related damages, ecommerce merchants selling into the U.K. have four basic fraud protection options:
1. Fraud Filters
Fraud filters are provided by ecommerce platforms and are designed to identify potentially fraudulent orders and stop them from being processed.
Fraud filters can function a number of ways, such as by:
Limiting how many sales can be submitted to a website during a given time period.

Using an address verification service (AVS) to ensure shipping and billing addresses line up.

Flagging or blocking transactions that occur during specified timeframes.

Checking for errors with the card verification value (CVV) submitted.

Flagging high-dollar sales that fall outside the merchant's typical range.

Looking for IP address mismatches.
While these common filters can prevent a high amount of fraud, they may also stop even more legitimate transactions.
When a fraud prevention measure denies a legitimate transaction, it is called a false decline. We explain the risk of false declines in the U.K. below.
2. Manual Review
An alternative to automatic fraud filters is manual review, which is just what it sounds like: a team of individuals reviewing each transaction (or a selection of transactions) to detect fraud.
Human fraud experts tend to be better than machines at understanding context. Trained fraud experts can look at each situation individually instead of blindly adhering to preset rules.
However, manual review is very time-consuming and resource intensive. A drawn-out manual review process can annoy customers who are eager to complete their orders.
3. Machine Learning/Artificial Intelligence
Software that relies on machine learning or artificial intelligence (AI) can provide a fast and reliable way to screen out fraud. These applications rely on mathematical algorithms and data to identify fraud trends and patterns. Because no humans are involved, machine learning is scalable and consistent, applying the same level of scrutiny to every transaction.
Unfortunately, like "unintelligent" fraud filters, machine learning can be inflexible. Algorithms can also miss new types of fraud that haven't yet made it into the algorithm's database.
4. Fraud Managed Services
Fraud managed services is a "best of all worlds" approach that combines cutting-edge automated technology (including advanced fraud filters and machine learning) with expert manual analysis.
At no point is an order automatically declined. Instead, when the automated system flags an order, the order is passed on to the team of experts who use their knowledge of human behavior and the latest fraud trends to make a final call. The human analysts can flag new trends for insertion into the AI's algorithm, thereby helping the machine learn faster.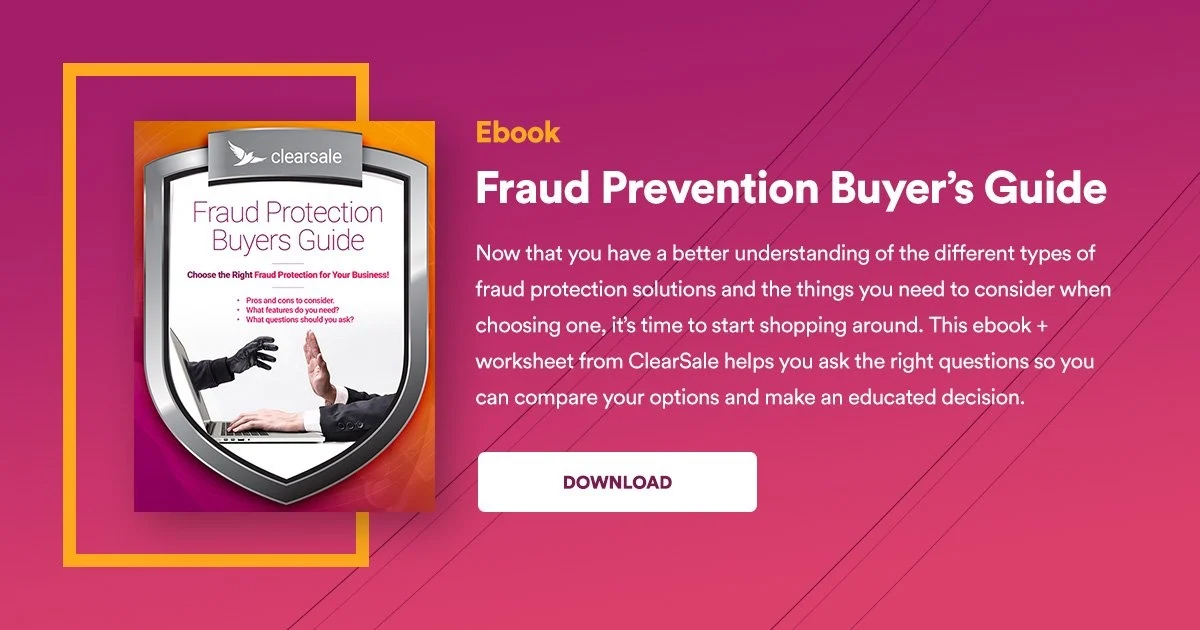 The Risk of False Declines in the U.K.
If ecommerce customers the world over have anything in common, it's their distaste for false declines. No one – from the U.K. to the U.S. to Australia to Mexico – likes being told their payment method is suspicious. False declines drive away customers, often never to return, costing ecommerce businesses up to 13 times as much as fraud.
U.K. residents are even less forgiving of false declines than their American counterparts. 38% of U.K. online shoppers told Sapio Research they would never place an order with a merchant again after having a payment declined.

(33% of Americans said the same.)
Generational differences come into play again here. Older U.K. residents are more likely to boycott a merchant that falsely declines an order. But younger British people are much less likely to let a retailer off the hook after a fraud experience.

Men in the U.K. are also significantly less tolerant of false declines. This is a critical insight for electronics retailers, which are heavily patronized by men under 55.

The key to retaining customers of all ages and demographic groups in the U.K. is implementing an airtight fraud prevention solution that doesn't increase your risk of false declines.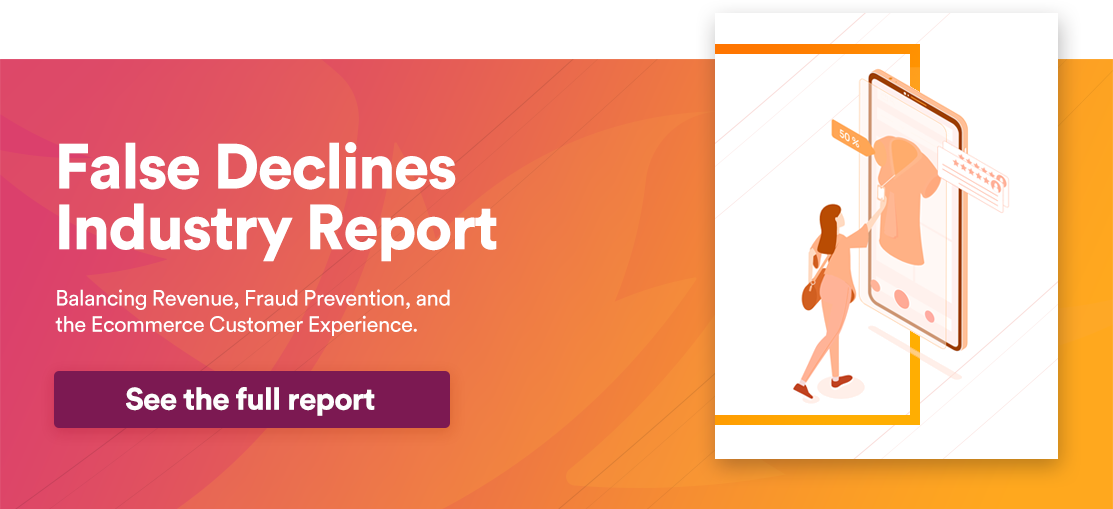 The Most Effective Fraud Solution for U.K. Ecommerce: ClearSale
As a diverse, modern, technologically sophisticated nation with a robust middle class and a tradition of commerce, the U.K. is an enticing market for online merchants everywhere.
But, to be successful in the U.K. market, merchants need a fraud prevention solution that stays one step ahead of the most sophisticated fraudsters while eliminating false declines and giving customers a seamless shopping experience.
ClearSale does just that.
At ClearSale, our fraud managed services solution combines advanced statistical and artificial intelligence technology with the world's largest team of specialized fraud analysts to deliver a balanced, real-world approach that is unlike anything else in the British ecommerce market.
With ClearSale, ecommerce merchants receive:
Simple ecommerce integration

. Our fraud protection solutions quickly integrate with all major ecommerce platforms via an easy-to-install plugin.

Near-immediate order approvals

. Even our human analysts are fast.

Comprehensive protection against fraud.

ClearSale's Chargeback Insurance program offers 100% guaranteed coverage of all fraud-related chargebacks.

The highest approval rates in the U.K. (and anywhere else).

Our system will never auto-decline an order.

An innovative approach

. Our multitiered team approach to fraud prevention lets us continually calibrate our proprietary statistical model as new fraud patterns emerge.
With clients in Europe, North America, Latin America, and everywhere else online shopping thrives, ClearSale knows global ecommerce.
If you're thinking about expanding the reach of your ecommerce business into the United Kingdom, get in touch with us today to talk about keeping your business, your reputation, and your customers safe from fraud.