Latin America has become a global hotspot for e-commerce investment. Internet penetration rates in the region are climbing, the number of mobile users is skyrocketing, and more and more Latin Americans are gaining access to financial services. As a result, e-commerce merchants are looking toward Latin America as a logical step for international expansion. And no country in Latin America has a faster-growing e-commerce market than Argentina.
Argentina may seem like a minor player when stacked up against the Latin American economic powerhouses of Brazil and Mexico. But when it comes to e-commerce, Argentina more than holds its own.
In this guide, we'll show you why the Argentine market is a ripe opportunity for the expansion of your e-commerce business. We'll explain the current state of e-commerce in Argentina and discuss the online shopping habits and expectations of Argentine consumers.
We'll also uncover some of the challenges of selling into Argentina. We'll focus particularly on confronting the high rates of card-not-present fraud, chargebacks, and false declines that continue to plague the Latin American market as a whole, shaking consumer confidence and eating into e-commerce revenue.
E-Commerce in Argentina: A Market Overview
E-commerce has been a bright spot in the Argentine economy, which has been struggling with inflation since its 2018 economic crisis. (Nevertheless, Argentina still boasts the third-largest economy in Latin America.) E-commerce in Argentina grew nearly 38% in 2018, outpacing the growth rate in Brazil (13%) and Mexico (15%), according to eMarketer's report, "Latin America Ecommerce 2018."
In 2019, Brazil was Latin America's largest retail e-commerce market, claiming over a third (34%) of all sales. Argentina accounted for a little over 6% of the market. However, eMarketer expects e-commerce in Argentina will grow to command nearly 19% of the Latin American market by 2022, taking a bite out of Brazil's share.
E-Commerce in Argentina Quick Stats
Every year since 2010, the Cámara Argentina de Comercio Electrónico (Argentine Chamber of Electronic Commerce, CACE) has conducted a study of e-commerce in the country.
Here are some noteworthy findings from the 2019 report, which was based on a survey of over 1,100 Argentine online shoppers and 170 CACE member businesses.
828,000 new shoppers tried out e-commerce in Argentina in 2019, bringing the total number of Argentine online shoppers to 18,773,246. (The total population of Argentina is around 45 million.)

66% of Argentine online shoppers buy online regularly, at least once a month.

E-commerce purchases in the country in 2019 totaled 403 billion Argentine pesos (about 6 billion U.S. dollars as of this writing).

The average purchase amount was 2,900 Argentine pesos (about 45 U.S. dollars).
Why Is E-Commerce Growing in Argentina?
How has e-commerce in Argentina managed to flourish despite the country's economic crisis? Some observers point to Argentina's high level of connectivity compared to the rest of Latin America.
An estimated 85% of Argentines had internet access in 2019, according to Statista; by 2023, internet penetration will reach 94%. To put that in context, Statista puts Mexico's internet penetration rate at 68% for 2019 and 73% by 2023.
A younger generation of Argentines is becoming more accustomed to shopping online (via phone or computer) than their elders. Industry initiatives spearheaded by groups such as CACE promote mass participation in online shopping events such as Cyber Monday and Hot Sale (three days of online discounts in May).
eMarketer quotes one analyst who says, "Beyond the immense turnover these dates generate – growing more and more every year — they also instill a new sense of buying online in consumers who perhaps would have never otherwise bought an item online before."
E-commerce in Argentina is also boosted by MercadoLibre, a Buenos Aires-based online marketplace. eMarketer says MercadoLibre is to Latin America as "Amazon is to the US — or what Alibaba is to China." The platform claims over 267 million registered users, most of whom live in Latin America.
MercadoLibre recorded nearly $2.3 billion in net revenue in 2019, a 60% jump over the previous year. Of that, $456 million came from Argentina.
Types of Online Markets in Argentina
MercadoLibra is, by far, the dominant e-commerce marketplace in Argentina, but it is not the only place to sell products to Argentine consumers.
According to eMarketer, the top e-commerce retail destinations in Argentina (ranked by unique visitors during May 2018) are: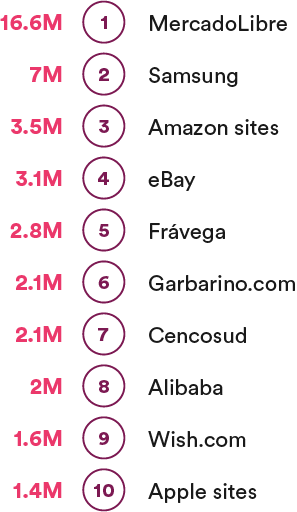 It's worth noting that Amazon does not have a dedicated site for Argentina and only just recently expanded into Brazil. When Argentines order from Amazon, they order across national borders, which requires expensive international shipping options. Amazon's plans for further growth in Latin America are unclear.
Argentine Consumer Behavior
Argentina's e-commerce economy is shaped by the country's geography. The largest portion of Argentine e-commerce buyers (almost half) live in the densely populated Autonomous City of Buenos Aires (CABA). The surrounding Center Region of Argentina accounts for another quarter of online sales. (This is according to CACE data referenced by eMarketer.)
But e-commerce is making inroads into the interior of Argentina, where residents are beginning to recognize the benefits of buying products they can't find at local retailers. CACE executive director Diego Urfeig told eMarketer, "It's quite possible we'll see these areas becoming more and more relevant in the coming years, chipping away at Buenos Aires' share of e-commerce sales."
What else do you need to know about the typical Argentine online consumer? Here are some key characteristics:
Internet and Mobile Access
As we noted above, Argentina has the highest internet penetration rate in Latin America. A major reason for that is the high rate of mobile device use in Argentina. Almost 60% of the Argentine population uses a mobile device to go online.
It's no surprise, then, that mobile commerce is growing by leaps and bounds in Argentina. eMarketer reported a 45% uptick in mobile e-commerce sales between 2017 and 2018. However, eMarketer explains, some retailers in Argentina have been slow to launch mobile-friendly websites. As a result, desktop and laptop computers continue to be the devices-of-choice for Argentine online shoppers.
Analysts with Americas Market Intelligence (AMI) say 70% of e-commerce purchases in Argentina are made with laptop and desktop computers, while 30% are made with mobile devices.
Argentine consumers, however, do use their mobile devices often to research items they want to buy. The CACE survey found that 54% of online shoppers in Argentina used a mobile device to research a purchase in 2019; 57% used a laptop, but that figure is down from 64% in 2018.

Argentines are also active social media users. As of 2018, more than three-quarters of the total population was using social media, and 73% of businesses were using social media to engage with customers, most often through Facebook and YouTube.
Cross-Border Shopping Habits
Online consumers in Argentina are not necessarily reluctant to go beyond their country's borders to buy things.
According to a report commissioned by PayPal, 43% of Argentine digital consumers made a cross-border transaction in 2018. The most common destinations for cross-border purchases were the United States (23%), China (16%), and Chile (6%).
Top Payment Methods
The majority of online purchases in Argentina are made using a credit card. According to CACE, 78% of e-commerce purchases were paid for with a credit card either through a payment platform (56%), a payment gateway (21%), or in a store (1%).
Other payment methods included:
Cash payment upon receiving a product or using Pago Fácil or Rapipago – 11%

Debit card – 6%

Digital wallet – 4%

Wire transfer – 1%
As in other Latin American countries, a significant segment of the Argentine population is unbanked (estimates range from 20% to 52%). But several fintech initiatives, led by MercadoLibre, are aiming to promote the use of virtual wallets and prepaid cards as substitutions for traditional bank accounts and credit cards. These payment forms may grow in popularity over the coming years.
Also noteworthy: AMI reports that 77% of Argentine households have paid for e-commerce purchases in installments.
Top Categories
According to CACE, the top e-commerce categories in Argentina in 2019 were:
Flights and tourism – 22% of all e-commerce sales

Electronics (televisions, audio equipment, video games consoles, IT technology, and phones) – 11%

Food, beverages, and cleaning products – 10%

Household items (furniture and decorations) – 10%

Household appliances – 7%

Sports-related items – 4%

Cosmetics and perfume – 3%
The food and beverage category is the fastest-growing e-commerce market segment. CACE found that sales increased in the category 111% between 2018 and 2019.
Common Challenges Selling Into Argentina
While there are many strong reasons to target Argentina with your e-commerce business, the market is still maturing and is not without its difficulties. We already noted the unstable economy and the high rate of inflation, which have depressed the purchasing power of Argentine consumers.
Other challenges you may encounter doing e-commerce business in Argentina include:
Logistics
The country's delivery system is underdeveloped. Shipping costs are very high and may sometimes exceed the value of the item being delivered. Roads, even in urban areas, may be in disrepair, which can cause delivery delays.
In the CACE 2019 survey, Argentine consumers cited "distrust of delivery days" as the second-most significant disadvantage of buying online. The number-one downside was "not being able to see the product."
Argentina ranks 62nd worldwide in the World Bank's Aggregated Logistics Performance Index, behind Mexico (53rd) and Brazil (56th) and far behind the United States (10th).
Lack of Confidence
Argentines are losing their e-commerce skepticism, but some distrust still remains. 21% of respondents told CACE "suspicious websites" colored their opinion of e-commerce in 2019. However, this number has been dropping steadily for several years; in 2016, it was at nearly 30%.
Credit Card Requirements
In 2019, 16% of Argentine online shoppers told CACE the required use of credit cards was a disadvantage of shopping online. This is a problem, especially, for cross-border e-commerce. More than half of Visa and MasterCard cards provided by local banks in Argentina cannot be used on international websites.
E-Commerce in Argentina: Fraud Facts
One of the most significant challenges for e-commerce merchants in Argentina and everywhere else around the globe is card-not-present fraud. While the risk of fraud is a worldwide phenomenon, it tends to be somewhat higher in the developing markets of Latin America.
According to Visa's 2017 Online Fraud Report for Latin America, 6.3% of online orders in Argentina are rejected due to suspicion of fraud (compared to 2.9% in the U.S. and Canada). The overall rejection rate in Latin America is 9.2%.
Visa also reports that chargebacks consume 1.2% of all e-commerce revenue in Argentina.
The fear of their credit card information being stolen stops 8% of Argentines from shopping online more often, according to a 2019 Mastercard report on e-commerce in Latin America.
In the same report, 28% of Argentine consumers say feeling insecure about their card being compromised during or after the purchase is their primary pain point when making online purchases.
Concerns About the Checkout Process
Argentines want e-commerce merchants to protect them from fraud. 60% told Mastercard that increased security measures would give them the confidence to shop online more often.
At the same time, Argentine consumers do not want to get bogged down in lengthy, confusing authentication steps. According to Mastercard, 28% of online shoppers said they abandon their cart due to checkout complexity most or all of the time. Another 43% said they abandon their cart some of the time.
While 66% of Argentines say passwords make online shopping safer, 46% say they're a hassle to use. 68% say they would prefer to use another method to verify their identities, such as fingerprints or facial recognition.
How to Prevent Fraud When Selling Into Argentina
E-commerce fraud is evolving quickly. Fraudsters in Latin America and around the world are getting better and better at getting around the latest fraud prevention solutions.
As an e-commerce merchant, you can choose to take your chances and do nothing special to prevent fraud. But doing so endangers losing the trust of your customers. E-commerce may be growing quickly in Argentina, but it is still a young market. Skittish consumers may be less forgiving of fraud incidents than in other regions.
Then there are chargeback fees to consider. Card issuers will increase your chargeback fees if you incur too many.
On the other hand, fraud prevention requires a balanced approach. Authentication protocols that take too long, are confusing, or require too many steps can drive frustrated customers away. Overzealous fraud filters can stop legitimate transactions along with genuine cases of fraud.
False declines may happen more than you realize. Worldwide losses due to false declines are projected to reach $443 billion by 2021 – nearly 70 times more than losses from fraud itself.
Concerning the cost of false declines in Latin America, especially, Visa writes:
"Currently Latin American and Caribbean merchants reported a chargeback rate of 1.7%, a manual review rate of 28%, and a rejection rate of 9.2%. This means that businesses are potentially sacrificing a significant portion of valid orders, thereby alienating good customers and reducing potential revenue."
A New Fraud Prevention Solution for E-Commerce in Argentina
To defeat fraud without overburdening customers, e-commerce merchants in Argentina need a solution that seamlessly approves legitimate payments while turning away even the most sophisticated of fraudsters.
Conventionally, there are two ways to combat card-not-present fraud. Automated fraud prevention tools analyze transactions and reject orders based on pre-determined characteristics. Or, human fraud analysts use their expertise and instinct to assess the risk of fraud.
The advantage of automated tools is that they are fast, and when they're configured correctly, they can be very effective at stopping fraud. However, automated tools have difficulty adjusting to unexpected circumstances and tend to reject many legitimate transactions.
Human analysts are slower than machines. But their flexibility, knowledge of human nature, and ability to keep up with the latest fraud trends help them tell the difference between fraud and transactions that are merely uncommon.
You don't have to choose between these methods. At ClearSale, our fraud prevention solution draws its power from the best of both worlds. We combine advanced statistical and artificial intelligence technology with the world's largest team of specialized fraud analysts to deliver a balanced, real-world approach that is unlike anything else in the Argentine e-commerce market.
With ClearSale, e-commerce merchants receive:
Simple e-commerce integration

. Our fraud protection solutions quickly integrate with all major e-commerce platforms via an easy-to-install plugin.

Near-immediate order approvals

. Even our human analysts are fast.

Comprehensive protection against fraud

. ClearSale's Chargeback Insurance program offers 100% guaranteed coverage of all fraud-related chargebacks.

The highest approval rates in Argentina (and anywhere else).

Our system will never auto-decline an order.

An innovative approach.

Our multitiered team approach to fraud prevention lets us continually calibrate our proprietary statistical model as new fraud patterns emerge.
With our headquarters in Latin America, ClearSale knows Argentina. If you're thinking about expanding the reach of your e-commerce business into Argentina, get in touch with us today to talk about keeping your business, your reputation, and your customers safe from fraud.
We also invite you to find out if your automatic fraud filters are declining too many orders and making you leave money on the table. Click here try our free Approval Rate Calculator.