Nov 12, 2020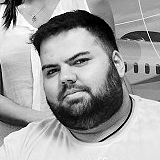 Bruno Farinelli
Country Profile: A Guide to Ecommerce in Vietnam
Among Southeast Asian countries, Vietnam has emerged as one of the most promising territories for ecommerce expansion. Young, digitally savvy consumers in urban areas have embraced international giants like Amazon and, with 40% of the population below the age of 24, the prospects for ecommerce are bright.
Ecommerce business is booming in Vietnam, driven by a young population, a growing middle class, high internet penetration and rising smartphone penetration. A billion in foreign investment over the past four years affirms international belief in Vietnam as one of the region's most promising ecommerce markets.
At the same time, despite 30% growth last year, there are still constraints on ecommerce due to low consumer confidence, delivery logistics, and payment infrastructure.
In this guide, we'll give you an overview of the expanding ecommerce market in Vietnam, explain how the country's payment infrastructure is changing, discuss the challenges of selling into the country, and detail the impact of transaction fraud. Finally, we'll offer some tips for preventing fraud and reassuring consumers as you sell in the Vietnamese market.

Vietnam Market Overview

Vietnam's ecommerce sector is predicted to reach US$15 billion in revenue in 2020 and may reach US$33 billion by 2025. If the ecommerce market continues the current growth rate of 30%, the country will rank third in Southeast Asia, after Indonesia with US$100 billion and Thailand with US$43 billion. This growth can largely be attributed to Vietnamese consumers, particularly those in the younger generations, who are driving the demand for online shopping.
The great potential of Vietnam's ecommerce sector is demonstrated by nearly US$1 billion in foreign investment over the last four years, mainly from Japan, Germany, the United States, Korea, China, and Singapore.
The majority (70%) of Vietnam's ecommerce is transacted in the country's two biggest cities, Hanoi and Ho Chi Minh City, even though 70% of the population lives in rural areas. A 70% growth in the country's logistics and delivery businesses last year indicates investment is targeting infrastructure, so the boom in the cities can expand to the remainder of the country.
(Our source for most of the stats we've shared so far is the Institute of Southeast Asian Studies– Yusof Ishak Institute (ISEAS) in their Perspective Report: Vietnam's Booming Ecommerce Market)
5 Quick Stats: Ecommerce in Vietnam
The Vietnamese ecommerce market size is estimated to reach $13 billion in 2020.

Revenue is expected to show an annual growth rate (CAGR 2020-2024) of 9.0%, resulting in a projected market volume of US$8,508M by 2024.

Ecommerce user penetration will be 46.9% in 2020 and is expected to hit 66.6% by 2024.

The average revenue per user (ARPU) is expected to amount to US$132.05.

Accenture finds that 92% of current internet users are digital buyers and predicts the number of internet users will rise from 50.5 percent of the population to 65.1 percent in 2022.
Types of Online Markets in Vietnam
ISEAS reports that five of the 10 most successful Southeast Asian ecommerce platforms operate in Vietnam – namely Lazada, Shopee, Tiki, Thegioididong, and Sendo, with Shopee in the top spot with 16.8% of their combined monthly web traffic.
Tiki, Sendo, and Thegioididong operate only within Vietnam, offering evidence of the huge potential of Vietnam's domestic ecommerce sector. These platforms have seen significant foreign investments recently: Sendo.vn received US$51M from Japan's SBI Holdings in 2018 while China's JD.com became the largest investor in Tiki.
Vietnamese consumers, especially the younger generation, are particularly fond of purchasing goods on popular foreign ecommerce websites such as Amazon and eBay due to their wide variety of products and secure transactions.

How COVID-19 Has Impacted Ecommerce in Vietnam
According to Deloitte, early and decisive COVID-19 containment efforts allowed Vietnam to become one of the first countries in the world to ease social-distancing measures. As a result, Vietnam is expected to remain one of the fastest-growing economies in Southeast Asia, and even within the wider Asia Pacific region, despite the short-term economic slowdown:

As is happening in most countries, the heightened focus on safety has accelerated the shift toward ecommerce as a substitute for physical shopping. The COVID-19 outbreak, Deloitte says, "has catalyzed a radical, broad-based shift towards ecommerce channels – both across a wider range of consumer demographics beyond the young urban consumer base, and across a wider range of product categories."
Despite the pandemic, Vietnamese consumers remain among the most optimistic.

Vietnamese Consumer Behavior
Vietnam's consumer market is constantly evolving, driven by changing consumer lifestyles and income. The country has experienced a steady progression of disposable income in recent years and, as Vietnamese consumers have more money to spend, this has created openings for businesses to provide new services and products to consumers.
Vietnam has a relatively young population, with 40% below the age of 24. As digital natives, these younger consumers are driving the expansion of Vietnam's ecommerce market, as they spend more time shopping on their digital devices than in physical stores.
Internet and Mobile Access
Vietnam's digital commerce market will expand considerably in the coming years. Accenture states that "Vietnamese consumers look set to take to the internet in far greater numbers. By 2022, 63.8 million users will be on the internet, with more than half of the population using smartphones." In addition, Accenture finds that 92% of current internet users are digital buyers, with the number of internet users set to rise from 50.5% of the population to 65.1% in 2022.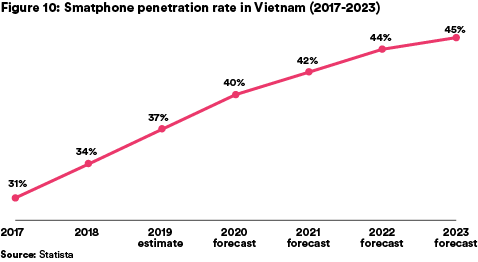 According to Deloitte "Spending an average of 6 hours and 42 minutes per day on the Internet, Vietnamese consumers – especially young urban consumers with high familiarity with digital technology and busy, modern lifestyles – are fairly accustomed to ecommerce. Nevertheless, despite growing ecommerce adoption, Vietnam's overall retail landscape still remains predominantly offline."
Top Payment Methods
While Vietnamese consumers use digital media for shopping, thus far they prefer to stick to traditional payment methods. Banking penetration remains low in Vietnam with few merchants offering credit card payment.
The country's most popular payment method remains cash on delivery (COD) and Accenture finds that 85% of Vietnamese consumers who make digital purchases prefer COD due to fraudulent activities. Ecommerce platforms in Vietnam provide consumers with several payment options such as payment via bank transfer, COD, and payment via e-wallet.
ISEAS says that in early 2017, a cashless plan was introduced by the government to promote electronic payment methods and reduce cash transactions to below 10 per cent of the total market transactions by this year. Within the next three years, an automatic payment center may also be established to promote interaction between consumers and online payment facilities.
As seen in other Southeast Asian countries, Vietnamese consumers have increasingly adopted mobile wallets, with 47% of internet users using a mobile payment service monthly. Payment app MoMo is among the most popular e-wallets in Vietnam with about 10 million customers, and digital payment platform Payoneer is actively investing in developing logistics and infrastructure in the country to provide secure payment solutions for businesses.
Top Categories
How Vietnamese are spending their disposable income has been impacted by the pandemic. Consulting firm Kantar found an unsurprising shift in consumer good sales during March 2020: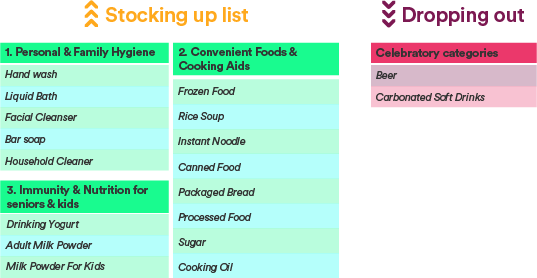 Given Vietnam's current success in controlling the pandemic, a return to pre-COVID product categories can be anticipated. Prior to 2020, clothing and footwear were the most popular online purchase categories, followed by electronics and refrigerators, then mother and baby care products. Deloitte's Vietnam Consumer Survey from 2019 showed these expected expenditures by category: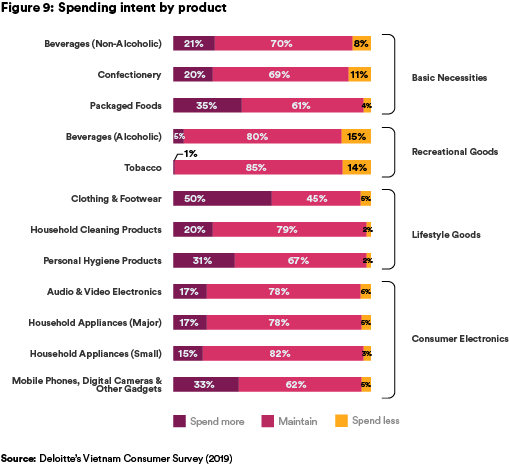 Challenges of Selling into Vietnam
While the prospects are inviting for ecommerce in Vietnam, challenges remain in logistics and product perception.
Delivery
Q&Me research firm found, coming into 2020, that fast delivery is still firmly among the top five reasons for online shopping among Vietnamese. A survey by iPrice and Parcel Perform reveals that it normally takes 5.6 days for a parcel to reach Vietnamese buyers.
Noticing the high demand for instant delivery, several Vietnamese ecommerce players are eagerly stepping up the game to improve delivery speed. Vietnam Briefing reports that a number of notable companies have begun investing in logistics within Vietnam with the goal of tapping into the field of ecommerce logistics.
Product Quality
Customers are increasingly concerned about the poor quality of products, with a huge disparity between what is advertised and delivered. ISEAS notes the quality and design of domestic products are sometimes still inferior to similar products made in other countries. Amazon's entry into the Vietnam market, and its warm reception by young Vietnamese online shoppers, has put pressure on existing domestic ecommerce players to upgrade their product quality.
Counterfeit and illegal goods are also an issue. The Minister of the Vietnam ecommerce and Digital Economy Agency acknowledged "We will have a hard fight against counterfeit goods in ecommerce and face immeasurable, unpredictable consequences without having an advanced legal framework, strong actions and cooperation among the Ministry of Industry and Trade's member units and other state management authorities."
As the experience of Amazon has shown, companies from outside the country may benefit from the consumer perception of better product quality and less risk of counterfeit or illegal goods from international sources.
Ecommerce Fraud in Vietnam
The ASEAN Post reports that bot attacks are the leading type of fraud in the region, with the highest prevalence in Vietnam (87.1 percent). Unfortunately, online fraud such as theft of information, data, and bank accounts have put Vietnamese ecommerce under the spotlight, further affecting the growth of a strong and healthy digital economy.
Unsafe online transactions have made consumers wary. Accenture reports that 85% of Vietnamese consumers who make digital purchases prefer COD, due to fraudulent activities.
Yet even COD, the payment option Vietnamese turn to as a protection against fraud, is not immune. In 2019, The Vietnam ecommerce and Digital Economy Agency under the Ministry of Industry and Trade warned consumers against a scam where they were asked to pay for unknown products shipped to their houses from ecommerce websites, even though they did not put in any order.
Bob's Guide warns that online fraud continues to evolve and grow as fraudsters become more sophisticated and quicker to adapt their approaches. Although this true for financial institutions worldwide, Southeast Asia is a particular target of online fraud, accounting for 40 percent of Asia Pacific's total fraud losses in 2019.
Fraud Prevention Tips
Vietnam is well aware of the chilling effect of online fraud to its ecommerce growth, but so far, the implementation of fraud management systems and tools is inconsistent.
As an ecommerce merchant, gaining the trust of your customers will be key to ecommerce success in Vietnam. Skittish consumers, especially the 70% outside of the major urban areas, will need reassurance that it is safe to conduct transactions online and to give up their COD allegiance. Reassuring consumers with fraud experiences in the past will be a necessary hurdle for those looking to capture the opportunity of this growing ecommerce market.
Keep the customer experience in mind along the way. Lengthy authentication protocols that require too many steps can drive frustrated customers away. Overzealous fraud filters can stop legitimate transactions along with genuine cases of fraud, and false declines may happen more than you realize. Worldwide losses due to false declines are projected to reach $443 billion by 2021 – nearly 70 times more than losses from fraud itself.
A New Fraud Prevention Solution for Ecommerce in Vietnam
To defeat fraud without overburdening customers, ecommerce merchants in Vietnam need a solution that seamlessly approves legitimate payments while turning away even the most sophisticated of fraudsters.
Conventionally, there are two ways to combat card-not-present fraud. Automated fraud prevention tools analyze transactions and reject orders based on pre-determined characteristics. Or, human fraud analysts use their expertise and instinct to assess the risk of fraud.
The advantage of automated tools is that they are fast, and when they're configured correctly, they can be very effective at stopping fraud. However, automated tools have difficulty adjusting to unexpected circumstances and tend to reject many legitimate transactions.
Human analysts are slower than machines. But their flexibility, knowledge of human nature, and ability to keep up with the latest fraud trends help them tell the difference between fraud and transactions that are merely uncommon.
You don't have to choose between these methods. At ClearSale, our fraud prevention solution draws its power from the best of both worlds. We combine advanced statistical and artificial intelligence technology with the world's largest team of specialized fraud analysts to deliver a balanced, real-world approach that is unlike anything else in the Southeast Asian ecommerce market. [TRUE?]
With ClearSale, ecommerce merchants receive:
Simple ecommerce integration.

Our fraud protection solutions quickly integrate with all major ecommerce platforms via an easy-to-install plugin.

Near-immediate order approvals.

Even our human analysts are fast.

Comprehensive protection against fraud.

ClearSale's Chargeback Insurance program offers 100% guaranteed coverage of all fraud-related chargebacks.

An innovative approach.

Our multi-tiered team approach to fraud prevention lets us continually calibrate our proprietary statistical model as new fraud patterns emerge.
If you're thinking about expanding the reach of your ecommerce business into Vietnam, get in touch with us today to talk about keeping your business, your reputation, and your customers safe from fraud.
Our False Declines Industry Report, available here, can help you strike the right balance between revenue, fraud prevention, and the customer experience.