Jul 25, 2023

Elma Ocampo
ClearSale a G2 Ecommerce Fraud Protection Leader for 13th Straight Season
It's happened again. ClearSale has been named an ecommerce fraud protection leader in G2's Summer 2023 Report. This makes 13 seasons in a row that ClearSale has been recognized. Given that G2 rankings are based on customer reviews, this is important – especially when customers rave about our customer service and quick response. For that, we want to say thank you! We wouldn't be in this position without your fantastic reviews.
High Scores for Three Years Running

For three years in a row, ClearSale has been making the top of client satisfaction lists for our fraud protection solutions. Our overall score was a 4.7/5 out of 164 reviews, which is considered maximum validation by G2.
Don't we want to get a 5 out of 5? Not really – here's why:
A perfect score for client satisfaction is often considered a red flag because it could signal that many of the reviews aren't legitimate. Plus, we can't improve if we don't receive any constructive feedback.
So, we celebrate and appreciate the genuine appraisal by our clients.
"We are humbled by this validation from our clients that we truly strive to protect them and their customers from ecommerce fraud. It's also a testament to our incredible team of ecommerce industry experts who leverage innovative technology and human intelligence to provide the greatest protection, customer experience, and service for online retailers."

Gonzalo Pascual, ClearSale International VP of Sales and Marketing
How we measure up
We've earned several badges this go-round, and they signal a continued trust in our solution, our people and our ability to help clients protect their businesses.
All of these badges are the result of client reviews. What they don't necessarily account for is the difference between our competitors who serve only certain business types.
G2 Rankings Don't Yet Distinguish Enterprise-Specific Solutions
G2 rankings are set up to rank companies based on customer reviews, but they don't delineate scores between fraud prevention solutions for small-to-medium businesses (SMB) versus mid-market versus enterprise.
Many high-ranking competitors serve only SMBs
Many fraud protection solutions at the top of the G2 list serve only SMBs, so it's not a surprise that they have more reviews with high rankings.
These simple solutions either auto-approve/auto-decline orders, or they only provide scores for client orders, leaving those businesses to make their own decisions. In both situations, those solution providers can quickly move from implementation to asking for a review because their clients think everything is working well. Meanwhile, those companies don't know how many valid customers have been declined or how many chargebacks they can expect.
ClearSale is business size-agnostic
At ClearSale, our AI-enabled algorithm leverages global trends, which means our system's accuracy level is much higher. Small businesses still have the option to "plug-and-play" our solution, but they're given more than just scores for each order – our solution also provides information to explain what those scores mean so small business clients can make informed decisions.
For mid-size and enterprise clients, we offer a range of options. They can opt for peak-sales assistance, where our team of over 2,000 expert fraud analysts are available to train or augment their teams. Or they can choose a more comprehensive solution that includes a hybrid of our automatic approval algorithm and secondary reviews of the very few flagged outliers that could be fraudulent.
We solve first, then ask for a review
What's important to note is that we focus on satisfying our clients before asking them for a review. Why? Because we want authentic feedback once they've seen just how well we protect their bottom line. As a result, our stellar reviews are a true reflection of their complete experience.
Let's dive into the results a bit, starting with customer satisfaction.
Customer Satisfaction
ClearSale is considered "easy to use" and above average in G2's features and usability ratings that predict user satisfaction.
From G2: "Transaction Scoring," "Fraud Detection," "Risk Assessment" and "Quality of Support" are the top four factors that positively impact user satisfaction for E-commerce Fraud Protection products. These factors are determined by an algorithm that selects the attributes that are most likely to predict user satisfaction within this category.
E-commerce Fraud Protection Explained: "E-commerce fraud protection software helps e-commerce businesses detect high-risk transactions and analyze risk factors to prevent and reduce fraudulent online behavior. Fraud protection software reduces e-commerce businesses' exposure to fraudulent product orders and payments by applying algorithm-based analysis to assess the potential risk of each transaction. E-commerce businesses are particularly susceptible to fraud attempts when transactions are placed on unsecured websites or mobile devices.
E-commerce fraud protection software analyzes information from many sources before recommending approval or rejection of transactions. The software identifies anomalies and prevents potential chargebacks and lost revenue."
ClearSale's automatic approval thresholds are calculated based on an AI system that is constantly learning. Every bit of analytics our fraud analysts discover is fed back into the system to help it better detect fraud trends as they are being used in even the most remote parts of the world.
And because we have experience fighting fraud in some of the most high-risk regions, we're able to detect trends before they cross over between industries and regions.
Our Clients Love How Our Solution Works
Clients told G2 that they were highly satisfied with our ease of use, setup, support and our administration tools.
Easy to use
ClearSale ranks high in customer satisfaction with quality support and ease of use/setup scoring particularly high.
ClearSale User Ratings

Ease of Use

E-commerce Fraud Protection Average: 9.0

Quality of Support

E-commerce Fraud Protection Average: 9.1

Ease of Setup

E-commerce Fraud Protection Average: 8.7
Intelligence
Compared to our competitors, ClearSale ranked as a high performer in risk assessment, transaction scoring and intelligence reporting.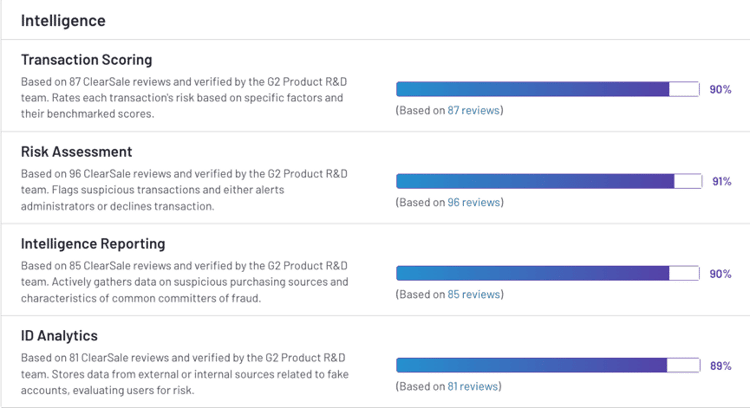 Detection
ClearSale outperforms competitors when it comes to bot mitigation, payment verification and real-time monitoring – giving clients peace of mind that their business and revenue are protected.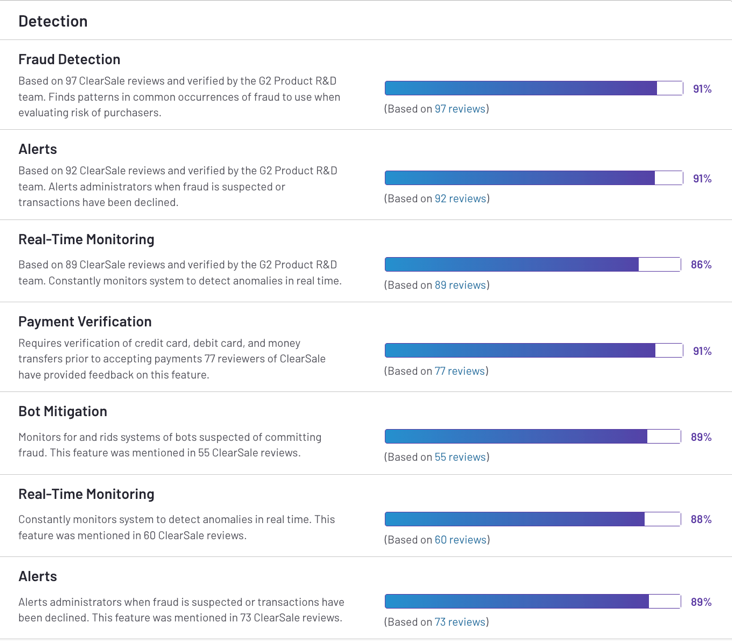 Analysis
Our intelligence reporting, ID analytics and incident reports are some of the best in the business. Using these features, clients can rest assured that they're receiving the data they need to prevent fraud.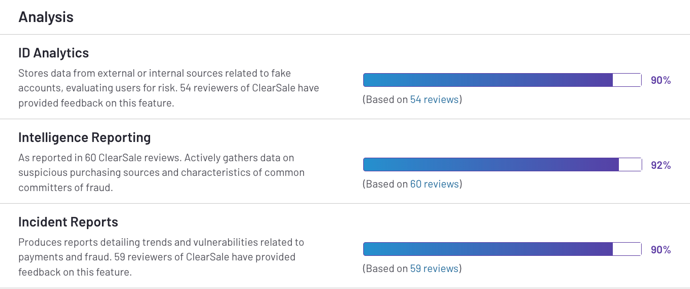 Administration
Our fraud markers and transaction scoring utilize AI technology to automatically prevent fraudulent orders from impacting your business. And they ensure that clients are approving more good orders.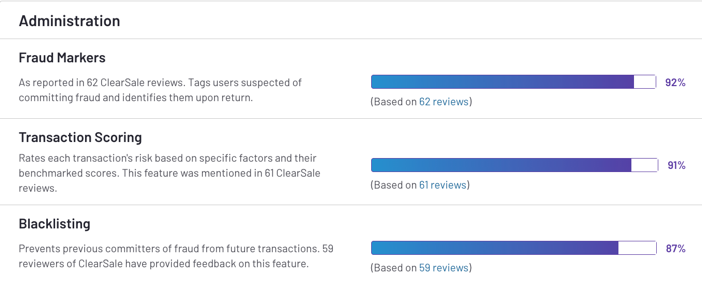 And now for our favorite part – some reviews.
Read What Clients Had to Say About Us

ClearSale has helped us reduce the number of chargebacks from our online store. When we have received a chargeback, they take charge through the guarantee they offer. Excellent service, I do recommend.
Alejandra R.
Enterprise Business

ClearSale is a platform that has helped me a lot to be able to send my products to clients without worrying about chargebacks that end up with the risk of theft. A platform that undoubtedly helps a lot in America.
Juan Alberto P.
Small Business

It is very easy to upload information and response time it is superb.
Eligio B.
Mid-Market Business
Have we piqued your interest?
How ClearSale Helps Companies Protect Themselves Against Fraud
At ClearSale, our hybrid solution delivers one of the most comprehensive fraud and chargeback prevention solutions on the market. Our AI-enabled algorithm leverages trends, intelligence and data gathered from decades of fighting fraud in the most high-risk regions of the world, allowing us to approve most orders quickly.
Suspicious orders are flagged for contextual secondary reviews performed by our more than 2,000 fraud analysts who have the experience to recognize some of the hardest-to-spot fraud patterns. We then use the data gathered from those contextual reviews to help our system better distinguish valid transactions from fraud. That means our system can more easily recognize "good" transactions as we process more for the client, which increases their approval rates and revenue.
We also offer end-to-end chargeback management.
Total Chargeback Protection allows businesses to recoup a portion of losses due to fraudulent transactions.
Chargeback Guarantee reimburses the transaction amount plus the chargeback amount for any unauthorized transaction that's approved.
End-to-End Chargeback Management delivers comprehensive chargeback mitigation and resolution services, including team training, data audits and timely responses to issuers.
To learn more about ClearSale's solution and historical G2 rankings, click here. At ClearSale, we're ready to help.