Mar 3, 2023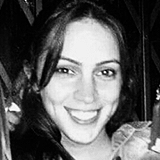 Sarah Elizabeth
Employee Spotlight: Elma Ocampo
The path to working in the fraud prevention industry isn't always a straight one, and Elma Ocampo's journey is no different. Recently promoted to ClearSale International Marketing Director, Elma talks about how ClearSale is a champion for women and diversity in leadership, as well as offers her best advice to new ecommerce businesses.

Q: Would you share a brief background on your experience?
I've always believed that to be the best you can be, you need to nurture all your abilities, and that explains my diverse background. I love the power of images, colors and graphics, which I applied to past positions in graphic design in the B2B industry. I've been a university professor, as well as a professional trainer and coach. I've studied abroad, including one semester of marketing in the United States, and I've served AIESEC as my region's vice president of outgoing exchanges. All these experiences have helped me create better versions of myself, learning new skills that help me do my job well.
I've also worked with international companies looking to expand into new markets. I worked for more than five years with MacroPlastics, a U.S. company that I helped expand into the Mexican and Latin American markets. And just before starting with ClearSale, I worked with Emailage (another fraud prevention company) and led their marketing team for Mexico and Central America. I learned so much from these companies and their different ways of working in individual markets.
Q: How does your new position contribute to your professional journey?
The work ClearSale does to educate and protect businesses and the community from fraud has a significant, positive impact on society and the world. In this new role, my work contributes to a safer society every day. I consider it a gift that I can apply my creativity, ideas and experience to projects with a greater purpose and help protect my community, my country and the world.
Q: You are in good company with other women leaders at ClearSale — what does it say about the company's commitment to women in leadership positions?
ClearSale recognizes that diversity and equity in a work environment is a strength that makes the entire company more successful. We are a team made up of people from different countries, cultural backgrounds and generations. It's our differences that have made us such a powerful team. ClearSale creates a space where talent and experience are engines for growth. The richness of our diversity motivates us all to give our best because we know that we will be valued and recognized.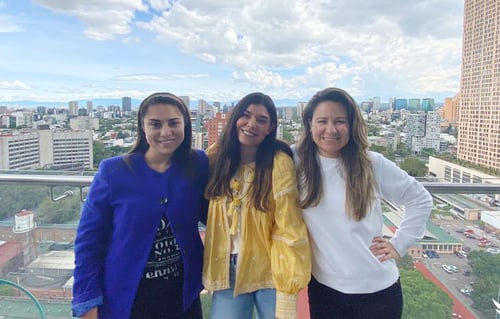 Q: How does ClearSale demonstrate its commitment to diversity, equity and inclusion?
As a Latina woman, I am an example of how ClearSale supports equity. Our leadership team has entrusted me with a very important position and strategy for the company because they recognize my skills and experience, regardless of my gender, nationality or language. In turn, I feel a responsibility to create more spaces for women to advance in their careers. At ClearSale, equity is everyone's job.
Q: What else do you appreciate about ClearSale's company culture?
I love the focus on employee development, because it helps employees love their work, it nurtures talent and it encourages employees to give the best of themselves. From my first day with the company, I've felt that ClearSale wants me to become the best version of myself—and they've given me the space and tools to do just that. They don't just want me to be a better employee, but they also want me to become a better person, and they let me nurture my mind, body and spirit. They empower me to live a healthy life. To exercise. To have fun and create my art.
In my opinion, the company culture is one of ClearSale's best assets.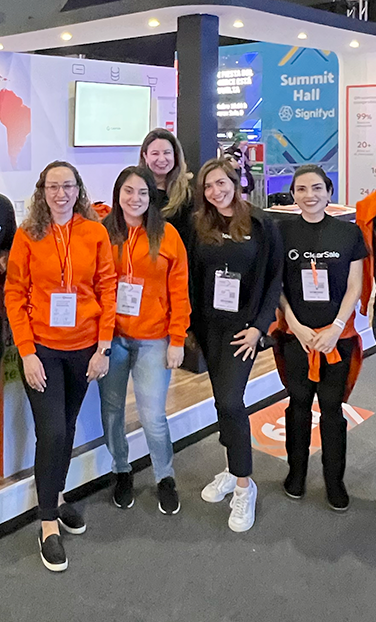 Q: What's been the most memorable part about working at ClearSale
There are so many memorable moments, but one was particularly meaningful. During the pandemic, I had been living alone and working remotely. With all the precautions I took to avoid external contact, the isolation was hard. But one day, a package was delivered to my door. To my surprise, it was an Easter present from ClearSale. That simple gesture — my employer thinking about me and doing something to make me smile — meant a lot. Being part of a company that's truly interested in my well-being—especially during difficult times—makes a huge difference and tells me I'm working at the right place.
"I feel a responsibility to create more spaces for women to advance. At ClearSale, equity is everyone's job."

- Elma Ocampo, International Marketing Director at ClearSale
Q: What's the best advice you'd give a new online business about fraud prevention?
That prevention is the key, really. Implementing the right solution early on in your business gets you ahead of fraud. If you wait until your business has been the victim of a fraud attack before you start looking for a fraud prevention solution, you're facing bigger risks — and bigger costs.
Fraud has always been a problem, but it's even easier today to commit fraud because of advances in technology. This is why businesses need to prioritize fraud prevention and provide increased protection to their customers.
Because technology is changing so quickly, if online businesses want to stay ahead of emerging fraud tactics, they can't rely on static tools or approaches. Instead, they need solution providers with real-world experience in the field, who are always improving their offerings and staying one step ahead of emerging fraud trends.
Q: When you aren't protecting merchants against fraud, what are you doing?
I love yoga, meditation, essential oils, aromatherapy and all the wellness that surrounds those practices. When I'm not fighting fraudsters, I'm sharing the benefits of essential oils and aromatherapy and educating on how they contribute to a healthy and more harmonious life. I've been practicing yoga for more than six years, and I like to be part of meditation groups. Because I lead a very busy, active life, these activities have made me feel more balanced and fulfilled.
Interested in learning more about how ClearSale's amazing team of professionals can help protect your business while facilitating expansion into international markets? Contact us today.