Oct 6, 2023

Elma Ocampo
ClearSale Is #1 in Four G2 Fall 2023 Categories
It's one thing to be recognized by our industry peers. But it's when our customers rate us highly that we get excited – and we're thrilled! ClearSale has been named #1 in four categories within G2's Fall 2023 Report. Plus, we've been acknowledged as a leader in 16 other areas. This makes 14 seasons and counting where we've been recognized. And we have you to thank!
Four #1 Ratings!
Season after season, ClearSale has been ranked highly among our customers, with this fall season demonstrating our presence across regions and business sizes. Our overall score was a 4.7/5 out of 165 reviews, which is considered maximum validation by G2.
Wouldn't 5 out of 5 be considered the best score? Good question, but no. Getting a perfect score in G2 ratings could be a sign of gaming the system. We're excited about the fantastic review this season. Here's a breakdown of our #1 rankings.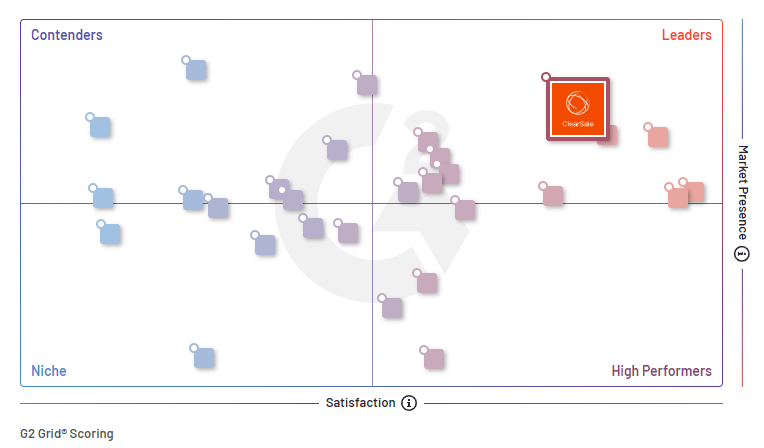 Click for the interactive G2® Grid
#1 on Americas Regional Grid® Report for E-commerce Fraud Protection
For the second season in a row, we've been ranked #1 for Fraud Protection in the Americas Region.
What does this mean?
We score high in detecting high-risk transactions and analyzing risk factors that prevent and reduce fraudulent behavior. By doing this, we help ecommerce businesses reduce their exposure to fraud and threats to their bottom line.
#1 on Small-Business Americas Regional Grid® Report for E-commerce Fraud Protection
For the first time, we've been ranked #1 in the new category of Fraud Protection in the Small-Business Americas Region.
Similar to the previous category, this is specific to small businesses, which accounts for a large portion of ClearSale's business. Protecting businesses that are most vulnerable to fraud is a mission we take seriously.
#1 on Small-Business Grid® Report for E-commerce Fraud Protection
For the first time, we've been ranked #1 in the new category of Fraud Protection for Small-Business.
Again, this category relates to small businesses; however, it spans across regions – demonstrating ClearSale's expertise in preventing fraud on a global scale.
#1 on Latin America Regional Grid® Report for Web Security
For the first time, we've been ranked #1 in the new category for Web Security in the Latin America Region.
This category highlights ClearSale's predominance as a leader in web security and brand protection in Latin America. We are proud to be the first company to earn a #1 spot for this category.
In addition to our #1 rankings, ClearSale is also considered a leader in several other categories.
Industry Leaders in What Matters Most
When it comes to protecting ecommerce businesses, protecting them from fraud, preventing fraudsters from attacking, and preserving their websites and apps are some of the most important ways to preserve revenue.
We've made the top of the list in a whopping 16 categories!
Fraud Protection
In the Fraud Protection category, we ranked in the top three for six categories:
Grid® Report for E-commerce Fraud Protection
Mid-Market Americas Regional Grid® Report for E-commerce Fraud Protection
Momentum Grid® Report for E-commerce Fraud Protection
Mid-Market Grid® Report for E-commerce Fraud Protection
Relationship Index for E-commerce Fraud Protection
Mid-Market Implementation Index for E-commerce Fraud Protection
Fraud Detection
In the Fraud Detection category, we ranked in the top three for seven categories:
Grid® Report for Fraud Detection
Americas Regional Grid® Report for Fraud Detection
Mid-Market Implementation Index for Fraud Detection
Mid-Market Grid® Report for Fraud Detection
Small-Business Grid® Report for Fraud Detection
Mid-Market Usability Index for Fraud Detection
Mid-Market Results Index for Fraud Detection
Web Security
In the Web Security category, we ranked in the top three for three categories:
Small-Business Americas Regional Grid® Report for Web Security
Americas Regional Grid® Report for Web Security
Mid-Market Americas Regional Grid® Report for Web Security
All of these badges are earned based on customer rankings and reviews. It's proof of how well we serve our clients.
Trusted Brand for Small to Midsize Businesses
For years, ClearSale has consistently ranked highly among small and midsize businesses as a trusted brand. This is compared to solutions that tend to only provide scores for client orders, leaving online businesses to make their own decisions. Or they use a purely automatic system for approval or decline decisions. In either case, those solution providers are able to ask for reviews right away when their clients think that everything is working well. Their clients don't know how many valid customers have been declined or how many chargebacks they can expect yet.
ClearSale delivers high approval rates and low false declines
At ClearSale, we do things differently.
Our AI-enabled algorithm is based on global trends, which means our system's accuracy level is much higher. Small businesses still get the option to essentially "plug-and-play" our solution, but they're given more than scores – our solution also advises what those scores mean so our small clients can make informed decisions.
For midsize clients, we go a step further by offering a range of options, starting with peak-sales assistance, where our team of over 2,000 expert fraud analysts is available to train or augment their teams. They can also choose a more comprehensive solution that includes a hybrid of our automatic approval algorithm and secondary reviews of the very few flagged outliers that could be fraudulent.
We satisfy first, then ask for a review
The key to note is that we don't ask for a review from any of our business clients until we're satisfied that they have a sustainable fraud prevention process in place. As a result, our stellar reviews are based on a more thorough experience.
On that note, let's look at some of the details, starting with customer satisfaction.
High in Customer Satisfaction
ClearSale is considered "easy to use" and above average in G2's features and usability ratings that predict user satisfaction.
"Transaction Scoring," "Fraud Detection," "Risk Assessment" and "Quality of Support" are the top four factors that positively impact user satisfaction for ecommerce fraud protection products. These factors are determined by an algorithm that selects the attributes that are most likely to predict user satisfaction within this category.
ClearSale's automatic approval thresholds are based on an algorithm that learns and improves with every additional order processed. Plus, our fraud analysts feed the results of their analyses into the system to help it better detect fraud trends as they are being used in even the most remote parts of the world.
Our experience fighting fraud in some of the most high-risk regions of the world allows us to detect trends before they cross between industries and regions.
Easy on the Team
We're proud of our ratings for ease of use, ease of setup and ease of administration. We believe much of this can be attributed to our new dashboard that makes it easier than ever for online companies to protect their businesses.
Easy to use
ClearSale ranks high in customer satisfaction with quality support and ease of use/setup scoring particularly high.
Intelligence
Compared to our competitors, ClearSale ranked as a high performer in risk assessment, transaction scoring and intelligence reporting.
Detection
ClearSale outperforms competitors when it comes to fraud detection, alerts, payment monitoring and fraud markers – giving you peace of mind that your business and your revenue are protected.
Analysis
Our ID analytics, intelligence reporting and incident reports are some of the best in the business. Using these features, you can rest assured that you're receiving the data you need to prevent fraud.
Administration
Our fraud markers and transaction scoring utilize AI technology to automatically prevent fraudulent orders from impacting your business. And they ensure that you are approving more good orders.
Check Out Our Latest Reviews
"Prior to ClearSale, we were not only getting hit with a fraud cost, but also indirect costs to manage the fraud. Now it's auto-magic."
"The platform is extremely easy to use. Great customer support."
"ClearSale verification is lovely, I like the price and responsibility of covering frauds and risk. And the compatibility with the WordPress platform. Another company did not offer you the covered risk of fraud."
Our Secret to Satisfying Clients
What makes our solution so popular with clients? We take a comprehensive approach.
Hybrid fraud prevention model
ClearSale's hybrid solution starts with a highly effective automatic approval algorithm that "learns" as more transactions are processed. Globally experienced fraud analysts assess the small percentage of orders flagged for review with the goal of locating as many additional approvals as possible. Fraudulent transactions are identified and declined.
Human analysts along with advanced machine learning address the friendly fraud threat in real time. Not only can we help protect your business over the long term, but we also guarantee transactions 100% against fraudulent chargebacks.
By applying this global lens and a large database of orders across industries, we're able to quickly recognize fraud trends and help clients eliminate fraud threats and prevent chargebacks — all while approving more orders, faster.
Chargeback management
Through our partnership with enterprise chargeback management service provider ChargebackOps, ClearSale offers full-scale chargeback management:
Total Chargeback Protection allows businesses to recoup a portion of losses due to fraudulent transactions.
Chargeback Guarantee reimburses the transaction amount plus the chargeback amount for any unauthorized transaction that's approved.
End-to-End Chargeback Management delivers comprehensive chargeback mitigation and resolution services, including team training, data audits and timely responses to issuers.
Comprehensive brand protection
Leveraging a combination of artificial intelligence and expertise, we help prevent cyberattacks and mitigate their effects, quickly removing threats from various sources.
Phishing: Including fake page URLs and other communication channels.
Applications: iOS and Android
Social Media: Facebook, Instagram, X, TikTok, YouTube, LinkedIn and more
To learn more about ClearSale's historical G2 rankings, visit our site. At ClearSale, we're ready to help.