Nov 25, 2020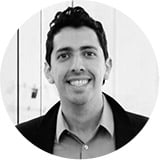 Rafael Lourenco
After the Year We've Had, Will Black Friday and Holiday Retail Ever Be the Same?
As we approach the winter holiday season, many of us are looking forward to something positive at the end of a historically difficult year. From consumers who lost jobs or spent months working from their sofa to retailers who had to pivot fast from in-store to digital selling, 2020 has been a year of disruptions in nearly every area of life and business.
What form those changes will take this year and beyond is a major question for retailers, because the days from Thanksgiving and Black Friday through Cyber Monday brought in a big portion of holiday-season revenue in years past. This year, though, instead of looking for the date of Black Friday to pin on their calendars, people are wondering if it will happen at all.
It's worth noting that people have been questioning Black Friday's survival for years, based on chaotic in-store events and race-to-the-bottom discount wars. But this year, with COVID-19 cases resurging in many parts of the Northern Hemisphere, the economy still uncertain and social distancing still in force, the Black Friday question is more urgent for retailers this year than ever.
What we're seeing now, and what other industry watchers are observing, is that Black Friday, Cyber Monday and the rest of the holiday retail season is changing, but certainly not going disappearing. In fact, the holiday shopping season is already well underway.
Black Friday-style deals started with Prime Day
Retailers sought to start the season earlier this year, in part to avoid last-minute supply chain and delivery problems in December. Home Depot was among the first big chains to proactively announce that its Black Friday deals would start at the beginning of November and last all month. But it was Amazon that truly shifted the holiday sales season this year.
Amazon postponed its normal July Prime Day sale to avoid overloading its already strained logistics as more people shopped from home. By moving the event to Oct. 13 and 14th, Amazon reset the start of the holiday shopping season for 2020 and possibly beyond.
The move seems to have paid off. On Day One of Amazon's two-day sale, Business Insider projected that Prime Day would rake in more than $9 billion worldwide, up 43% over the 2019 event. Although Amazon hasn't released its own revenue numbers, it did announce that third-party sellers on its platform brought in $3.5 billion during the week of Prime Day this year, up 60% over the same time last year.
Perhaps in part because Amazon's move to October was anticipated, the National Retail Federation found that nearly half of retailers expected holiday shopping to start in October, and more than half said they'd be ready with in-stock items, sales and ad campaigns. In fact, Target was ready to match Amazon's event and scheduled its Deal Days on the same days.
The question for 2021 and beyond is whether we'll see retailers continue with major mid-October holiday sales events. Right now that seems to depend on whether Prime Day will return to July or remain in October.
Black Friday-style deals will happen all season long
The NRF survey found that 74% of retailers expect consumers to spread their holiday shopping out over several months. Target is one of the retailers with an extended holiday deal calendar for the fall and winter, which it announced in July. This approach helps compete with Amazon, which launched its Holiday Dash deals two days after Prime Day ended. The longer sales calendar also reflects an expected change in consumer behavior.
Some of the shift in shopping patterns may be due to financial uncertainty. Some of it is undoubtedly because after a year of trying to find necessities in-stock online, many shoppers are exhausted instead of excited by the idea of swarming to a site to snap up deals before they sell out. Rather than risk frustrating or turning off customers, retailers are letting them know that the deals will be available whenever they choose to shop.
Will this new shopper behavior persist beyond 2020? Although many of us long for a return to pre-pandemic activities and habits, an extended deal season with the freedom to hunt for the best values at our leisure may be too appealing to give up in years to come.
More holiday deal-hunting will happen online
Researchers are already finding that some consumer preferences are changing for the long term due to the pandemic. For example, the sudden shift to buying groceries online has led 40% of millennials and more than a third of Gen X and Gen Z shoppers to say they'll keep buying online once the pandemic is past.
The preference for online shopping will impact holiday retail, too. Despite the fact that 2/3 of the retailers surveyed by the NRF survey expect all of their physical stores to be open for the holiday season, shoppers have had all year to get used to buying online – and COVID cases are spiking again in many areas, which may push even more shoppers to buy online. Deloitte projects holiday ecommerce growth of up to 35% this year, compared to 14.7% year-to-year growth during the 2019 holidays.
Will the trend toward holiday ecommerce persist? Almost certainly. Although there's a definite appeal to visiting decorated stores during the run-up to the holidays, it's likely that many shoppers will stick with ecommerce for future holiday seasons, just as they plan to with online grocery ordering, for convenience.
It's too soon to declare Black Friday dead, but it's safe to say it's taking a different form this year. Depending on how customers respond to the changes, it's possible that what was once a day of intense in-person and online shopping may become an entire season of deals from now on. Merchants should take careful note of what their customers do this season and use it as a template for future holiday plans.
Original article at: https://www.digitalcommerce360.com/2020/11/24/after-the-year-weve-had-will-black-friday-and-holiday-retail-ever-be-the-same/