Dec 21, 2021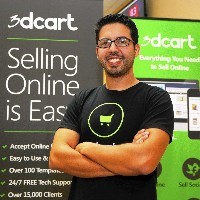 Jimmy Rodriguez
8 Promising Ecommerce Niches to Look Out for in 2022
Ecommerce niches are segments in an industry that sell a specific type of product with a unique differentiator. An ecommerce niche can include anything from a specific type of food to eco-friendly products.
With tons of ecommerce websites selling products online, making your ecommerce business stand out from the competition can be challenging. That's why you need to find the right niche for yourself.
The advantages of selling within a niche include less competition, reduced marketing and operation costs, increased customer loyalty, and more. All those reasons equal better profits.
The tricky part may be finding the right niche products to sell online. Let's have a closer look at potential ecommerce niches to look out for in 2022.
1. Home office equipment
One of the categories that has expanded since the COVID-19 pandemic is home office equipment. A recent study by Microsoft showed that 66% of employers worldwide are redesigning their workplaces to accommodate hybrid work arrangements.

Starting an online business with home office equipment could be a successful move, as it looks like the market for home office equipment will grow. Apart from home office furniture, like chairs, desks, lamps, there are a few more niches worth considering.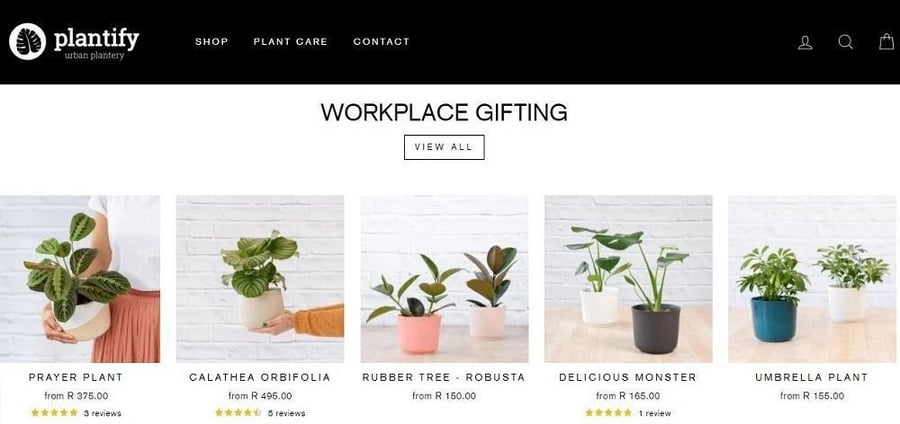 As people spend a lot of time in their home offices, it is natural to look for anything to make the space cozy. Plants for the office, posters, frames, other wall hangings, or desk gadgets could be what they are looking for.
Textiles create a huge potential to brighten up a home office space. They are cheap so may attract plenty of customers. Marketing these types of products works well on social media platforms like Instagram or TikTok.
2. Skincare and beauty products
The skincare and beauty products industry continues to be one of the most popular ecommerce niches. It's something young girls and women will always be looking into. The competition may be high for sure, so finding the right market fit is a must.
Cosmetics, make-up, and baby care products tend to be very personal these days. The market has a potential for small niches to develop as people love checking out new trends if products are right for their needs.
Eco-friendly and sustainable products, for example, are in high demand. According to the World Wildlife Fund, Internet searches for sustainable goods have risen by over 70% over the past five years. Many people want to do their bit to look after the planet Earth.
Vegan cosmetics is another example of a niche that has grown massively in the last few years. ReportLinker estimates that the global market for vegan cosmetics was worth $15.1 billion in 2020, with $4.1 billion coming from the U.S. alone, and is projected to rise to over $21 billion by 2027.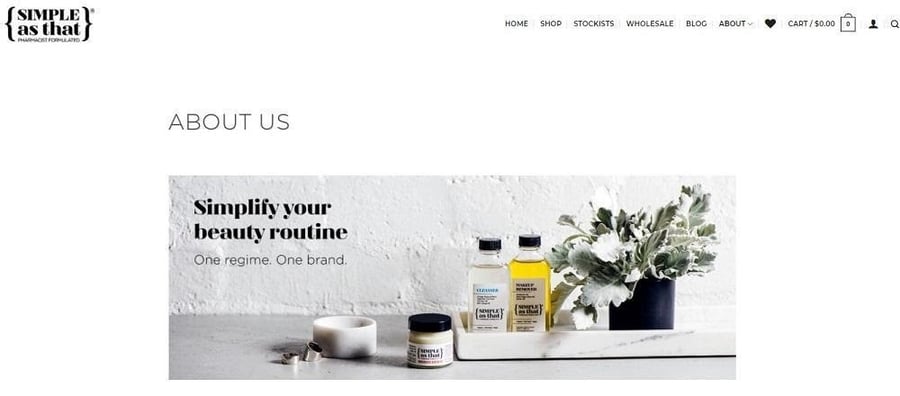 Selling eco-friendly packaging can also attract green enthusiasts. You could sell:
bamboo (bamboo toothbrushes)

glass jars (as packaging)

ocean debris soap containers

textile makeup tissues

bar shampoos (no packaging needed)
Refill products such as liquid soap, shampoo, and hair conditioners are also considered eco-friendly. You could offer a starter container and refill packs, so the consumers keep coming back for more if they run out.
Other niches worth considering include organic cosmetics, makeup for artists, youth, men's makeup, and grooming products.
Be sure your website offers a seamless online shopping experience. You want to launch an ecommerce business that is easy to navigate, not one where shoppers can get lost easily in a maze of pages, leading them to leave your website out of frustration.
3. Home fitness equipment
Since COVID, fitness enthusiasts had to swap to home workout routines when gyms closed worldwide. That's created new opportunities in the fitness ecommerce niche.
We've been allowed back at the gyms (conditionally in some places), but not everyone is ready to go back yet. People continue to work out at home, use online classes, search for online tips and groups to work out with.
Think of proper gym equipment, like treadmills, exercise bikes, weights, etc. Another idea is to sell supplements, protein powders, and meal substitutes. Other popular products include yoga mats, stretch straps, dumbbells, foam rollers, jump ropes, slider discs, and more.
Don't forget about dedicated clothing and footwear. People love to dress in clothing dedicated to their favorite fitness field.
If you have passion and some skills, consider offering online classes. Workout programs, video tutorials, and individual training schedules are great ideas for making good money.
4. Entertainment
With live entertainment closed during the pandemic, we had to seek other ways to have fun at home. You could be offering products like video games, TV sets, or craft supplies within the entertainment niche.
Looking at the below data showing the global board games market, it is clear that this niche is growing. Board games are alternatively known as tabletop games. The worldwide market value of that niche was estimated to be around 7.2 billion U.S. dollars in 2017 and was forecast to nearly double by 2023.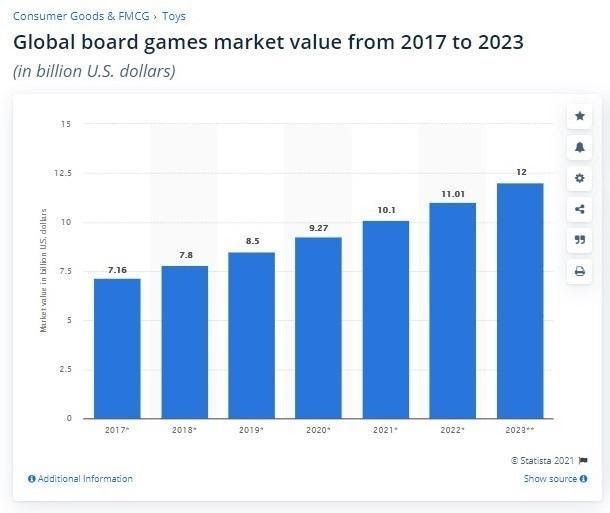 Source: https://www.statista.com/statistics/829285/global-board-games-market-value/
Finding more specified fields, like exciting games for couples, or families, could boost your profits. The board games industry is full of exciting games for different groups of people.


5. Eco-friendly products
For a lot of people, the environment matters. People also pay attention to how products affect their bodies. There's plenty of opportunities where these two topics align.
One example is baby care products. With young parents becoming more environmentally cautious, think of what eco-friendly products you could be offering. From biodegradable diapers, reusable diapers, reusable nursing pads to biodegradable baby wipes.
You can also sell environmentally-friendly substitutes for everyday items. You could sell metal straws, reusable pads, natural cleaning products, reusable cleaning products, and so on.


6. Food and drink
Yet another industry that is starting to recover from the effects of the pandemic is food and drink. The National Restaurant Association believes that restaurants and other food service businesses will generate $789 billion of revenue in 2021. With restrictions being eased nationwide, restaurants are starting to offer on-premises dining as well.
However, restaurants have also adopted new operational models, such as the use of drones and robots for deliveries. The market for pre-prepared or ready-to-assemble food kits is heavily dominated by consumers who would rather stay home than dine out. Either way, it is a great opportunity for food and beverage ecommerce sites and apps.
If you're thinking of opening an ecommerce business in the food and drink industry, think of what niche you should target. There are plenty of food, drink, and cooking trends on the rise. Vegan and vegetarian foods have grown in popularity in recent years.
Meal subscription boxes have been invented for busy people or those choosing a new cooking routine. The nice thing about this model is that you can offer a subscription service.
Plenty of companies offer recipe subscription boxes to get a list of ingredients and instructions to cook the meal yourself. It's an excellent alternative to the ready meals model.


7. Home improvement and DIY
Since people were locked indoors for some time last year, they've been looking into redecorating, fixing, and possibly even more ambitious DIY projects.
The below chart shows home improvement trends during the coronavirus outbreak in the United States in 2020. A whopping 76% of US men made at least one home improvement in the last 12 months.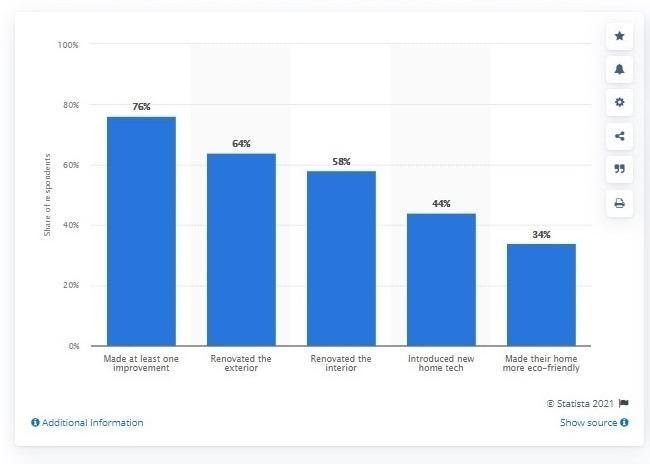 Source: https://www.statista.com/statistics/1178141/home-improvement-done-during-pandemic-us/
Home decor has become even more popular with people starting to spend more time at home. Do-it-yourself home improvement has become one of the best online store niches.
There are many ecommerce niches related to home transformation and DIY. You can think of making kits and selling them with instructions or tutorials, such as a teenage bedroom makeover painting kit or a kids' playroom set of wallpapers.
Alternatively, if you have some unique skills, you can make DIY products yourself and sell them. There's plenty of scope to grow this type of business, especially if it's a passion project, just like the Italian company from the screenshot below that sells handmade basins!
People fell in love with homemade blankets, rugs, wall macramé's and so on. You are only limited to your skills and imagination here.
8. Online courses
There's been a massive demand for online courses for the last two years. With schools closing, students and adults had to take online courses to keep learning. This niche is worth looking into. If you have some skills or knowledge – sell it.
If you have a hobby, consider offering an online course for beginners. Here are just a few examples of topics you could cover:
music lessons

gardening tips

photoshop course

pilates classes

painting on glass
Google Trends is a valuable tool for checking what terms internet users have been searching for. You can check if your chosen niche has been in demand in the world or in your area.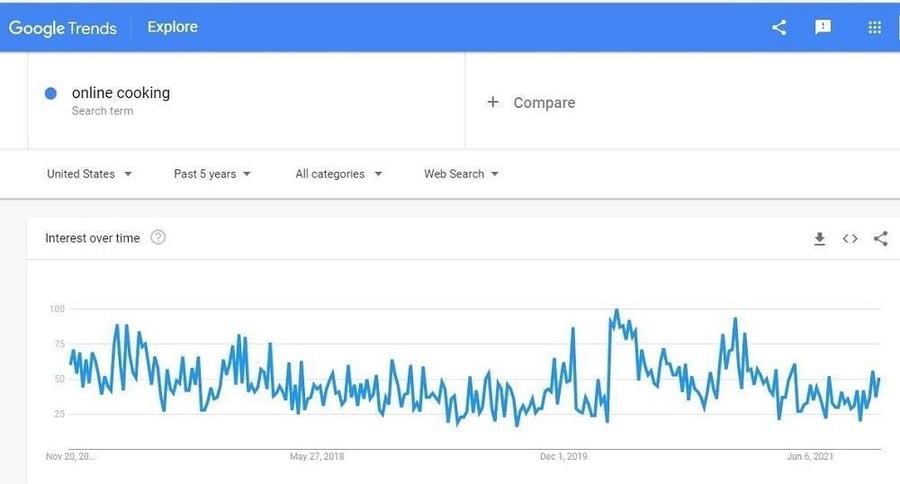 Online education has grown massively in demand. Technology has made access a lot easier. Who would think a decade ago that it would be possible to watch an online class on a mobile?
There are some great online learning platforms out there for everyone. Today's software gives you the tools you need to share your knowledge and engage your students.
Think of what kind of skills or knowledge you have and can share with others. The options are endless here. That includes online learning courses from tutoring or teaching a foreign language (or English for foreigners).
In Closing
Ecommerce has changed—and for some, there is no turning back. With so many people turning to buy online rather than in-store, there's undoubtedly a great potential to find your niche and start a business.
The golden rule is to go with what you know and love. It'll come more naturally when it comes to marketing and running your business. Your customers will sense in no time if you have no idea or interest in what you sell.
Finding the right niche for your online business is essential. It's crucial to stay ahead of big brands that have brand recognition and massive sources for promotion.